[Throughout this week, EEDAR's director of analytical services Jesse Divnich is presenting exclusive Gamasutra analysis of April's hardware and software trends, using data from Electronic Entertainment Design and Research (EEDAR), The simExchange, NPD, IGN GamerMetrics, and GameTrailers. Today's chart analysis examines 3-month unit sales for games featuring branded titles, characters, and universes, separated by publisher. He argues that Sony's lack of successful first-party brand releases for the PlayStation 3 may have contributed to the console's slow start. Previously: sluggish GTA IV hardware sales pointing to likely PS3 and Xbox 360 price cuts, the unsure future of hardware-driving titles, and new IPs finding less success on the Wii.]
It is no revelation that Nintendo leads the pack in terms of the popularity of branded intellectual properties, but the difference among its competitors is overwhelming, and we should take notice of Nintendo's success.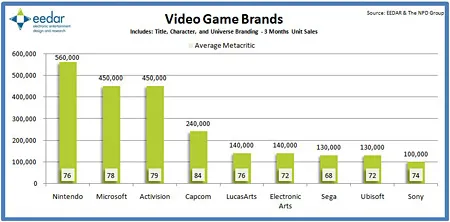 It is not just the
Mario
brand that is driving these sales, but others such as
Wario, Fire Emblem, Donkey Kong, Pokémon,
and
Zelda
. This has always been the key to Nintendo's success - any time the company adds a new character, title, or universe to its games, it creates a branding opportunity that could eventually sport a successful standalone spin-off. Other interesting data points come from Sega and Sony, as their brands have struggled to succeed in this next-generation cycle. While Sega's brands themselves have dwindled in popularity over the years, Sony's struggle comes from the lack of successful brand releases in the first place. In previous generations, Sony had some of the strongest character brands in the industry, with first or second-party franchises including
Ratchet & Clank, Jak & Daxter, God of War
, and
Syphon Filter
. Unfortunately, only one of those,
Ratchet & Clank
, has made a next-generation appearance. This likely played a significant role in the PS3's slow start as the company chose to rest more on second or third-party titles and relatively new brands (
Uncharted: Drake's Fortune, Lair, Folklore, Resistance
). There is a silver lining in this cloud; we can expect Sony to release games based on its successful brands within the next few years. This should make Sony's software library more appealing to potential next-generation consumers.
[Jesse Divnich currently serves as the director of analytical services at Electronic Entertainment Design and Research (EEDAR). The following is the views and opinions of one person and not of EEDAR, The simExchange, GamerMetrics, or Gametrailers.]