[Throughout this week, EEDAR's director of analytical services Jesse Divnich is presenting exclusive Gamasutra analysis of April's hardware and software trends, using data from Electronic Entertainment Design and Research (EEDAR), The simExchange, NPD, IGN GamerMetrics, and GameTrailers. In this installment, Divnich examines April's underperforming software sales and explains why it doesn't necessarily signal a downward trend in sales for the video game industry.]
The same scenario has played out every month for the past six months -- analysts throw out low expectations, software sales beat those expectations, and the industry rejoices—rinse and repeat. Unfortunately, software sales underperformed this time around, and not by a small margin, either.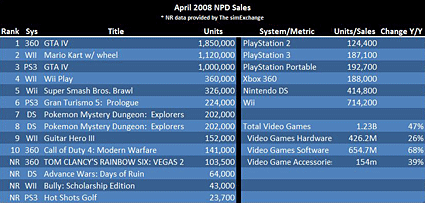 The simExchange projected sales close to $1 billion, while fellow analysts, including yours truly, didn't do any better. Does this mean we were all wrong? Is the industry not recession proof? Even worse, did the new Harold and Kumar movie play a role in hindering April's video game sales? The answer to all three questions is, of course, no. Instead, this underperformance of software sales expectations is likely the result of an over-zealous market and not a sign of some type of downward trend in the industry.

The above table shows the top ten software sales months since 2000, excluding holiday months November and December. As the table indicates, April 2008 was extremely healthy compared to almost every other month. In fact, April 2008 posted the largest year-over-year growth in over 5 years and crushed October 2004's software sales of $478 million, which benefited from the release of
Grand Theft Auto: San Andreas
. Also, take into consideration that March 2008 had five weeks of retail sales (compared to April's four weeks of retail sales) and sales would have likely been only $750+ million instead of $945 million if converted to four weeks.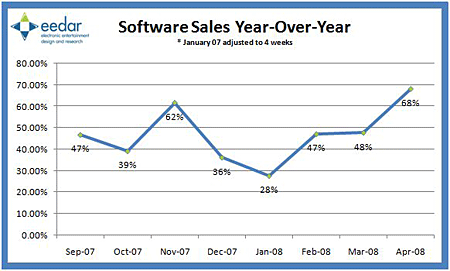 Although April did not live up to analysts' expectations, our industry is still in a vigorous state, and there should be little concern with the overall health of the video game industry. We are still on track to set another software sales record in 2008 and possibly a hardware sales record as well. I would also not be surprised if May's sales results are just as good if not better given that the month will enjoy four weeks of strong
Grand Theft Auto IV
sales, and new releases such as
Iron Man
,
Age of Conan
, Steven Spielberg's
Boom Blox
, and Nintendo's $89.99 exercising software
Wii Fit
.
[Jesse Divnich currently serves as the director of analytical services at Electronic Entertainment Design and Research (EEDAR). The following is the views and opinions of one person and not of EEDAR, The simExchange, GamerMetrics, or Gametrailers.]