[Following last week's release of NPD's August North American sales figures, EEDAR's director of analytical services Jesse Divnich presents his Gamasutra-exclusive study of August's hardware and software trends. In this analysis, Divnich explains why the games industry remains healthy despite single-digit percentage growth in the previous month.]
I am always surprised by how the market reacts when NPD releases its figures. When sales are up, the industry reacts as if we are invincible, but when they're not up by at least 40 percent, the sky is falling.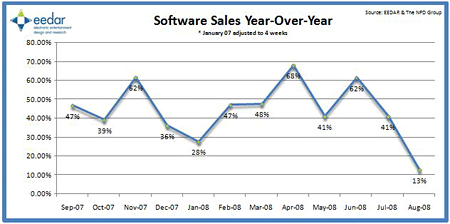 While August posted positive year-over-year comps across the board, the industry and financial markets reacted as if we finally hit a brick wall, and they did this without applying any type of rational reasoning as to why. Reasons behind Augusts' figures: 1.
Madden
sales showed little growth over last year 2.
Too Human
and
Mario Sluggers
failed to meet the market expectations 3. Hardware sales were down month-over-month Were all these situations predicted? Yes.

First,
NCAA Football
posted single-digit year-over-year growth, and given that
Madden
and
NCAA
share a similar market demographic, any reasonable person could predict that
Madden
would likely show the same single-digit growth year-over-year (and it did). Regarding the second point,
Too Human
and
Mario Sluggers
posted underwhelming figures. Again, this was predictable as
Too Human
and
Mario Sluggers
received review scores under 70 percent, which was definitely below the industry's expectations. As for the third point, hardware sales were down month-over-month, which is typical going from July to August, especially when there were no major exclusive releases. Nintendo Wii's performance was also predicted -- though EEDAR's NPD Preview projected 500,000 hardware sold units, it also acknowledges that sales could fall short of expectations. Retail channel checks and gray market monitoring through pricing data site
Video Game Price Charts
indicated that Nintendo shipped significantly less systems than in previous months. While we are able to explain why August posted such a small growth, I remain fearful that those who always see the glass half-empty will use September's results -- which are expected to show negative growth -- as further proof that the industry has hit a brick wall, when in fact, sales are healthy.
[Jesse Divnich currently serves as the director of analytical services at Electronic Entertainment Design and Research (EEDAR). The preceding is the views and opinions of one person and not of EEDAR, The simExchange, GamerMetrics, or Gametrailers.]