[Following last week's release of NPD's October North American sales figures, EEDAR's director of analytical services Jesse Divnich presents his Gamasutra-exclusive study of October's hardware and software trends. In this analysis, Divnich predicts that WWE Smackdown vs. Raw 2009, Call of Duty: World at War, and Gears of War 2 will be November's top performers in game sales for several reasons.. Previously: October still crowded with top releases, and how Sony's consoles could be more affected by current economic conditions than Microsoft or Nintendo's systems.]
For today's analysis, we'll refer to IGN's GamerMetrics and GameTrailers's Stream Stats services -- both data providers, which show user interest in particular games, yield some interesting results of what is to come in November.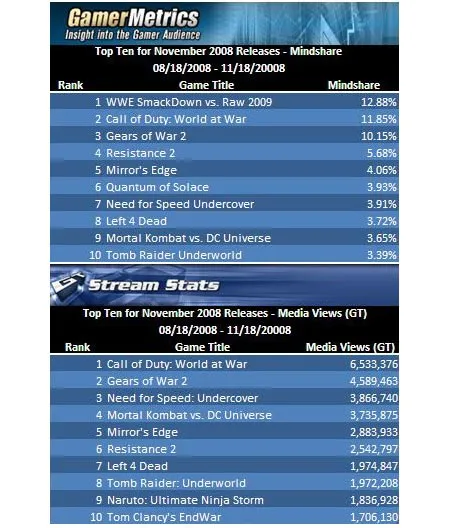 THQ's
WWE Smackdown vs. Raw 2009
currently has the largest Mindshare on IGN's GamerMetrics. While we do not expect
WWE
to outsell
Call of Duty: World at War
or
Gears of War 2
, it is interesting to see that the WWE franchise still carries a very large and loyal market base. In fact, the
WWE
wrestling series is one of the few brands in our industry that has shown series-over-series revenue growth over the last four years. Following
WWE 2009
on the GamerMetrics chart is
Call of Duty: World at War
and
Gears of War 2
. Both data outlets indicate that Activision's
Call of Duty: World at War
has greater interest than -- and could therefore in theory outsell -- Microsoft Games Studios'
Gears of War 2
in November. While the data makes it too close to call, we wouldn't be surprised if
Call of Duty
outsold
Gears of War 2
, as
Call of Duty
has six platform releases compared to
Gears
' one. We still maintain that
Gears of War 2
will be the single best-selling SKU this holiday season, but when combined with all the platforms, we will likely see a few releases outsell
Gears of War 2
, Those will likely be
Call of Duty: World at War
and
Guitar Hero: World Tour
, both from Activision. It will be interesting to see how major titles like
Mirror's Edge, Need for Speed, Mortal Kombat
, and
Quantum of Solace
hold up in November, as all four titles received slightly to extremely depressed review scores. I have hypothesized in previous analyses that quality scores will likely play a bigger role in driving sales this holiday season. Consumers, who now have less discretionary income, will likely take fewer risks with their purchase and stick to games that they know will deliver on quality.
[Jesse Divnich currently serves as the director of analytical services at Electronic Entertainment Design and Research (EEDAR). The preceding is the views and opinions of one person and not of EEDAR, The simExchange, GamerMetrics, or Gametrailers.]