[Continuing his Gamasutra-exclusive NPD analysis following the release of June's game sales figures, EEDAR's director of analytical services Jesse Divnich examines how the quantity and diversity of accomplishments available with achievement systems, such as Sony's Trophies, can affect a game's revenue and Metacritic score. Previously: Disappointing Xbox 360 hardware results and software shortages for key Wii titles and Xbox 360 price cut to boost the system's sales over PS3's .]
While Sony launches its new Trophy program, many publishers and developers are beginning to research the best ways to implement a trophy achievement system to maximize playability and revenue. The company I work for, EEDAR has a
large video game intelligence database
on downloadable content and game achievements. This information is used by our clients to create the best possible combination of achievements for the game they making. For today, we will take a macro view of how the quantity and diversity of accomplishments can affect a game's revenue and Metacritic score. However, publishers and developers should keep in mind that this is just a general overview.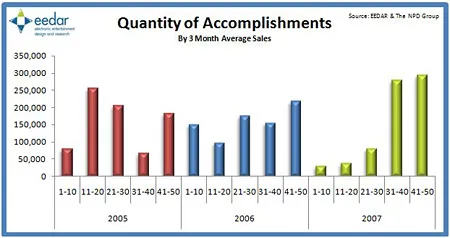 When the Xbox 360 originally launched, many publishers were confused about the best way to make use of Microsoft's achievement system. We can see this by examining games released in 2005, as for that year there exist no observable trend between sales and the amount of achievements in a game. However, as we move forward into 2006, we begin to see a small shift to a new trend as consumers begin to prefer games that offer more achievements. At the end of 2007, a clear trend emerges: games that offer more achievements produce higher retail sales. There is no doubt that offering more accomplishments increases a games replay value, sales, and overall appeal; however, quantity is not the sole ingredient in creating a successful achievement system. EEDAR's database indicates that the diversity of those achievements plays an equally important role.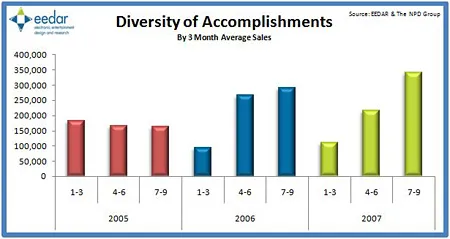 EEDAR tracks over 16 different types of accomplishments such as advancement, time, exploration, victory, and so on. Similar to the quantity of accomplishments, it took a few years before a significant trend relating to variety could emerge, but the results are just as clear. Consumers prefer games with a more diverse list of accomplishments. Simply put, offering 50 accomplishments that all involve reaching X number of headshots simply will not cut it. Gamers prefer a larger list and more diverse set of tasks that will let them experience all the features in the game. Additionally, we see a similar trend when applying our diversity statistics to Metacritic scores. Again, to no surprise, games that offer a greater diversity of accomplishments receive higher review scores.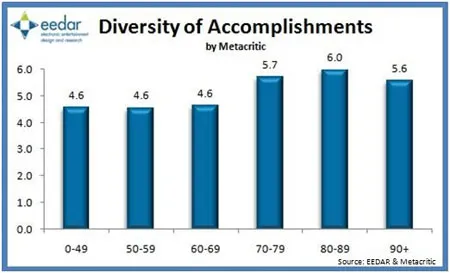 While Sony does not require publishers to take part in its "trophy" system, our data makes it crystal clear that adding robust achievement systems in your game generates higher revenue and higher scores. Remember, 50% of retail game titles released for the Xbox 360 are additionally released on the Wii or the PlayStation 3. Of these game titles, 75% generate greater U.S. revenue on the Xbox 360 than on the other consoles. The Xbox 360 achievement system plays a pivotal role in driving that statistic. This is an great way for Sony to begin its Trophy program - while it took Microsoft and publishers several years to find the right formula for the Xbox 360's achievements, Sony is entering the field with a wide availability of information that will bring down the experience curve much faster than when Microsoft launched their accomplishment system.
[Jesse Divnich currently serves as the director of analytical services at Electronic Entertainment Design and Research (EEDAR). The preceding is the views and opinions of one person and not of EEDAR, The simExchange, GamerMetrics, or Gametrailers.]