[Concluding his Gamasutra-exclusive NPD analysis following the release of July's game sales figures EEDAR's director of analytical services Jesse Divnich forecasts software and hardware results for August, predicting inevitable Madden dominance, higher-than-expected numbers for Mario Super Sluggers, and the PS3 to outsell the Xbox 360 once again. Previously: Multiplayer gamers prefer Xbox 360 releases over PS3 versions, Wii supply to meet consumer demand soon, and disappointing Xbox 360 hardware sales despite a discounted Pro model.]
August 2008: Game Software Predictions
So, let's look at predictions for August sales in North America thanks to statistics from IGN's GamerMetrics service and GameTrailer's Stream Stats. These services look at gamer attention on their websites to help predict interest, and therefore eventual sales. Unanimously, both GamerMetrics and Stream Stats expect EA's multiplatform
Madden NFL 09
to top the software charts in August - at least by extrapolation from interest. The rest of the rankings seem similar between the two data outlets, and I do not expect too many surprises:

It's interesting to note Silicon Knights'
Too Human
as the second-most viewed title for both charts, given its controversial history and mixed reviews. Nonetheless, it seems likely to pull in strong sales in its first month, at least. For
Mario Super Sluggers
, however, I do expect stronger sales than the current data indicates. Its over-the-top arcade style gameplay will likely lure in a lot of the mainstream market, and the mascot-centered gameplay will also draw in the family-centric Wii market at the same time. There has been widespread speculation on the release of
Madden NFL 09
, as some experts have claimed that its year-over-year pre-orders were down as much as 30 percent; others have said that year-over-year sales are up. Doing our due diligence, we found that both statements are, in fact, true. Our channel checks indicate that pre-orders for
Madden NFL 09
, as with
NCAA Football 2009
, were down year-over-year. Total sales after
Madden
's release, however, were right on par with last year, just like
NCAA Football
. Thus we can see that, although pre-orders may sometimes correlate closely to after-release sell through, it is clear that, in this case, it was deceiving.
August 2008: Game Hardware Predictions
At EEDAR, we routinely predict hardware numbers for each month, and here's our predictions for North American hardware sales in August 2008: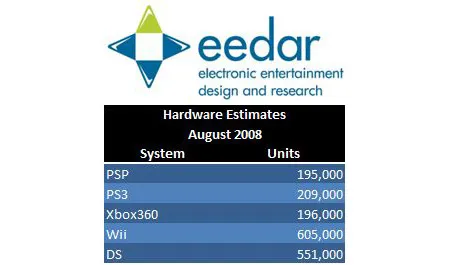 As you can see, for game hardware, we do not expect many surprises in August, with Nintendo's two consoles significantly out in front again. However, most of the mystery will still surround the Nintendo DS and Nintendo Wii, which, particularly in the latter's case, can majorly deviate from conventional monthly trends depending on that month's hardware supply. Otherwise, we are again predicting the PlayStation 3 to outsell the Xbox 360, if only marginally. Our Xbox 360 prediction could differ notably if recent rumors of a September permanent price cut become widespread, although price cut rumors have had little sales impact in the past.
[Jesse Divnich currently serves as the director of analytical services at Electronic Entertainment Design and Research (EEDAR). The preceding is the views and opinions of one person and not of EEDAR, The simExchange, GamerMetrics, or Gametrailers.]