[Throughout this week, EEDAR's director of analytical services Jesse Divnich is presenting exclusive Gamasutra analysis of April's hardware and software trends, using data from Electronic Entertainment Design and Research (EEDAR), The simExchange, NPD, IGN GamerMetrics, and GameTrailers. Today's chart analysis studies average review scores to determine if video game publishers are becoming more like movie publishers, focusing less on game quality and more on publishing profitable titles. Previously: Nintendo finally meeting Wii demand, no need for hardware price cuts, the implications of April's underperforming software sales and Microsoft and Sony's GTA IV victories.]
Even though the new mainstream gaming market has diminished the correlation between quality scores and sales, it's still considered an important subject within the core industry. Unfortunately, as we will see, it may not be as relevant as it used to be when analyzing bigger publishers with broader market segments for their titles. When determining the criteria for the data to use in these graphs, we decided not to include titles with a below average MSRP to prevent skewing from budget games. Instead, we decided to go with all titles that had a MSRP $49.99 and above. For reference, we mulled over the idea of just including PS3/Xbox 360 games that were $59.99 and above and Wii titles $49.99 and above, but that didn't have a serious effect on the rankings, and only narrowed the amount of data for each publisher when calculating these averages. Surprisingly, all the major publishers have an average quality score in the same ballpark with no clear winner. Looking at the whisker plot to determine consistency and diversity, we can see that EA, Sony, and THQ have one of the better windows of consistency on their releases, while companies like Microsoft, Take-Two, Activision, and Sega have a more diverse quality of releases.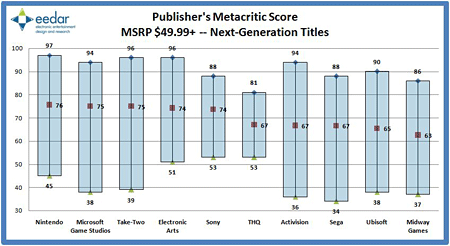 There is no doubt that even the smallest whisker plot is still considered a very diverse quality window. This has led me to question whether or not a publisher's name on a game box is even relevant during the consumer decision-making process. It seems that publishers within the video game industry are taking the same route as movie publishers, not necessarily concerning themselves with quality so much as publishing profitable titles. Essentially, Activision is to the video game industry what Paramount is to the movie industry: Infinity Ward as Activision's LucasFilm,
Call of Duty 4
as Indiana Jones and the Kingdom of the Crystal Skull. Paramount is broken into four major publishing companies: MTV Films, Paramount Pictures, Paramount Vantage, and Nickelodeon Movies -- each publishing their own style of films. EA recently announced a similar company structure and broke its company into four major publishing groups: EA Games, EA Sports, EA Casual, and The Sims -- again, each publishing their own style of games. The uncanny resemblance does not end there - as the movie publishers sometimes act as just a distributor for a film, having little control on the film's production. Again, refer to Paramount, which acts just as a distributor for companies like DreamWorks and Marvel. In the video game industry, we have the same occurrence, as Electronic Arts acts as a distributor for companies like Valve and MTV Games, having little control over the design of the game. Taking all of this into consideration, I do not think we can consider the above graphs relevant when looking at quality scores from the macro publisher level, but it would be much more relevant if broken down by developers and smaller publishers. This is something we will likely do in the future, once all major developers have at least two or more next-generation titles under their belt. Keep this in mind the next time you enter into an armchair analysis argument about publishers and their quality scores, as it's worth considering how much the video game industry has evolved over the last four years. It's somewhat of a disservice to the industry and to the big publishers to fault them for taking advantage of the new emerging gaming markets that tend, on average, to receive lower quality scores.
[Jesse Divnich currently serves as the director of analytical services at Electronic Entertainment Design and Research (EEDAR). The following is the views and opinions of one person and not of EEDAR, The simExchange, GamerMetrics, or Gametrailers.]