Is agile a fad being sold like snake-oil or the savior of the game development industry, or a "silver bullet" that can solve all project problems? That's the question posed by Scrum expert Clinton Keith
in Gamasutra's feature today
. Keith calls the methodology "an attractive framework for managers and teams trying to contain schedules and budgets ballooning out of control." "The hype has settled down a bit over these past five years," writes Keith of agile adoption. "Many games developed using agile practices, mainly those in the Scrum framework, have shipped. There has been more than enough time to understand how much agile can really help a game team. It's time to look at what is emerging from agile game development teams." In Keith's Gamasutra feature, he reveals the results of a short survey that asked 50 developers who've recently used Scrum to spend a few minutes describing their experiences. The survey collected a number of rated responses for how Scrum has impacted their studio in the areas of game quality, planning effectiveness, quality of life, project management, design practices, art practices, and programming practices. Participants rated each area in the range of 1 to 5, where 1 indicated an extremely negative result and 5 indicated a major benefit. According to the results, most developers surveyed experienced "some benefit" in all areas, as illustrated by the following chart: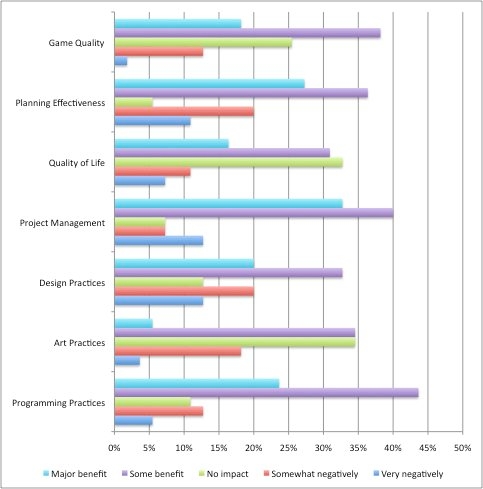 As Keith writes: "The greatest benefits reported appear in project management, programming practices, and game quality. Art practices, design practices and quality of life areas reportedly receive less benefit from Scrum." The full Gamasutra feature
offers an in-depth examination
of the state of agile in the game industry.