On average, game industry employees are getting newer to the business, with nearly three quarters claiming six or fewer years of employment, putting a heavier premium on experience. In data exclusively collected by Gamasutra sister group Game Developer Research, as part of the
recently-published 2010 Game Developer Salary Report
, it was revealed that 71 percent of game developers have been in the industry for up to six years. Based on survey responses, 34 percent of developers have been in the industry for up to two years, and 12 percent joined within the last year. Only 13 percent of developers can claim more than a decade of experience, and only 4 percent have more than 15 years. A mere 1 percent have racked up more than a quarter-century of game development experience. Those figures correspond to age data collected by Game Developer Research. In this year's study, which is based on data for the calendar year 2009, the percentage of game industry employees 34 years of age or younger increased from 62 percent to 70 percent. And the 25- to 30-year-old age group was already the biggest cross-section of the industry, but that was even more true this past year, as it grew from 33 percent to 37 percent of developers.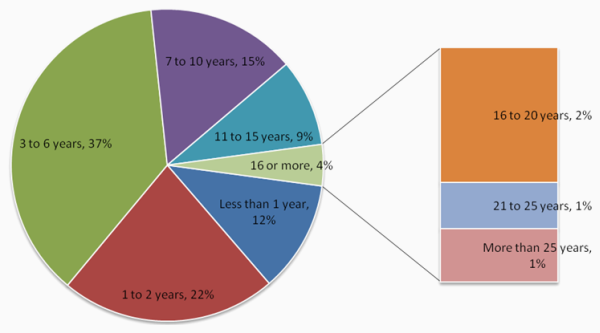 There was another notable age-related trend that surfaced with this year's study, however: Older game industry employees continued to get more valuable. In the past, salaries peaked with 41- to 50-year-old developers, then fell again with older employees. But this year, salaries correlated more strongly with age, and developers over 50 had the highest average salary: $105,948. So, as employers likely looked to hire more younger employees, who take lower salaries and are burned out less easily, the older employees who did remain saw a particularly pronounced premium for their experience, relative to the industry as a whole. These age trends may contribute to developers reporting
that they remain happy with the industry
despite the industry's recent troubles: Many of those more experienced employees who have more bones to pick may not be sticking around to express their dissatisfaction. The sample for the data contained in this excerpt was a group of 2,623 game developers across all disciplines and demographics. Game Developer Research, a sister company to Gamasutra, recently published
top-level highlights from the salary study
, including news of an overall 4 percent drop in mainstream game industry salaries to $75,573. Since then, it has publicly released
earnings data on indie developers and contractors
as well as
developer opinions on the state of the industry
. The full Game Developer Salary Survey 2005-2010 is
now available for purchase from the official Game Developer Research site
.