[Gamasutra and its sister console digital download info site GamerBytes have been following the Xbox 360's Community Games project since its launch in November, and is proud to present the Top 10 XNA games of 2008, in association with independent site XNPlay.]
For the first time ever, a major console company has allowed hobbyists to create peer-reviewed console games, and publish them directly onto the console for worldwide download. Thus, Microsoft's launch of its
Xbox Live Community Games service
in November 2008 has already brought nearly 100 free time-limited, pay for unlimited-play independent games to the service -- and a distinct need for critics and reviewers to seek out and showcase the best. For this year-end countdown, Gamasutra and sister site
GamerBytes
is handing over the reins to Robert 'Oddbob' Fearon and his staff from
XNPlay
, an independent website dedicated to bringing you news, views, reviews and previews of games featured on Microsoft's Xbox 360 Community Games program. Here's their picks for the top XNA titles released onto the Xbox 360 in 2008, all currently available for download from the console's Community Games section: 10.
Galax-E-Mail
(
BogTurtleStudios
) - 200 Points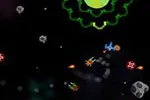 The early '80s arcade game that never was.
Galax-E-Mail
begins with the bizarre premise that you're an intergalactic e-mail delivery service (which kinda defeats the point of e-mail, don't you think?), and you're charged with guiding a flock of ships from A-B to ensure a safe delivery. A curiously authentic retro look may put some folks off. But scratch the surface and there's a glorious game lying underneath. It forgoes the usual twin stick arena fare that we've come to know and love -- instead showing an intriguing set of game mechanics melded into a rather sweet maze game. 9.
Monaco360
(
Cognatus Systems
) - 200 Points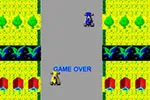 Harking back to the 1979 Sega classic
Monaco GP
,
Monaco360
resurrects the almost lost top-down racer genre for the Community Games service. For those weaned on a diet of bloom, realistic cars and cityscapes,
Monaco360
may look and feel a tad primitive. But for those like me who dearly miss the hours spent on games like
MonacoGP
,
Spy Hunter
and
Road Fighter
-
Monaco360
is an absolute must have. 8.
CaveIn
(
Johnny Death
) - 400 Points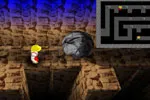 It's certainly far from the prettiest game on the Community Games service. But what
CaveIn
lacks in the looks department, it more than makes up for in gameplay. Mixing and matching 3D adventuring with
Sokoban
and
Puzzle Bobble
-style puzzle segments over 80 stages provides a fun, if occasionally a little easy, family gaming experience. 7.
Star Pilot
(jsmars) - 400 Points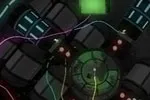 Dragging the Tron light-cycles concept into 3D and into space certainly isn't a fresh idea. However, rarely has it been done with as much polish.
Star Pilot
may not have the brain bending nature of
Knot In 3D
/
Counterclockwise
, or indeed any number of older titles. But it proves there's still a lot to be garnered from even the most classic of game design fundamentals. Throw in an incredibly accessible drawing mode where you get to paint with the light trails, and you've got a winner. 6.
Weapon Of Choice
(
Mommy's Best Games
) - 400 Points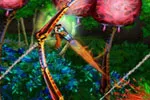 This is a flawed gem amongst the Community Games, but one worthy of note, all the same.
Weapon Of Choice
is a
Contra
-style 2D run and gun game, with more than its fair share of bizarre enemies ready to burst forth their innards upon being assaulted with your heavy artillery. Lives are replaced by "operatives", each with different skills for you to take charge of. It's a loud and brash game that doesn't always achieve the giddy heights it's aiming for. The sheer amount of hand-drawn art is breathtaking and makes
Weapon Of Choice
look like no other game out there. We're still not sure if the art is a work of genius or if someone threw up a rainbow on our televisions, but we can't help but appreciate the balls-out approach Mommy's Best have taken here. 5.
Hexothermic
(David Webb) - 200 Points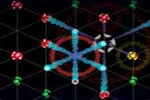 Lying somewhere between Q? Entertainment's
Every Extend Extra Extreme
(more so than Omega's original
Every Extend
) and a color-matching game,
Hexothermic
is a luscious and aurally pleasing little puzzler. On first glance, it may feel like it rewards straightforward playing, but hides a surprising level of strategy. Change the color of gems on the board to unleash a chain reaction, aiming to clear the board in just one move. It's relaxing, pretty and incredibly enjoyable stuff. 4.
Duotrix
(
Caffeine Monster Software
/
Binary Zoo
) - 400 Points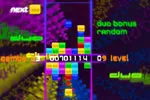 The jewel in the crown of XNA puzzlefests to date, and one of the earliest games to hit the service,
Duotrix
still stands proud. It works due to its compulsive playability, and succeeds where many similar games fall down - actually adding something
worthwhile
to the block dropping genre. The main twist, as implied in the name, is that the player controls two sets of blocks at the same time in a mirrored environment. It may sound unwieldy and awkward, but
Duotrix
makes it feel like second nature after only a short time. The addition of Zoots (the developer's own achievement system, as seen in their previous freeware PC title
Echoes
) and multiple game modes helps a lot. And with visuals clearly inspired by veteran developer
Jeff Minter
, this is one of the most polished and compulsive titles on the service. 3.
Johnny Platform's Biscuit Romp
(
Ishisoft
) - 200 Points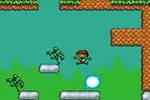 A port of the homebrew DS game of the same name,
Johnny Platform's Biscuit Romp
is an incredibly pleasing platform/puzzle game with some fine pixel artwork. Recalling the heady days of 16-bit platformers,
JPBR
mixes elements of
Qwak
,
Super Mario Bros
and even the 8 bit "classic"
Exolon
together to good effect. With 55 levels to work your way through, and one of the smoothest difficulty curves we've encountered in a long time,
JPBR
is proof positive that there's life in the old platforming dog yet. Not that we ever doubted that, of course. 2.
Ultratron
(
Pumpkin Games
/
Puppy Games
) - 400 Points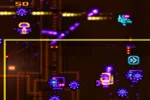 Ultratron
may already be familiar to PC gamers, since the original Windows version having been floating around the internet since 2005 -- but it's fresh out of the wrapping on the Xbox 360 Community Games service. A more casual arena shooter than available on the Community Games "big daddy" service, Xbox Live Arcade,
Ultratron
feels like it's finally found its natural home on a console. A twin-stick shooter with the ultimate goal of defeating the four robots of the apocalypse (didn't you get that memo?), it clearly owes a massive debt to
Eugene Jarvis
, but is still very much its own beast. Pumpkin Games have provided a tightly knit package that utilizes the strengths of the service, throwing in their own brand of achievements and new shader effects to sweeten the deal. With a neo-retro graphics style that will outlast many games and a gentle difficulty curve with nary a spike,
Ultratron
is a fine example of how Community Games can provide an appropriate home for indies more au fait with the PC. 1.
CarneyVale Showtime
(
Gambit
) - 400 Points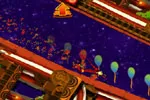 The well deserved winner of the DreamBuildPlay 2008 competition, if there's any justice in the world,
CarneyVale Showtime
will be the game that puts the Community Games on the map. It's a blazingly simple concept. You guide a ragdoll up the screen via a series of rotating grappling ropes, and complete the level by flinging him through a flaming hoop. What makes the game so special is its wonderful show of coherence coupled with joyous arcade-esque thrills. Hurling your little acrobat through the air, popping balloons as you go is just so much
fun
. It'd be a hard-faced man indeed who wouldn't raise a smile after a particularly successful run of tricks, the crowd cheering them on as they hurtle through the fiery ring and onto the next challenge. At the frankly silly price of 400 points, and with 18 inbuilt levels and a level editor thrown in for good measure,
CarneyVale Showtime
deserves
your time
. Play it and wonder to yourself why XBLA occasionally drifts into the realms of utter tat, and yet sitting there unattended on the Community Games service lies this gem that eclipses a vast proportion of XBLA games. Then smile and spread the word.