According to NPD Top 20 rankings
obtained by Gamasutra
earlier this week, Warner Interactive's action game LEGO Batman sold best on the PlayStation 2, despite releasing on all major home and portable platforms. Developed by Traveller's Tales (
LEGO Indiana Jones, LEGO Star Wars
),
LEGO Batman
was released for PC, Wii, Nintendo DS, PlayStation 2, PlayStation 3, PlayStation Portable, and Xbox 360. Because the family-friendly title didn't appear in stores until September 23rd, the NPD report accounts for only a week's worth of sales. After spending only seven days on the shelves, the PlayStation 2 version was the #14 top-selling title of the month. According to
data extrapolated
from analyst Michael Pachter's comments, this indicates that
LEGO Batman
for the PlayStation 2 sold over 100,000 units in September. Since the game is
also bundled with the PlayStation 2 hardware bundle
for $149, the number of PS2 copies sold overall will be even larger than this -- NPD doesn't count bundled copies in its countdowns. In comparison, the Wii and Xbox versions -- the only other
LEGO Batman
releases to crack the month's Top 20 Software By Unit Sales chart -- placed at #18 and #19, selling just above and just below 100,000 copies each, according to further indications by Pachter. The full Top 20 charts for September 2008, as obtained by Gamasutra, are as follows: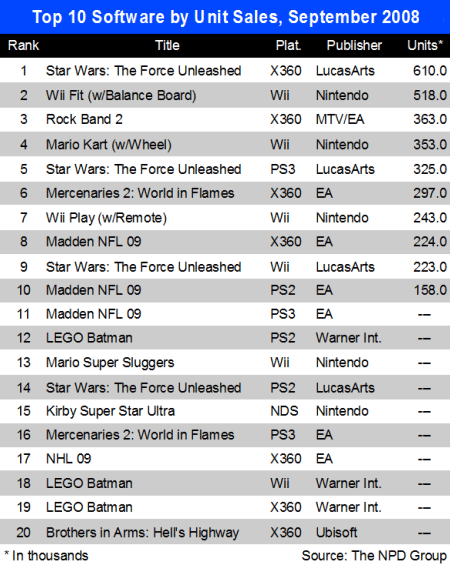 The additional data revealed by the full Top 20 (the NPD previously only released a Top 10) reveals other nuances that were previously not obvious. For example, in contrast to
LEGO Batman
, LucasArts' more teen-skewing
Star Wars: The Force Unleashed
, which also appeared on various platforms and debuted in the same month, saw largely contrasting results, with the PlayStation 2 version selling the least out of the home console releases, #14 on the Top 20 list. As the top seller for the month, the Xbox 360 version sold over 600,000 units in two weeks.
The Force Unleashed
for PlayStation 3 placed #5 with some 325,000 copies sold, while the Wii version was #9 with about 223,000 copies sold.