The
Kilrathi
are coming to Xbox Live Arcade, with Electronic Arts'
latest news
that it will be bringing
Wing Commander Arena
to Microsoft's digitally downloadable gaming marketplace. The title will offer 16-player online combat, in addition to single player battle modes, when it launches this summer - Gamasutra sat down to talk about the game in detail with lead designer Sean Penney, as well as play the game at EA's Redwood Shores campus. Before you grab your flight suit and hop into your Arrow, there's something of a catch. This is not a traditional
Wing Commander
game. First of all, the combat arenas, while rendered in 3D, are decidedly 2D in nature. Movement is confined to one plane, and players will pilot from a 3rd person view of their craft. While initially underwhelming in appearance, the game is certainly something unique in the Xbox Arcade space, and vaguely resembles the open source Unix game, XPilot.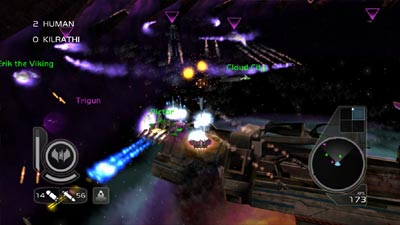 Sean Penney is an associate producer at Electronic Arts, and he's performing the duties of lead designer on
Wing Commander Arena
. While he's stationed in Burnaby, British Columbia, the development team is down in New York City. That eight-person team is known as Gaia Industries, and has previously worked on mobile phone games, such as
Sex in the City: Virtual Voodoo
, as well as another forthcoming Xbox Live Arcade title,
Street Trace NYC
, a hover-board combat game, though that title is not being published by EA. Penney has previously worked on some of EA's
FIFA, SSX
, and
NBA Street
titles. Said Penney, "People talk about Nintendo being innovative with the Wii controller. They ask, 'What's Microsoft's innovation?' Well, I think that their innovation is Xbox Live." The EA designer said that
Wing Commander Arena
has been in development for eight months. At the beginning, he said, EA was shopping the license around to a number of smaller third party shops. "You know EA, though," he added, "they're very cautious." Despite the strict size limits on the game (Xbox Live Arcade games are limited to 50 MBs in size), Penney was confident that the title would not have trouble getting in under the threshold. He intimated that a size limit increase is forthcoming from Microsoft, though Microsoft could not confirm this news. "If we'd known about the size increase, maybe we could have gotten some Mark Hamill cut scenes in there," joked Penney. All kidding aside, this arcade space combat game does boast some firsts for the
Wing Commander
series. It'll be the first time players will get the chance to play as the furry and deadly Kilrathi race, in the series' first multiplayer mode since 1994's
Wing Commander: Armada
. Players can choose from six ships, three each for the Terrans and Kilrathi. Each ship comes in three different configurations, but essentially fall into the roles of scouts, fighters, and bombers. Gameplay styles range from straight free-for-all battles to control point battles and carrier defense scenarios. As for development process, Penney was extremely complimentary of the Xbox Live system, saying that coding has gone smoothly, and that he feels EA's deep pockets will afford the company time to polish its offerings in a way that is not common on the service today. Penney concluded by suggesting that EA intends to differentiate itself on the service through the quality of its titles and the patience demonstrated in its development cycles - something it is also striving for in the
recently announced
, Bizarre Creations-developed
Boom Boom Rocket
, shown alongside
Wing Commander Arena
.