One of the most intriguing documentaries about electronic games in recent years isn't even about video games, believe it or not. It's
'Tilt: The Battle To Save Pinball'
, the Greg Maletic-directed documentary that's
now out on DVD
. Rather than hamfistedly trying to explain it ourselves, how about let the documentary creators explain it? "The situation facing the pinball designers at Williams Electronic Games in 1998: come up with something new, or see the world's largest pinball manufacturer be shut down forever. And Williams' designers did come up with something amazing: a brand new kind of pinball machine—"
Pinball 2000
"—that fused video with classic pinball gameplay, preserving what was great about pinball yet opening up all-new possibilities for a product thought to be on its last legs. Yet soon after its successful and highly-profitable launch, Williams pulled the plug, leaving behind unanswered questions and abandoning one of the world's great design organizations. TILT: The Battle to Save Pinball is a documentary that tells the story behind one of entertainment's most mysterious failures." Gamasutra was lucky enough to catch up with Tilt's director, Greg Maletic, via email. Maletic, who
explains his interest in the subject
on the official movie site, kindly took the time to chat in detail about the documentary and Pinball 2000.
What's your background as a film-maker? I see you are also (simultaneously) a technologist?
I don't have a background as a filmmaker; this is the first time I've tried to make a film. I'm a software developer by training, though I've dabbled in a lot of things over the past several years, like starting a software company, and becoming an illustrator. I currently run the design team at a web marketing company called Bunchball. Regarding the term "technologist," I guess that applies, but it's probably a bit grandiose. (I think that was first used in reference to me after I wrote a pretty well-read article about my experience working at Apple Computer, as the product manager for a stillborn technology called OpenDoc.) So in the sense that I like telling stories about technology, then yes, I guess I am a technologist. But that probably doesn't make me too different from a lot of your readers.
Explain briefly how you decided that the Pinball 2000 series was an important milestone that deserved a documentary?
Three reasons; the first is that it tells a story of obsolescence that every technology will face, one day or another. We always see stories about up-and-coming products; we less often see stories about ones in the throes of extinction. (Someday, someone will make a similar documentary about "obsolete" technologies like the personal computer and the cell phone. It eventually happens to everything!) Secondly, I think the story does a great job communicating how elusive success can be: the people who designed Pinball 2000 were the best at what they did, they were highly motivated, their product was cool and actually succeeded in the market...and yet they failed despite all of that. Finally, looking from the micro- perspective, it was a significant milestone in pinball design. Regardless of what you think of the Pinball 2000 machines that were actually built, one of the under- appreciated aspects of the platform was the degree to which it made pinball comprehensible to the novice. Prior to Pinball 2000, all of the methods that the pinball designer had for communicating with the player were broken. If you wanted somebody to hit a particular target on the playfield, you could flash a light in front of it, but good luck: most of the pinball lights are flashing all of the time, so it's hard to make the player notice. You could put a message up on the orange, dot-matrix display, but people never look at that thing while they're playing. You could have some digitized dialogue tell the player what to do, but it's hard to describe the location of a target with speech. With Pinball 2000, it was simple: put a Martian--or something else people intuitively want to hit with a ball--in front of the target. That's it. It was a breakthrough. None of the "normal" ways that people thought video could be added to pinball (like, for instance, putting a monitor in place of the backglass) solved this very fundamental problem. It's worth pointing out that the documentary didn't really start as a "pinball documentary"; what I had intended to make was a film that showed the product design process. I love learning about how things get made, and I thought that a film that went really in-depth into how some cool product was born--the market, technological, and aesthetic forces that shape the things we use--sounded great to me. I'm a big Disneyland fan, so I looked into doing something on theme park rides, when I thought that I should probably take on a tiny project first in preparation for the "real" one. The Pinball 2000 idea was the "tiny" project; the further I got into it, however, the more I could see that this story was way better than the one I had planned on doing. Why was it better? It wasn't just a dive into a technology; the Pinball 2000 story had a plot. Plots are important; without one, this film might have just turned into an overview of pinball history, which was something really I didn't want to do. (I didn't think a survey of pinball history could grab a non-pinball fan the way that a more plot- oriented story could.) And it was fortunate that the story ended up as a kind of tragedy. Tragedy makes for drama.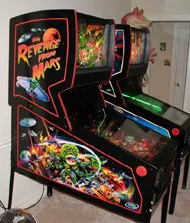 What was the most exciting part of making the documentary, for you?
There was no part of it that I didn't love. I loved meeting the guys who worked on Pinball 2000. I think it comes out in the film that I desperately wished I could have been one of them, working on something amazing that no one had seen before, with a bunch of super-talented people. I also loved doing the animation and graphics for the film. I wanted it to feel like you were thrust into the middle of this intense pinball world, and the graphics and animation were part of that. Going through that process also opened my eyes creatively, because now I make my living as an illustrator more than a software developer. (Though I do still love writing software.) Finally, I just loved the whole editing process. There are a million tiny decisions to make when cutting a film, and something I didn't appreciate before I started is the degree to which -all- of those decisions impact the story. I mean, if some guy makes a point, and you linger on him for a second longer than necessary, you're telegraphing the audience that, hey, -this means something-, whether you intended it to or not. Cut it shorter, and it becomes background information. Play the wrong snippet of audio from someone's interview, and their observation about a particular pinball machine turns from thoughtful criticism into outright slam. Everything matters.
Did the fanboys help end up killing Pinball 2000 by being overly extreme/negative about the video game elements?
I don't think so. The machine was a hit with distributors, who were the ones that were actually paying Williams for the product. And the two Pinball 2000 machines--
Revenge From Mars
and
Star Wars: Episode I
-- earned well on location. It wouldn't be a stretch to call both of them "hits." I think the fanboys in any category tend to underestimate what a tiny piece of the market they are, and pinball is no exception. No product can be a hit with just their support. Conversely, their support definitely helps, but it wasn't critical to a product that had as big a market as pinball did in the '90s. (It's a little different today...the market is so small now that every player counts!) I know the negative advance reaction to Pinball 2000 caused a lot of frustration for its designers, because much of that reaction fomented before the product was ever introduced. I think the designers' attitude was, "geez, guys, can you give us a break? I mean, we're trying to keep this company going, after all." The outside community didn't quite realize what was at stake; I think they just thought Williams was trying to jazz up the pinball product for the heck of it, when in fact, it was a last-ditch effort to keep the market alive. Also, I think some of the fanboys didn't realize how "faithful" to the pinball spirit these designers were: they didn't want to see pinball changed into a video game any more than the fans did.
Why aren't there more companies making pinball machines in today's market?
Pinball is a very difficult product to make: expensive to design, expensive to ship, and expensive to maintain. Operators want to put "easy" products on location; pinball isn't one of them. Now, that's always been true. But we're currently in an environment where 1) coin- operated games in general aren't doing well, and 2) there are more easy-to-maintain alternatives than ever before, in the form of Internet jukeboxes that can be administered from a central location, or bar-top casual video games that are lightweight and don't take up any floorspace. Fortunately, pinball, it has to be said, is an incredibly fun and appealing product, so it's still able to withstand that onslaught. But it may not forever.
Is there room for more niche pinball companies like Stern?
I'm not an expert in the business side of things, but I'd say there might be room for one more pinball company, maybe somewhere outside of the U.S. to address foreign markets. Probably no more than that. If I were starting a pinball company, I might want to do it in Europe; pinball is big over there, and you could avoid the shipping charges from the U.S., plus the currency fluctuations, and be able to deal more directly with problems like metric measurements, foreign coin and bills, and language and cultural issues.
I've seen a review of Tilt which suggests that the movie doesn't really address the perspective of the execs at Williams. What did you do to try address this issue when shooting the documentary?
I did try and get two of the biggest Williams execs on board, one of them being Neil Nicastro, then the CEO of Williams, and a featured player in the documentary. I spoke to him on the phone back when I started the film and tried to get him to sit down for an interview. Though he was very cordial, it was clear he didn't want to be involved. He probably didn't see much of an upside to his participation. And as CEO of a public company, he is in a difficult position. He probably thought that I was going to skewer him, but that absolutely wasn't my intent. The other exec I contacted was Ken Fedesna--I think he was the Executive Vice President at Williams at the time--and I'll assume that he felt similarly to Neil. I certainly would have liked to have had management's perspective, but I think the film works well in spite of the fact that the interviews are one-sided, i.e., the only people you see in the film are members of the Pinball 2000 design team, and no one else. It gives the film a very intimate feel, almost like you're a part of that team. As a downside, it could make the film seem naive and simplistic, but I think the designers in the film come off as so thoughtful and credible that you trust their opinion. If they say Pinball 2000 was a good idea, then, hey, it probably was.
Are you planning to do any follow-up or any other documentaries in this area?
Not right now. I'm all about marketing this film, trying to figure out whether it's a financially feasible proposition to make a documentary like this one. In terms of making money off of this film, I didn't really care; it was a labor of love. But if I were to take on another film, I'd want to have the business aspects of the endeavor lined up in advance.
Do you own one or both Pinball 2000 machines? If so, how often do you play them?
I own
Revenge From Mars
, not
Star Wars
(nor the conversion kit.) Sometimes I play the machine a lot; right now I'm in a bit of a downturn in my playing because 1) I've been incredibly busy with other projects, and 2) there are a couple of minor things that need to be repaired on the game (the left flipper is a little weak, and there are a few lights out), and I absolutely hate playing it when the machine's not in perfect condition. And just so you don't think I'm a pinball bigot, I also own a custom MAME cabinet that I'm really proud of, with a cabinet that I styled, and a Java-based front-end I wrote for game selection. I love current video games, but I'm really into '70s and early '80s-era retrogaming, too.
[Maletic's documentary Tilt is now available for purchase, and the two-disc DVD has a number of extras, including: "More than three hours of extra interview footage, including never-before-seen insights into the process of designing a pinball machine with industry greats Pat Lawlor and George Gomez."]