While
Halo 3: ODST
continues to have a "commanding lead" in purchase intent over all forthcoming video games,
Modern Warfare 2
's placing surged, with the
Call Of Duty
name re-addition "contributing" to the shift, according to OTX data provided exclusively to Gamasutra. The regularly compiled chart, which surveys U.S. gamers on titles they are interested in pre-ordering or buying, as well as their knowledge of the game, saw
New Super Mario Bros Wii
and
God Of War III
continuing their stints in second and third place respectively. The rest of the "purchase intent" top five for forthcoming games saw some notable rankings movement, with
Call of Duty: Modern Warfare 2
and
Left 4 Dead 2
replacing
Final Fantasy XIII
and
Assassin's Creed 2
at numbers four and five. As for
Modern Warfare 2
, OTX
recently noted
that consumer awareness levels for the game dropped 20 percent after apparent indication that the
Call Of Duty
name would be omitted. However, with the
game's box retaining the CoD brand
, it appears that retail consumers, at least, will be aware of the game's connection to the franchise. The confirmation of the "
Call of Duty
" branding on
Modern Warfare 2
's box art -- and the re-addition of this part of the name to the survey -- halfway through OTX's data period for these charts "undoubtedly contributed to the positive movement," the firm added, expecting both awareness and purchase intent surrounding the title to further rise next month. Separately to branding discussions, Nick Williams, who runs the GamePlan Insights division for OTX, addressed several specific titles. "It is also worth noting that the Pre-Order Intent for
Call of Duty: Modern Warfare 2
(Xbox 360) is higher than any other title in the Top 100, which is a testament to the quality standards set by Infinity Ward and the tremendous level of trust they have gained from satisfied gamers across the country," he writes. Elsewhere,
Left 4 Dead 2
now ranks fifth among all upcoming titles, with the ratio of awareness to purchase intent the most notable statistic: six out of ten gamers who have heard of the title say they plan to buy it. Only
Alan Wake, God of War III
and
Modern Warfare 2
have higher ratios. "This data point is the best indicator of franchises that have a passionate and loyal fanbase, and
Left 4 Dead 2
has accomplished this feat in a remarkably short period of time," says Williams. The strong performance of PlayStation Portable titles is another noteworthy trend, Williams noted. "
LittleBigPlanet
[for PSP] was the biggest gainer in the Top 25, moving up 26 spots from 49th to 23rd, and
Grand Theft Auto: Chinatown Wars
(14) and
Gran Turismo PSP
(25) both debuted in the Top 25," he says. "With the PSP Go scheduled to release on October 1, 2009, there is the potential that these marquee franchises could help move a significant number of hardware units for Sony," Williams adds. "This is supported by the fact that a large percentage of the intenders for the aforementioned PSP titles do not yet own a PSP. That said, the purchase urgency (Pre-Order, Buy in the First Month) is not particularly high for these titles, which suggests that a large portion of these gamers might wait until next year before making any decisions." The second-biggest mover in the Top 25 for purchase intent is
Grand Theft Auto: Episodes From Liberty City
, a compilation of
GTA
's Xbox 360-exclusive downloadable content, which gained 10 places in the charts from 19th to 9th. Says Williams: "While at first glance it may seem that consumers are mistaking this for a brand new
GTA
offering, a closer look at the data indicates that gamers are viewing this title as a potential holiday bargain." Specific evidence of this? "When asked how much they expected to pay for
Episodes from Liberty City
, 75% of the intenders said they expected to pay less than $59.99 (compared to 30% of those waiting for
Call of Duty: Modern Warfare 2
)." The full chart is as follows: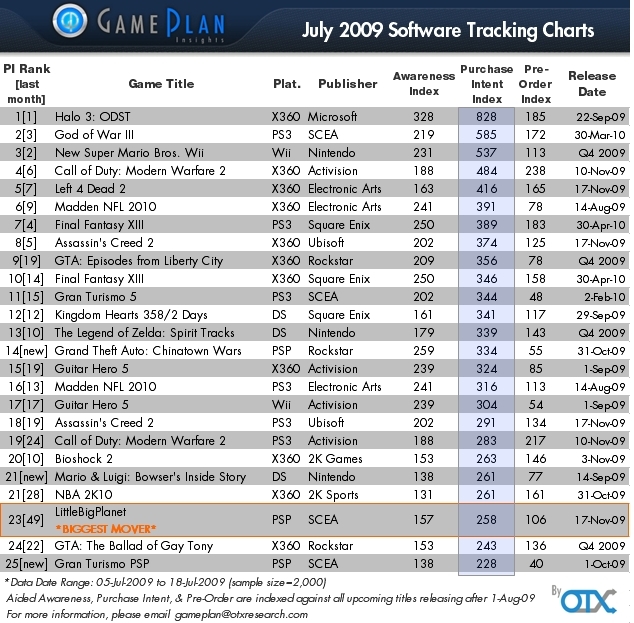 OTX's GamePlan tracking survey involves polling 1,000 U.S. gamers each week. The firm plans to release updated rankings monthly, leading up to the holiday season.