Social game developer Zynga continues to dominate Facebook gaming, as its
FarmVille
has shattered its own record for monthly active users, breaking the 50 million barrier. With its 51.5 million active users in September according to
data from Inside Social Games
,
FarmVille
had more than twice the audience of the second-place game,
Mafia Wars
, also from Zynga. Combined, the top two games had more users than the next four combined -- and two of those next four were also from Zynga. Overall, the San Francisco-based developer was responsible for well over half the active users in the list's top ten games.
Farm Town
, Slashkey's competitor to
FarmVille
-- and, notably, a predecessor to
FarmVille
-- held its #3 position, but it had only marginal user growth relative to Zynga's offerings. For further comparison, the number of users
FarmVille
gained this month alone is nearly as high as
Farm Town
's entire user base of 18.9 million. Aside from Zynga's dominance, the latest tracking data had other notable occurrences, including Viral's
FARKLE
making an impressive debut, entering the list at #9 with 7.7 million active users. None of the chart's other new additions rated any higher than #17. And other than Zynga games, the month's most impressive growth was on behalf of Playfish's
Restaurant City
, which grew 4.1 million users to 15.6 million, moving up a slot to #7 in the process.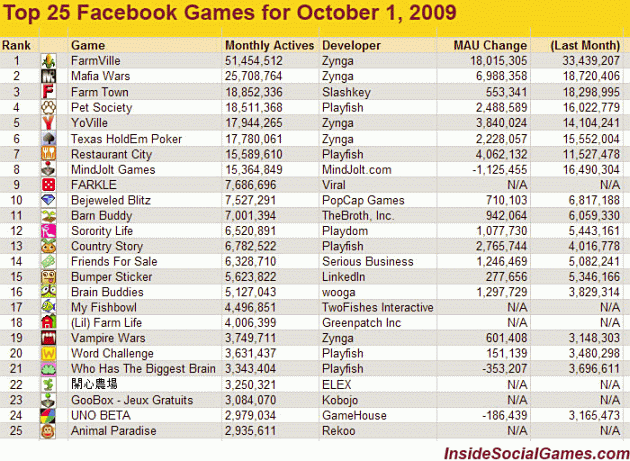 It's a different story on MySpace, however, which
Inside Social Games also tracks
. There, Playdom's
Mobsters
is the top game with its 14.0 million users -- by contrast, on Facebook
Mobsters
doesn't even chart. Despite that disparity, Zynga's competing
Mafia Wars
is the second-place game on both Facebook and MySpace, although the game is only about a million users behind
Mobsters
on MySpace and is growing at a faster rate. For further comparison, Zynga's
FarmVille
on Facebook has as many users as the top four MySpace games combined. Interestingly, Inside Social Games points out that the MySpace top 25 is comprised of "predominantly text-based role-playing game."