Almost half of the top 20 software titles at U.S. console retail in November 2009 were for Nintendo systems, according to results released by the market tracking NPD Group, including six published by the platform holder itself. The
top 10 list released yesterday
already revealed Activision Blizzard's
Call of Duty: Modern Warfare 2
had dominated sales for the month, with total Xbox 360 and PlayStation 3 sales of over 6 million units. However, Nintendo's Wii claimed four spots with first-party titles:
New Super Mario Bros. Wii
,
Wii Sports Resort
,
Wii Fit Plus
, and
Mario Kart
at positions 3, 6, 7, and 10, respectively.
Wii Play
, the minigame collection originally released in February 2007, placed 11th on the extended list and Sega's
Mario & Sonic at the Winter Olympic Games
ranked 12th. For the DS, Nintendo's own
Mario & Luigi: Bowser's Inside Story
remained at 14th for the second month in a row.
In addition to these name-brand packages, a generic software bundle for the Nintendo Wii and another for the DS, each denoted
Value Game Bundle
by the NPD Group, appeared on the chart at positions 13 and 16, respectively. Presumably these are pairs of discounted third-party titles shrinkwrapped together for convenient sale. According to the listing, the Wii version was priced at $19.99 and the Nintendo DS version at $14.99. Microsoft's Xbox 360 had three additional titles at the end of the listing. Its own
Halo 3: ODST
made another appearance as the 18th best-selling game, dropping from 6th on last month's chart. The Xbox 360 version of
Borderlands
from Take-Two Interactive dropped from 3rd to 19th and the Xbox 360 version of
Madden NFL 10
from Electronic Arts dropped from 18th to the bottom of the chart. The PlayStation 3 version of
Dragon Age: Origins
, published by Electronic Arts, debuted at number 15, several spots below its Xbox 360 counterpart. The
God of War I & II Collection
, a PS3 remake of the classic PlayStation 2 titles, was 17th for the month. Given that
God of War III
is a flagship title for Sony's console in the first quarter of 2010, the remake reaching the top 20 may be a positive sign ahead of the game's launch. The full Top 20, as provided to Gamasutra, is as follows: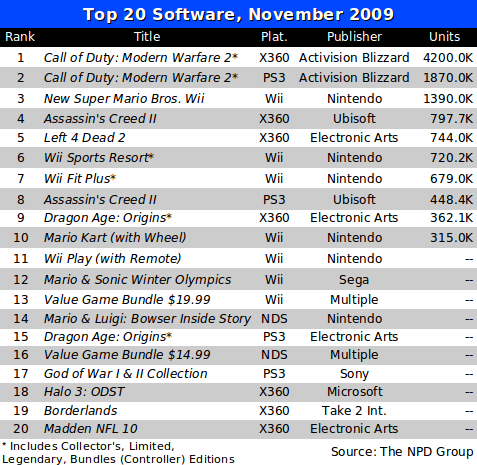 According to comments by Michael Pachter of Wedbush Securities, 34 titles sold over 100,000 units in November 2009. As a result, each title in the latter half of the top 20 must have sales between 315,000 units and 100,000 units.