Following up on
Thursday's release
of the latest retail video game sales data, the NPD Group has given Gamasutra a list of the top 20 U.S. console retail video games across all platforms for October 2009.
Demon's Souls
for the PlayStation 3 leads off the extended listing at #11, with just over 150,000 units. Originally developed by From Software and published by Sony in Japan, the notoriously unforgiving role-playing game was published in the United States by Atlus. Three more PlayStation 3 titles made the chart with
FIFA Soccer 10
from EA coming in at 13th, Namco Bandai's
Tekken 6
at 16th, and Take 2's
Borderlands
at 17th. The Xbox 360 versions of Borderlands and
FIFA
bested their PS3 counterparts, taking the 2nd and 10th spots on the chart, respectively. The Xbox 360 dominance of the top 10 continues throughout this extended chart, with three more titles. The Xbox 360 versions of
Brutal Legend
and
Madden NFL 10
, both published by Electronic Arts, slipped in as the #12 and #18 titles for the month. THQ's
WWE Smackdown vs. Raw 2010
, also for Microsoft's console, ranked 15th. Rounding out the top 20 were three titles published by Nintendo:
Mario & Luigi: Bowser's Inside Story
and
Pokemon Mystery Dungeon: Explorers of the Sky
, both for the Nintendo DS, and
Mario Kart Wii
for the Nintendo Wii. The full list of NPD's Top 20 console retail sellers for October 2009 is as follows: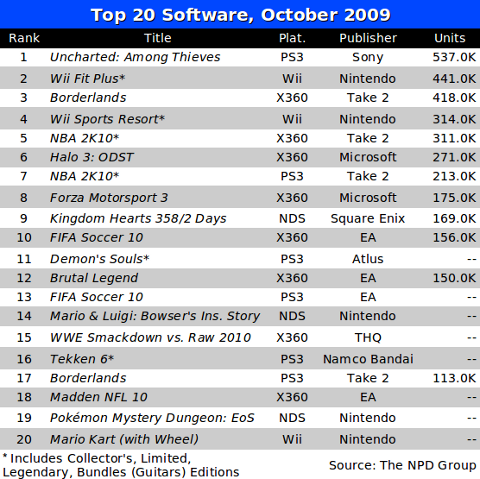 Nine publishers had titles in the top 20 in October 2009. Nintendo led the pack with five titles for its console and handheld. Both Take 2 and Electronic Arts claimed four titles each on the list. Microsoft had two titles to chart in October, both for the Xbox 360. Atlus, Namco Bandai, Sony, Square Enix, and THQ each published a single title in the top 20. Notably missing from the top 20 this month was Activision Blizzard, but we expect the publisher's
Call of Duty: Modern Warfare 2
to top the chart in November.