Microsoft often touts the Arcade model of the Xbox 360 and its $200 price as the sweet spot for hardware sales. As part of a new Gamasutra-exclusive NPD analysis, Matt Matthews reveals this isn't all marketing guff -- the system really has seen strong sales recently. The three best selling months for the console were December from 2008, 2007, and 2006 (in order of decreasing sales). The next best months were the Novembers of 2008, 2007, and 2006 (again in decreasing sales). The seventh best month was September 2007, the month consumers bought over 3 million copies of Halo 3. Which brings us to February 2009, the eighth best selling month for the Xbox 360. Unlike the months ahead of it in this ranking, it is neither a holiday month nor a killer app launch month. Compared to February 2008, sales of the Xbox 360 were up 54 percent. As a baseline, it helps to recall that the lowest point for Xbox 360 sales was in the Spring of 2006, when the system bottomed out at a mere 38,400 systems per week.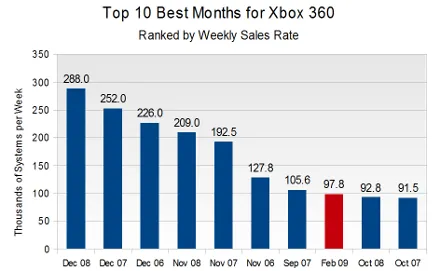 (Note: For the sake of a fair comparison, we use the weekly instead of the monthly figures. The NPD Group measures five weeks of sales for the last month of each quarter while all other months contain four weeks. To keep the calendar synchronized, NPD occasionally adds a week to a month. For example, January would normally have four weeks but in 2007 it had five.) We reiterate and strengthen the point we made after the January 2009 data was released: Microsoft's Fall 2008 price cuts were effective and we expect to see higher Xbox 360 sales throughout the year. The three non-holiday months after the price cuts were in full effect – September 2008 along with January and February 2009 – have averaged over 80,000 systems per week, which is is 57 percent higher than the average for the eight preceding non-holiday months. You can now read Gamasutra's
full NPD analysis
, from February trends to software surprises (no registration required, please feel free to link to this feature from other websites).