Consumers might have spent less on games this June than usual, but according to Nielsen data, they're spending more time playing them than ever. Nielsen usage statistics
released today
peg this past June as the strongest ever for console video game playtime, up 21 percent year over year -- while consumer spending on games
dropped 31 percent
the same month. The average console user spent 768 minutes playing in June, which works out to a little under a half-hour per day. Overall, Xbox 360 and PlayStation 2 were neck and neck for most-used status -- Sony's aging console being slightly ahead in June -- with Wii trailing slightly behind, then a significant gap until PlayStation 3. On the whole, Xbox 360 has been on the increase in the past six months, overtaking Wii in that period, while Wii and PlayStation 2 usage has dropped noticeably and PlayStation 3 has seen a slight net gain. The numbers get a lot more stratified when looking at "active users," however. (Nielsen does not explicitly define how much usage a player must demonstrate before being considered "active.) In that category, Xbox 360 has been the clear leader for the past six months, followed by PlayStation 3 -- and Wii is at the bottom of the pack by a significant margin. Nintendo's current console even trails the original Xbox as well as its own predecessor GameCube among the active user group.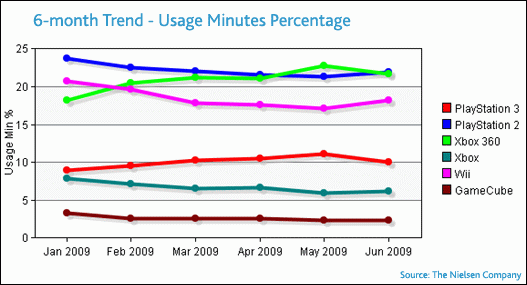 Where Wii is the clear winner is in attracting females. It is the only console which females were determined to have spent more than a quarter of their time playing. Most of the other systems, such as the PlayStations and the original Xbox, appear to be roughly equal in male and female playtime according to Nielsen, with the most notable other exception being the Xbox 360 -- apparently a very male-dominated platform.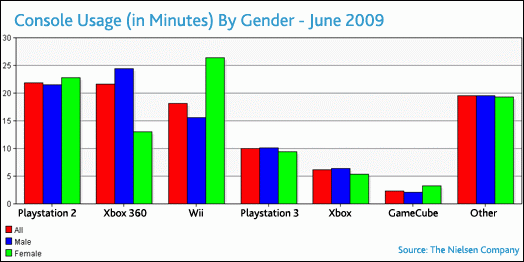 And, perhaps surprisingly to those who maintain the gaming age is ever-rising, more than half of total usage was claimed to be by those aged 18 and under.