Sony's PlayStation Home for PS3 has expanded to encompass a microtransaction-oriented action game known as
Sodium
, marking its first anniversary and a new step in the PlayStation 3 virtual world -- as it repositions itself as a social networking service to the hardcore. Two months ago,
we spoke to Sony's Jack Buser
, director of the PlayStation Home program, who told us it had attracted 8 million users. Two months later, the service is now home to 10 million players, over 50 virtual spaces, and 2000 virtual items. Sony has stepped up its efforts to hold holiday events in the space -- attracting users back daily. Buser claims that 85% of Home users have used the service before, and session duration averages at 60 minutes. Most importantly, however, this first year anniversary marks the launch of an entirely new virtual space called
Sodium
, developed by Nottingham, UK-based Outso for SCEA, which Buser describes as "our leading developer on PlayStation Home." He also describes Sodium as "the future of the platform."
Sodium?
Sodium
, which Buser describes as "an arcade-style shooter wrapped inside of an MMO framework," marks "a quantum leap forward in terms of what a game means on the Home platform," in his view. The game, which is live today, is entered via a teleporter in the main Home plaza. Once an avatar enters
Sodium
, he or she is greeted by an NPC who gives out missions in its hub area -- such as stomping robotic scorpions. There are also social games (such as a bartending minigame) and a full-fledged, fast-paced arcade shooter with five free levels. Users can purchase the full game, which launches directly from the hub, for $4.99 -- unlocking the full 50 levels. Playing the game earns the users credits, which can be spent on Home avatar upgrades and in-game items.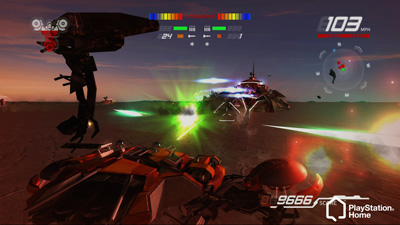 Buser says that
Sodium
is "integrated through resource trading and virtual items, and weapon upgrades -- all tied together through this meta-MMO framework, that's tied together with this arcade experience. I think that from a platform level this is important from two different perspectives." "For one, we've never seen an arcade experience quite at that level before, just for starters. And then to wrap that into an MMO framework and improve retention and bring these social gaming trends, and importantly business models, to a console, is really, really huge stuff for us." Buser sees this as the fulfillment of the free-to-play model that's become relevant on PCs and social networking sites. "This idea that we were able to bring the freemium model to the the console -- that's huge. No other console platform has something like Home that can capitalize on that model." While Buser was not quite ready to discuss whether or not
Sodium
credits will be directly purchasable for cash down the road -- right now the only way to get them is to farm in-game resources and sell them to an NPC -- there's a clear implication that this is an open possibility. He also notes that with the tank upgrades in
Sodium
, "This is the first time we've seen virtual items used for something beyond pure aesthetics, and they serve a utility inside the game itself."
The Business of Sodium
Outso COO Joel Kemp describes the first phase of
Sodium
from a business perspective -- "We're starting off an embryonic economy there." You can buy clothes, but you can also "put your
Sodium
credits together for community rewards; we'll be hosting events." More importantly, there will be a
Sodium
update "every three to four months, an in-depth arcade gaming experience like this." Says Kemp, "
Sodium 2
is in the pipeline." While the only real microtransaction alluded to by Kemp in the launch version of
Sodium
are 99 cent boots for the scorpion-stomping minigame in the hub, he says, "We're going for the full freemium model --
Sodium 2
, you'll be able to play the game and upgrade the craft."
Sodium
is also built to encourage the roleplaying activity Home users already engage in, says Kemp. "We've noticed, in a lot of the spaces, roleplay going on," which explains the drink-mixing minigame at the hub's bar, and the fact that you can use your credits to buy bartender outfits for your Home avatar.
What Home Enables
Outso CEO Halli Bjornsson is a fierce advocate for Home on behalf of Sony. He says, "Home has so many different things that are just awesome for grassroots developers, smaller to medium-sized developers like ours. As a business environment for smaller companies trying to do something interesting, Home is just fantastic." "You can have a small team release a project with a six to 12 month development time, you get all the support with the tech and platform support. You've got the backend, the payment mechanisms, and it's on a console." Though Bjornsson and Kemp are experienced developers with PlayStation 1 roots, they're particularly excited by Home because, as Bjornsson says, "you can bring the product out and gradually develop it with the community." He adds, "Coming up with new ideas and incubating new ideas in a social framework is incredibly expensive and risky to do anywhere else." Adds Buser, "Think about taking that amount of time and releasing an arcade shooter with an MMO framework from scratch. No way. And if you were to release it think about what a massive risk it would be. How many of these MMOs launch and fall over? The investment up front is so huge. With Home, so much is provided for you." Bjornsson notes that the project hasn't taken much in the way of resources. "We started developing in March, really -- we started kicking it off. We did a few little tests before that. We did it really gradually, testing the water. At the peak we had maybe 10 people, but that was a short time. We did it on the cheap. We had a few guys on it -- maybe four guys consistently on it, the whole time."
It's Not Just Salt
Buser also had some kind words for another developer's presence in Home. Alongside its launch in Japan, Square Enix has debuted a Home space and items themed around
Final Fantasy XIII
. The company also recently debuted a trailer for its game in Home in North America. Says Buser, "What a way to tap right into the vein of PlayStation 3 evangelists for the
Final Fantasy
franchise. All of those
Final Fantasy
loyalists who grew up with the PlayStation brand were just ecstatic. That's who's in Home. That's the community. Square is a great example of a publisher that really gets it."