Jordan Weisman, founder of FASA and WizKids, has revealed the primary project of his new company, Smith & Tinker -- it's an online, free-to-play monster battling game called
Nanovor
. Following an
earlier interview with Weisman
, the
Battletech
and
Shadowrun
co-creator, the executive and other Smith & Tinker execs discussed the product and overarching project in depth with Gamasutra. The meeting, which took place at Gamasutra's offices, also included Smith & Tinker president Joe Lawndus and Charles S. Merrin, its senior vice president of marketing. Lawndus' background takes in Cranium and Hasbro -- he's the toy guy -- while Merrin has worked in the online gaming and web space for some years, including RealArcade -- he's the online guy. Add in the game guy, Weisman, and you get the recipe for the company's new major product,
Nanovor
. (The company is
also partnering with Piranha Games
for an Unreal Engine-powered reboot of the
MechWarrior
franchise for PC and Xbox 360.)
The Basics of Nanovor
Nanovor
is a muilti-pronged strategy battle game property primarily targeted at boys in the seven-to-twelve age range, which encompasses a free-to-play online game, toys, web animation, and even dedicated electronic handhelds known as Nanoscopes -- allowing for offline play. The world of
Nanovor
revolves around microscopic insects which live in computer chips -- which live to do battle with each other. The bugs were discovered by a high school student named Lucas Nelson -- who stars in the
Nanovor
animated web shorts, which are designed to tell the backstory to kids and potentially even go viral. Of course, fiction aside, kids can build armies of the virtual bugs and do battle in the online free-to-play game, which requires a PC client download (or install from a disc) and which allows for booster pack downloads (there's the microtransaction core of the business.)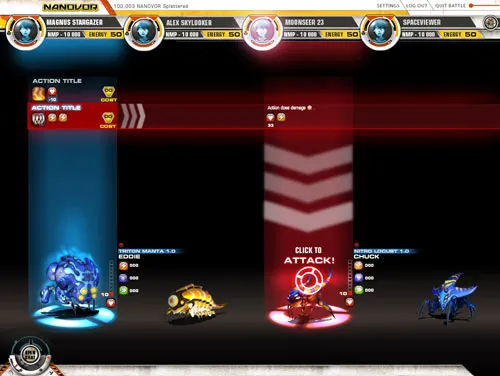 The philosophy behind the property seems based on three core concepts, per our discussions with the executive team: one, to capitalize on addictive Pokemon-style gameplay but with a harder edge to appeal more to boys; two, to take advantage of the online free-to-play market to launch a game with the mechanics of a trading card game but with more attractive pricing; and three, to get kids playing together in the real world with the Nanoscope devices, which allow for two to four player battles with players' customized decks of creatures, synchronized with their online accounts. The Nanoscope will launch to retail this October for $49.99. It will contain built-in minigames to allow players to level up their Nanovor creatures while off the PC. Players will also be able to enjoy single player-focused battle challenges, some of which will be sold on separate cartridges, for less than $10 each.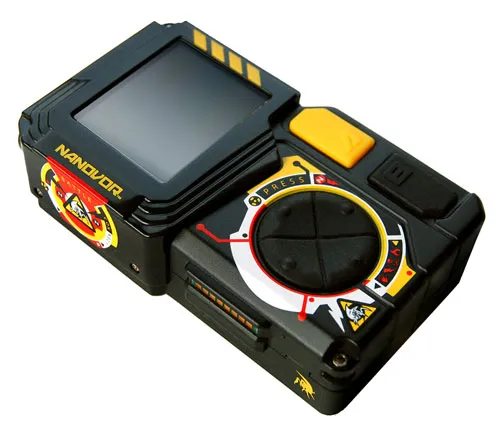 The primary function of the device, however, is to encourage kids to play together in the real world; it's about the size of a deck of cards, and is meant to bring the online game to the real-life play space, serving the same function the Pokemon trading card game did 10 years ago. The game, however, does not require this device; it has already launched at Nanovor.com. But it's not just available online; packages with the online game on a CD-ROM (along with an action figure and a $10 cash card) have already been launched into retail, allowing the company to appeal to kids and parents who aren't as aware of the online world. A similar pack, with a comic book instead of a figure, will be launched by book retailers instead of toy and electronics stores. Nanovor, in contrast to Pokemon, is hard-edged and pushes the boundary of cartoon violence. It's definitely not gender-netural, unlike Nintendo's product. Says Weisman, "Boys... They're looking for more than that now. They want to see that more visceral response. It was one of our ways of differentiating ourselves from what has been the majority of this Japanese content. We're going to go more edgy. Right on the [edge of], as we say, 'kid-desired, mom-tolerated,' right? [The creatures] die in 15 different ways. Based on how you attack them, they either burst into flames, they freeze, they shatter, they turn into bubbling piles of goo.... there's 15 different really fun, visceral animations." However, while the presentation might be a little bit beyond what parents prefer, the design concept behind the game itself is a response to the fact that today's kids are losing the ability to play together as the internet ascends -- which Weisman seems to see as something of a social ill. "The organizing principle around the company is more of an ideal of: let's really bring the benefits of technology to play patterns that are face-to-face for kids, as opposed to only cocooning them separate from each other," says Weisman. "We hope that has a positive social impact." He continues: "Certainly, I look at [Nintendo's] Zelda, right? And, you know, I'll rip off Hillary Clinton and say, 'No one beats Zelda. The village beats Zelda.' Because that's how my kids would do it, right? You'd go from house to house, and say, 'Oh! I can beat that level! And I'll help you on this one...' and together you'd work through it. I think that's less true now than it used to be. I think [Xbox] Live and online games, and so on, actually drive us separately rather than collaboratively in one place." The Nanovor Model: Marrying Trading and Online Play "In any kind of free-to-play ramp, you've got a certain amount of assets that you're going to be able to get just by playing, right? So you're going to be able to get a relatively nice small collection just by playing with no money," says Weisman, in reference to the game's free-to-play, microstransaction-supported revenue model. "Earning your way through collections of seven to 10 guys. If you get mom to throw in a 10-dollar gift card... that's going to get you another 10 guys. And, you know, that will be pretty fun. You'll be able to stay and be competitive." What kind of ARPU (average revenue per user) is Smith & Tinker looking for with Nanovor? "If we look at what our high-end expectations or hope would be in an LTV (life time value) of a customer, it still comes out to the equivalent of basically buying a video game a year. So it's not where we're looking at thousands of dollars per kid per year. It's like the equivalent of buying one video game a year is what we would hope that a kid will aspire to," says Weisman. Merrin notes, "Booster [packs, of creatures] are going to cost a dollar seventy-five. Which, in comparison to four to five dollars for a traditional [physical] booster pack from other companies, I think is pretty well in line and reasonable for a parent to accept." Players whose parents are reluctant to give them as much money as they want for packs can trade or even sell their unwanted Nanovor characters online for in-game currency which can be used to buy more packs. Trading of virtual goods also has an advantage, says Weisman. "When my kids were playing Pokemon, and they would pull a rare card out of a booster pack, they would be all excited and take it to school. It was like, I knew that kid was coming home crying, right? He was going to lose that card; someone was going to steal that card." Lawndus adds, "The trade system allows kids to securely trade, and ensure that their kids don't get taken advantage of, and ensure that it happens within a construct that they can control." And once you go real-world with the electronic Nanoscope, even if a player's device is stolen, the game features iTunes-like security functionality which disallows copying of a character collection to an unauthorized PC. In other words, the kid's bugs can't be stolen, even if the device is. According to Lawndus, a strong retail presence appeals to contemporary North American audiences who are not as comfortable with virtual goods as those in other parts of the world. "We talk to parents about, 'Are you more likely to put your credit card online and to buy a discreet purchase for your kid, or sign up for a monthly allowance of tokens, or are you more likely to go to retail and buy a physical card?' And, at this point in the life cycle of kids' currency online, going to retail has largely been the answer." The Nanovor Approach: Harnessing 'Kid Energy' Nanovor is much more complicated than most free-to-play kids game offerings. There's a retail offering with the Nanovor figure packs. The Nanoscope device, which allows for both multi and single play, also adds a layer of complexity. There's a series of animated shorts launching on the web, which will continue to be produced as a promotional tool. Why do it this way? Says Lawndus, "One is to differentiate versus everybody else that's just doing online. Two is it was part of the vision of the company, really; is to not only have a compelling online experience, but to get kids in the room physically playing with one another. There's a lot of good developmental reasons why that's a pretty cool thing -- both from a parent's standpoint, and from a kid's standpoint." Adds Weisman, "And that kid energy is just great, and it's just not being used, right? I mean, your online stuff, it's like, 'No, actually, you go to your house, and I'll go to my house, and that's how we'll play.' But, you know, we're humans. We actually like being in the same place together, and we have a lot more energy together when we do. But right now, for those kids, there are actually less rewards to playing in the same room together than there is from playing from their houses separately. We wanted to try to fix that." "From a kid's standpoint, they don't give a shit whether they're online or offline; they don't think like companies think," says Lawndus. "'Is this a video game? Is this a toy?' They just want cool play experiences. So, if we can innovate, break down those walls, and do something that's cool to a kid? That's how we went, as a company." Merrin adds, "And another thing is, we've all been in this industry so long that we forget: even today, the vast majority of video game content is sold at retail. And so this presents, effectively, another customer acquisition channel, where some kids are going, they're not online, they're going into the toy stores. And I think that presents another front for us to present the brand." The Future of Nanovor The game is live. The first packs are out to stores. And the Nanoscope device has been completed -- Gamasutra touched and played with it -- and will hit shelves in October. What's the future of Nanovor? More games on more platforms? A full-fledged animated TV series? Says Weisman, "Well, any story that I write, I try to build it robust enough that it could support that kind of storytelling. I mean, obviously, we're doing our own animated series... we're in development of 50 of these episodes to be animated right now, and the comics, and the novels, and so we're definitely building to that level of depth." "And, you know, where does that go? That'll really depend on the kids. But we'd love to take it into more places. We've tried to build enough depth in the story that gives us that potential."