You may not have heard of Sarbakan, but this small Quebec-based studio has been making online games for more than a decade. Founded in 1998, Sarbakan has mostly been known for its browser-based titles -- counting some 600 under its belt so far. Now the team has decided to broaden its horizons, starting with its new Xbox Live Arcade game
Lazy Raiders
, in which the player must push the lazy Dr. Diggabones to his treasures by moving the world itself. We spoke to creative director Guy Boucher and lead game designer Maxime Carrier about how
Lazy Raiders
was conceived and what we can expect from Sarbakan in the future.
Sarbakan has been mostly involved in web development or on handheld consoles. What made you make the jump to digital downloads on consoles?
Guy Boucher:
Even though we started out as a web game and services studio, console gaming was always part of the plan. Our years of experience in web games allowed us to gain considerable experience in online and downloadable game development, an experience we put to the test with
Lazy Raiders
. Now we have our first original title on XBLA, and believe me when I say that it's just a small taste of what we plan to bring to gamers in the next year.
Maxime Carrier:
We believe that downloadable games are the future medium of choice for publishers, and that by focusing our development efforts on digital downloads, we'll be able to reach a broad and diverse audience across multiple gaming platforms.
How many of you are there at Sarbakan, and how many worked on Lazy Raiders?
GB:
There are about 80 of us.
MC:
We had a core team of 8-10 people working on
Lazy Raiders
, although more often than not there were around 15 people on board.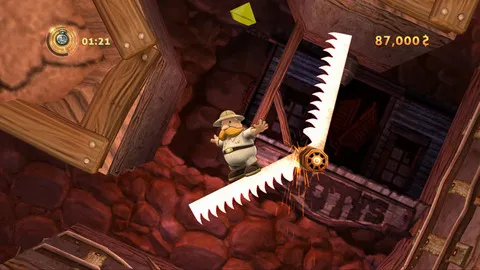 Why did you choose Xbox Live Arcade in particular? The game seems like it could be suited to other platforms as well.
GB:
XBLA's distribution services experience and core audience were a great match for Sarbakan's vision and
Lazy Raiders
' unique mechanic.
MC:
By going single-platform, we were able to produce a much more polished and satisfying game experience.
GB:
That being said, we also feel the game could work very well on the iPhone, Wii, [or] PSN.
How did the idea of Lazy Raiders come about?
GB:
We were throwing ideas around for a game targeting the casual PC download market when I suggested doing something around an explorer who visits exotic places in search of lost relics.
MC:
I was watching my dirty laundry tumble in my washing machine when it hit me. Why not use rotation as core game mechanic? Being a designer, I'm evil by nature, so I started imagining putting my cat in the washer. The game second inspiration came from those wooden mazes through which you try to guide a ball. But how to combine a cat is a washing machine with a ball maze?
GB:
We took Maxime's spin and flip mechanic and quickly made a prototype, which was an instant hit with the XBLA team.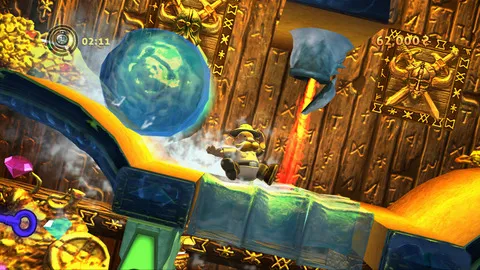 At what point did you say, "Let's just throw a fat guy on there!"?
MC:
Well, as my cat was both fat and lazy, it was a no brainer. But that would have been in bad taste, contrary to chucking a human being in there.
GB:
Maxime's idea mostly rested on a character that was so lazy, we had to move the world around him if we wanted him to budge an inch.
MC:
Using characters like Lara Croft or Indiana Jones didn't make any sense. We needed an anti-action hero. And so was born Dr. Diggabone.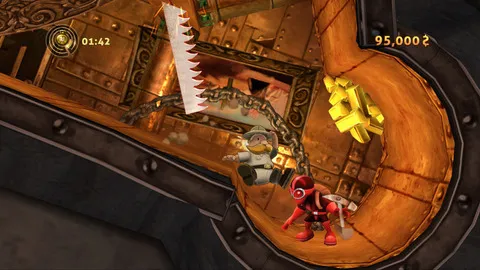 Lazy Raiders includes 80 levels, but is there any chance of DLC down the line?
GB:
There's no DLC on the horizon. We thought it'd be easier, and more fun, to include everything from the get-go. We could have gone with fewer levels and then made a couple of DLC packs, but we decided against it, instead providing the players with the integral experience in a single package.
MC:
But if we feel that there's a demand for more content, who are we to deny our fans? We already have a few concepts on paper. We'll see.