With Utah-based independent studio NinjaBee (
Band of Bugs, Cloning Clyde
) having recently announced
Boingz
for WiiWare, Gamasutra sister site GamerBytes caught up with the team to discuss the game and their two other upcoming titles, city-building title
A Kingdom for Keflings
and the adver-game
Doritos: Dash Of Destruction
. Gamerbytes spoke with
Boingz
team lead and NinjaBee president Steve Taylor, lead designer Jeremy Throckmorton, and art director Brent Fox. Topics of discussion include the genesis of the various games, their inspirations and influences, and the development disparities between console distribution platforms WiiWare and Xbox Live Arcade.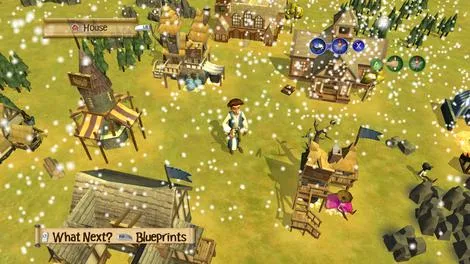 A Kingdom for Keflings [for Xbox Live Arcade] is a very different game to what you've made previously. What is the objective for the game? Steve Taylor: It's definitely off the beaten path in comparison to our other games, and really to most games available today. That said, the objective isn't too different from most city building games: to manage your resources in order to build a kingdom for your inhabitants, the Keflings. It's just the way we get to that objective that's a bit different than others. What was your inspiration for the game? ST: It stemmed from a game-in-a-day prototype I did years ago for a simple city management game that focused on what the inhabitants of the city were assigned to do. We redesigned that basic concept a couple of times, and Jeremy suggested the avatar-based approach to controlling the game, as opposed to the "hand of God" approach that most management games take. From there, it sort of grew into what it is now, an avatar-based city building game with a big focus on working with the inhabitants directly.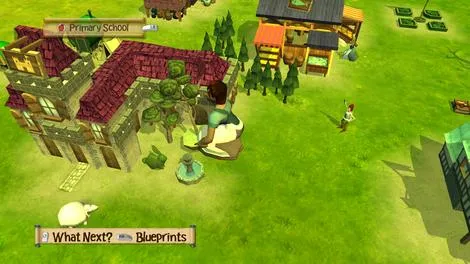 Is there any sort of random element in the game, to change the experience for each player? ST: Well, the game was designed to be fully customizable and therefore a different experience for each player. For starters, the world is laid out slightly different each time a new game is started. From there, players have the choice of building things following the tech tree straight down or completing quests given by the Mayor which open up more blueprints on the tech tree and gives rewards such as upgrades. Some crazy user content has been seen in LittleBigPlanet and Banjo Kazooie: Nuts & Bolts. Have you and your testers made some pretty bizarre town designs? ST: The weirdest thing I've seen is a soccer pitch built by one of our designers. He created goal posts out of banner towers or building walls and then proceeded to play soccer by kicking the Keflings around. That definitely made for an interesting multiplayer game! How does the multiplayer work? Does a second player work within your instance of your town? Can a second player earn new parts while they're not in their own town? ST: Up to four players work together in the same kingdom, and everything stays inside that world. If a player leaves a multiplayer game and starts his own single-player game, that's a separate world. We designed multiplayer to be a cooperative experience, and it works really well in that way, but I have the feeling that some games will be a groups of friends competing to see who can collect resources the fastest and jokingly tearing down each other's buildings.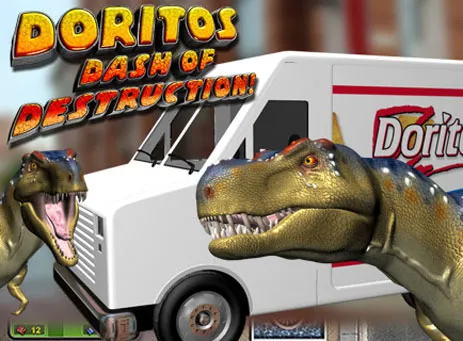 Doritos: Dash of Destruction It's been almost a year since Doritos Dash of Destruction was announced for Xbox Live Arcade through the Doritos Unlock Xbox Competition, where a competition winner got to have his game created for XBLA. Where is it currently? ST: A lot of hard work and thought has been put into the game during the past year. For a sneak peek at how the game's coming along, check out some of the documentaries Doritos has done at UnlockXbox.com. What is the premise of the game? How do dinosaurs deal with Doritos? ST: The premise is simple: dinosaurs are still alive and their favorite snack is Doritos chips. The Dinos are on a rampage to hunt down as many Doritos-carrying trucks as they possibly can, while all the Trucks want to do is to make their deliveries and avoid becoming dino-chow. Have Doritos or the contest winner had much of an impact to the game since the initial prototype? ST: Definitely. Mike (the contest winner) has been on many conference calls and e-mail threads and he even made a couple of trips to our studio to work out game design and other details. Xbox Live Arcade has seen an adver-game with Yaris, and it wasn't well-received. How are you making sure that you're not falling into the same trap? ST: For starters, I assure you that many people are asking this same question frequently, and we are not lacking for detailed feedback from many invested individuals. Honestly, our best tool in this area is letting people play the game frequently and incorporating feedback as much as possible. When should we expect this game to release? ST: Due to the risk of getting eaten by dinosaurs, I'm afraid I can't say.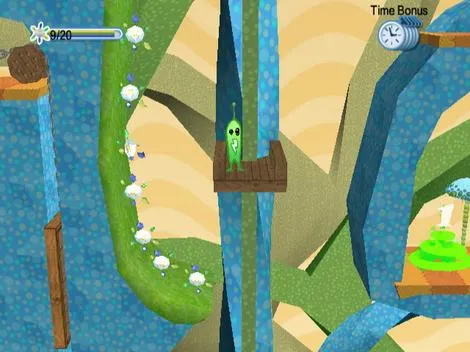 Boingz What is Boingz? Where did this idea come from? Jeremy Throckmorton: Boingz is a physics-based platform/puzzle game built around elastic characters the player can stretch, bend, and flick about. The idea came after some thought about what would be a fun game to play on the Wii. Stretching and flicking things has always been fun; I imagine the first rubber bands created were used to flick at someone. The Wii Remote gives players a great interface for this sort of gameplay. Boingz is based around a pretty simple story: The Boingz were captured in a strange storm and scattered about an alien world. Lucky for them, the storm left gateways to their home scattered around the alien world as well. So your job as the player is to solve the puzzles and help get the Boingz back to their home.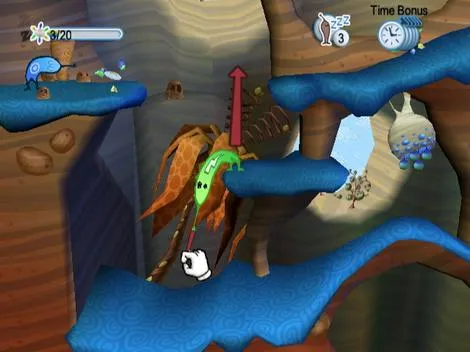 What are the gameplay mechanics? JT: Throughout the game, players control individual Boingz, guiding them to work together for a common goal and rescue themselves from their current predicament. Through the Boingz characters, players can interact with the world by moving elements or holding them in place. What makes the game unique? JT: The control and feel of the Boingz is a unique experience in and of itself. One of the goals we had on this project was to make sure the characters were fun to play with separate from any of the goal-oriented gameplay. We also designed the game so players can't really fail or get stuck. You won't ever have to restart a level because you screwed up. After working on Xbox Live Arcade for many years, you've made the jump over to WiiWare. What made you decide to work on the Wii? Brent Fox: We are always looking for a new challenge and making games for the Wii seemed like a very natural fit for our team. It's been fun to design a game around the unique controller. Nintendo has found a way to reach many non-traditional gamers and by making a game for the Wii we are also getting our games in front of a new set of people.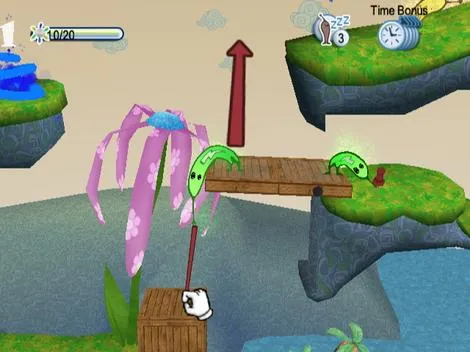 Has it been a difficult transition? What has been the most difficult hurdle to overcome? BF: We have some really smart guys on the team so the transition has been pretty smooth. Each console has its own challenges but our biggest challenge was getting everything in the game to behave the way we wanted it to and to develop the physics engine just right. What has it been like to work with Microsoft with XBLA and Nintendo with WiiWare? BF: Outpost Kaloki X was our first opportunity to create and publish our own game on a console and we have to thank Microsoft for involving us so early in the process. We had a good enough experience then that we have continued to make XBLA games. A Kingdom for Keflings will be our fourth XBLA title, and I'm sure it won't be our last. We certainly haven't run out of ideas Nintendo has also been great to work with. We've actually been working with Nintendo on the Wii for quite some time, just trying to find the perfect game for the platform. Nintendo's approach with its developers is very hands-off, which has allowed us to make the game we want, and we absolutely love this kind of creative freedom. Your previous work on XBLA has all been self-published. For Boingz you've teamed up with RealNetworks. How has it been working with a publisher in the digital space, particularly one new to game consoles? BF: We teamed up with RealNetworks on this game specifically because they seemed as though they would be a good partner and they were very interested in our concept. They have been committed to making a good game and have put a lot of support and effort into this game. The results for Boingz have been really positive. Other than naming the game, we had a lot of creative control and that was very appealing to us.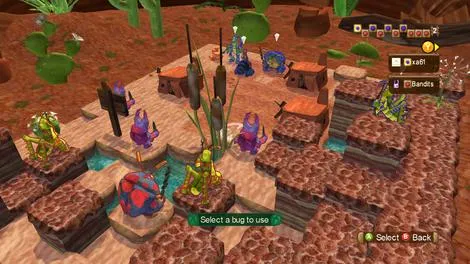 Everything Else You're now working on Xbox Live Arcade and WiiWare. Any chance that you'll come over to the PlayStation Network as well? BF: This is certainly a possibility. We've made PS2 games in the past and we always welcome the opportunities and challenges of a new platform. GB: When should these three games be coming out? BF: We haven't announced any release dates for these games yet but you should look for announcements of specific dates very soon. I would watch for Boingz first and the others won't be far behind. Any hints as to what else you're working on at the moment? BF: These three games have kept us really busy but we do have other games in the works. As we finish up our current games we will be able to devote more attention to these other games, most of which still need to spend a little more time in the oven.