[GamerBytes editor Ryan Langley analyzes September 2009's Xbox Live Arcade debuts and continuing successes, using charts and leaderboard data to show which XBLA titles are flourishing into the Autumn.]
Over the past year, we've been analyzing Xbox Live Arcade sales charts -- we began with just the XBLA lists, and then began looking at the Leaderboards over a four week period. But starting this month, we're taking it one step further -– by bringing both together. By attempting to extrapolate from both the Leaderboard data and the weekly Top 10 lists, we can at least estimate what XBLA titles sold in a given month -– including games like
Battlefield 1943
and
Marvel Vs. Capcom 2
, which do not show the overall player count on Leaderboards. In the future, we'll be expanding our scope, continuing our research on not only these but many other XBLA titles that have been released over the past year and beyond. Not all games can be followed like we've been doing here, but we continue to do the best we can. In any case, 11 new Xbox Live Arcade titles were released within the 5 weeks of September 2009, and while some games did remarkably well, others that we tracked were not so lucky. These are the top 10 games per week, as announced by Xbox Live's Larry "Major Nelson" Hryb: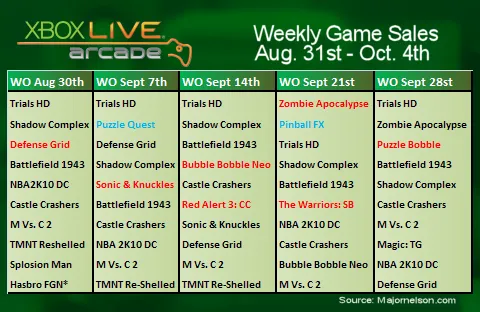 Defending The Grid
Hidden Path's
Defense Grid
was the first release of the month. The space-based
Tower Defense
-style game was a critical hit on the PC last year, and after a long delay, was finally released on the Xbox 360. Though it couldn't beat
Trials HD
or
Shadow Complex
in its opening surge, it's done very well. In its first week, over 27,000 players joined the Leaderboards, with a total of 62,000 players at the end of the month. Released alongside it in the first week of September 2009 was
Yo-Ho Kablammo
, which was unable to make the Top 10 for its release week. Considering its lukewarm reception and high price point, we would imagine the piratical-themed title hasn't sold so well.
Cracking Knuckles
Sonic & Knuckles
is the latest of the Sega Vintage Collection, and the final piece of the "original"
Sonic the Hedgehog
titles. It also features the ability to connect the game to
Sonic 2
and
Sonic 3
, for players who own them on XBLA.
Sonic & Knuckles
is selling roughly the same as
Sonic 3
did - at the end of the month over 27,000 players were on the Leaderboards. For the week of the former title's release,
Sonic 3
did get a bit of a boost, adding 2,400 players. But it went back to adding 1,500 players a week thereafter.
Sonic & Knuckles
will likely continue to sell steadily for many months to come, like its predecessors.
Bubble Commando
Bubble Bobble Neo
and
Command & Conquer: Red Alert 3: Commander's Challenge
were both released on the 16th. They were two very different titles, but neither did all that well –
Trials HD, Shadow Complex
and
Battlefield
still reigned supreme in their release week.
Bubble Bobble
Leaderboards show 14,000 players in its three weeks of sales, while
Red Alert 3: Commander's Challenge
added 10,500 players.
Red Alert 3: CC
has quite a lot of content, but consumers may have been put off by its large file size. At 2 gigabytes, it will fit fine on a 60 or 120GB hard drive, but it's a big chunk of data for anyone with an original 20GB hard disc. On a small note,
Bubble Bobble
added two level packs in the final week of September. The Leaderboards reveal only a few people bought it – 207 people were listed with regard to the first level pack, and 95 were on Leaderboards for the second.
Assault Of The Warrior Zombies
Zombies are the 'in' thing right now, so it would come as no surprise that
Zombie Apocalypse
has done very well in its first two weeks of release. By our calculations, it has sold over 48,000 copies across its two weeks of release in September. The other two releases for the week were not so lucky.
The Warriors: Street Brawl
has sold roughly 8,300 based on Leaderboard data, while space shooter
Ion Assault
has could only muster 1,448 players across two weeks –- one of the worst performers we've seen in a while. This was quite a poor time to release games -- besides the launch of these three, but three others were brought down in price and made XBLA Deal Of The Week (discussed below). To top it off, there was the retail release of
Halo ODST
-- lots of competition here.
Quizzes And Puzzles
The final week of September had three more releases –
Military Madness: Nectaris
,
Bust-A-Move Live!
and
Football Genius
. However only Bust-A-Move made it to the Top 10 this week, adding around 12,000 to Leaderboards. Both
Military Madness
and
Bust-A-Move
ended up adding less than 4,000 for Leaderboards for that week.
Sales, Sales, Sales
For the first four weeks of September we saw old Xbox Live Arcade titles become Deals of the Week – cutting off 33% or 50% off the regular price.
Puzzle Quest
and
Pinball FX
dropped from their $10 price point to $5 for a week, and both sold very well during these times.
Pinball FX
added over 30,000 players to the Leaderboard, while we believe
Puzzle Quest
added roughly 26,000 that week.
Penny Arcade Episode 2
and
Lode Runner
dropped from their $15 price point to $10. However, both did not do nearly as well as the above two titles. Neither game made it to the Top 10 –
Penny Arcade 2
was only able to add 1,200 players while on sale. In the weeks after the sale, the game added roughly 150 Leaderboard entries per week, so this is quite an improvement -- but not a big enough sale to warrant a lot of purchases.
Brain Challenge, Street Fighter II Hyper Fighting
and
3D Ultra Mini Golf
also dropped permanently to $5 for the last two weeks of the month -- but alongside numerous other releases it appears nobody really bothered with any of them.
Street Fighter II
has since been bested by
HD Remix
, and
Brain Challenge
was on sale a few months ago, so it appears that most people might have picked it up then instead.
The Top 10 Games For XBLA
[NOTE ON METHODOLOGY: In addition to Leaderboard increase specifics, we are also listing sales estimates. These are clearly marked as estimates, and generally rounded to the nearest 1,000. They are based on factors such as how heavily multiplayer -- and therefore prone to multiple Leaderboard entries -- each title is, as well as developer announcements of milestones. Please use them only as a rough guide.]
From our data, this is the Top 10 Xbox Live Arcade games for the month of September: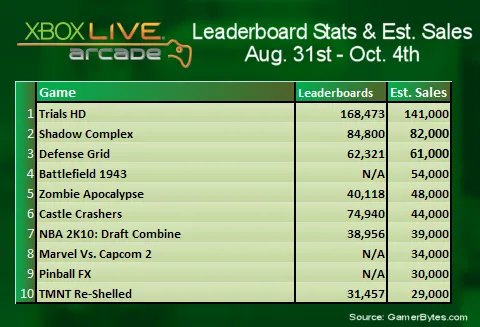 Trials HD
continues to succeed on the Xbox Live Arcade, selling an estimated 141,000 units across September -- hand in hand with developer
RedLynx's announcement
that sold over 300,000 units in its first 6 weeks of sales. Chair and Epic's
Shadow Complex
continues to sell well, and we estimate nearly 85,000 units across the month. But it appears to be dropping a little bit in the charts each week, and is being overtaken by new releases. In addition, through analyzing its position on the Top 10 lists alongside other surrounding releases, we believe
Battlefield 1943
has sold around 54,000 copies during September.
Castle Crashers
has been difficult to figure out over the past few months since it's had some very inflated Leaderboard scores. But we do have some estimates -- while it has been selling less this month, dropping to its lowest Top 10 ranking yet, we believe it has added an additional 40,000 copies to its sales numbers.
NBA 2K10
has continued to have success at its $5 price point, selling an additional 38,000 units through the month. It's going at a good pace, and will likely pick up again through October with the full retail release of
NBA2K10
now available. We estimate
NBA 2K10
has now sold over 68,000 copies.
Marvel Vs. Capcom 2
also continues to sell, but appears to be slowing down much faster than
Street Fighter II HD Remix
did last year, and is close to dropping out of the Top 10. We believe it has sold an additional 33,000 units in September, which means that the online community is still thriving.
TMNT Re-Shelled
continues to sell despite its poor critical reception, so it's fair to say that the Summer of Arcade promotion worked well for it.
A Look At Older Titles
Alongside the Top 10 releases of the month, we have also taken a look back at the month at large, by looking at September's Leaderboard updates for a number of popular and less popular games -- hopefully an illuminating task: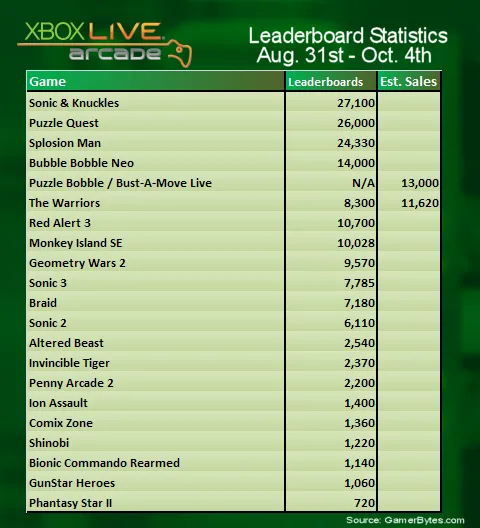 While not on the Leaderboards, games like
Secret of Monkey Island
and
Sonic 3
do still tend to do pretty well overall. But remember that even the more impressive sales in this area are only couple of thousand a week.
Monkey Island
is currently at nearly 96,000 players, while
Sonic 3
is nearing its 60,000th player, we believe. Games like
Braid
and
Geometry Wars 2
also continue to sell at a very steady pace, despite their relative age.
Geometry Wars
added over 9,500 players to achieve a total 282,700 players since its release last year, while
Braid
is currently sitting near 334,000 players -- with its additional 7,180 players for September. On the other hand, games like
GunStar Heroes
and
Phantasy Star II
have slowed quite a bit. There is a lot of talk about the "long tail" of digital download games – but in reality, there's not a whole lot. Many older games only sell a few hundred copies a week, regardless of whether they're good or not. If your game doesn't go out the gates with a bang, this is the kind of sales trickle you'll may see, and it's not a lot to help develop your next title. For October we'll be seeing plenty of fresh Xbox Live Arcade titles each week. We'll check out high profile licenses like South Park, but we'll also see a more Indie and/or universal flavor of games, with the likes of
Lucidity, Axel & Pixel, Tower Bloxx
and possibly
Diner Dash
.