[Sister console digital download site GamerBytes editor Ryan Langley examines November 2009's Xbox Live Arcade debuts and continuing successes, with charts and leaderboard data, to find out what digital XBLA titles are doing well at this year's end.]
November was a big month for retail games -
Modern Warfare 2, Assassin's Creed II, Left 4 Dead 2
and scores of other games hit the shelves across the world. But how does the Xbox Live Arcade cope under the pressure?
Last month
, we took a look at a big selection of Xbox Live Arcade titles. This month we rein it back in a little, but continue to look at all new releases and many other catalog items over the past year. Nine new games were released on the Xbox Live Arcade in November, including the rest of the Telltale's
Wallace & Gromit
series,
Diner Dash
and Square Enix's
Gyromancer
. During the course of November, we ran into a few tracking problems. Due to scheduling conflicts, Larry "Major Nelson" Hryb was unable to post two Top 10 lists in November, and due to my own holiday, I was unable to get data for the week of November 16th. Still, we were able to gather some interesting data throughout the month. In any case, here's what the rest of the month of November looked like: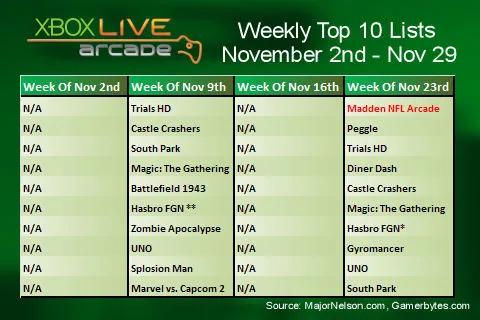 The week of November 8th is the most interesting, as it was the week of
Modern Warfare 2
, which as we
discussed earlier
appeared to impact Xbox Live Arcade sales across the board. Based on that week, you can see a resurgence of titles that had been sitting just below the Top 10 for some time now, like
UNO
and
Splosion Man
. All three of the releases for that week were unable to make the Top 10 at all - but we'll discuss that a little later.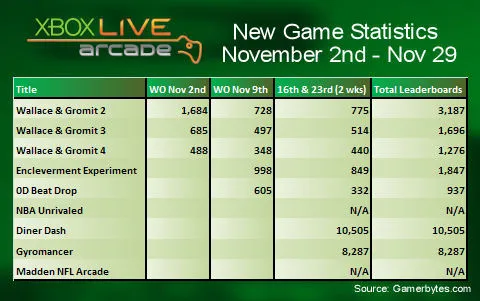 Moldy Cheese
After months of delays for what was supposed to be a monthly episodic series, Telltale lost patience and released the rest of the
Wallace & Gromit
series on a single day. While this allows you to get all of the season
now
, it does hurt the later episodes, sales-wise. The second
Wallace & Gromit
episode fared the best, with over 3,000 new players in the month of November, while the 3rd and 4th episode fared only mustered 1,600 and 1,200 new players. One would hope that the later episodes would eventually sell through a little better, but most players would want to get through the earlier episodes first. It's not such a great result for Telltale, who had finally tried to make an episodic Xbox Live Arcade title, only to apparently run into the Summer of Arcade and Microsoft's release date setup. It's unclear whether Telltale will try episodic on Xbox Live Arcade again -- perhaps they'll stick with the WiiWare platform, which is doing well for them, or pursue the PlayStation Network. I will say though –
Wallace & Gromit
as a license may not have been the best test bed for the Xbox 360, considering its userbase. I may enjoy the
Wallace & Gromit
short films, but I'd guess American audiences aren't that quick to embrace an adventure game starring a cheese-eating Brit.
Thrown to the Wolves
If you watch the weekly Xbox Live Arcade releases like I do, you can see what Microsoft thinks will sell and what will not. Case in point - the release week of
Modern Warfare 2
. Three games were released that week –
Encleverment Experiment
, only announced a week before release,
0D Beat Drop
, a very niche musical puzzler which looked like every other puzzler on first inspection, and
NBA Unrivaled
, which is "one of the worst basketball games ever made", according to GameSpot, and
not well-received overall
.
Encleverment Experiment
added just below 2,000 players over 3 weeks, going the way of basically every single Blitz Arcade release to date.
0D Beat Drop
could only muster 937 players over the same timeframe, adding to our claims that puzzle games are not doing so well any more on XBLA, We've no idea how poorly
NBA Unrivaled
did due to a Leaderboards bug, but since it didn't hit the Top 10 for the week, alongside the poor reviews, I can't imagine it has hit Tecmo's estimates.
NBA Unrivaled
is particularly disappointing if you consider what it could have been. The world has been awaiting a new
NBA Jam
for an age, but instead, Tecmo and Acronym Games decide to remake
Tecmo Super NBA Basketball
, a game I had never heard of. Does anyone look back at basketball games prior to
NBA Jam
with good memories?
ArchRivals
maybe, but everything else looks awful
in comparison
.
Casual and Hardcore Puzzlers
The third week of November brought two puzzle games –
Diner Dash
, the 3D remake of the popular PC game, and
Gyromancer
, Square Enix's take on the puzzle RPG genre, using concepts from PopCap, a la
Bejeweled Twist
. Compared to other games this month, both did fairly well – but less that they probably expected.
Diner Dash
had over 10,000 players on the Leaderboard after two weeks on the market, while
Gyromancer
over 8,200 – but was also $5 more. For comparison,
Tower Bloxx Deluxe
did about 15,000 in the same time frame last month, and fits a similar niche to that of
Diner Dash
. I would imagine that the lower sales this month might be due to retail releases like
Modern Warfare 2
and
Assassin's Creed II
.
Sports Fever
The final release of the month was
Madden NFL Arcade
, but unfortunately has Leaderboards that only include online players, so we're unable to estimate sales. But it did hit the number one spot of the Top 10 list, so it's clearly done well. It had received some
mixed reviews
, however, so it may not have the same legs that
NHL 3-On-3 Arcade
did earlier this year.
Extreme Sports Fever
November had 3 Deals Of The Week –
NHL 3-On-3 Arcade
,
Death Tank
and
Peggle
. Due to not having a Top 10 for its week, we do not have any data on
NHL Arcade
. We do not have
Death Tank
's Leaderboard data, but we do know that it did not reach the Top 10 that week.
Peggle
, on the other hand, did chart, hitting second place, and in the last two weeks of the month it added 27,000 players to the Leaderboards. Alongside
Peggle
was the release the
Peggle Nights
expansion for 400MSP, which must have helped sales of the original game. For its two weeks of release,
Peggle Nights
had nearly 22,000 people play it -– better than most games this month.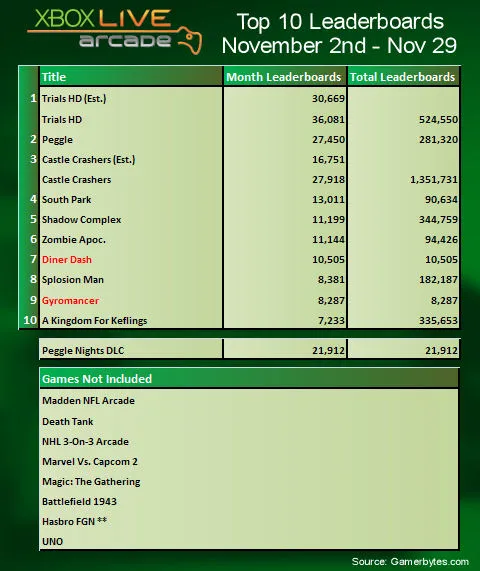 The Big List, And A Top 10
Next up, we have a Top 10 list of Leaderboard data we've compiled for November– but please do remember that this does not include many popular games, like
Madden Arcade, Magic The Gathering, Battlefield 1943, UNO
and more due to Leaderboard quirks and untrackables.
South Park, Shadow Complex, Zombie Apocalypse
and
'Splosion Man
are still doing quite well after being out for quite a while. But nothing can touch
Trials HD
, which still continues to sell incredibly well and beating all odds.

This list shows us a set of 91 titles available on the Xbox Live Arcade with readily available Leaderboard statistics, showing that the majority of older games are well below 1,000 copies a month – some not even hitting 100 copies over 4 weeks. But some games, like
A Kingdom For Keflings
, still continue to do well, despite not being in the Top 10 for a while now. The collective might of the four
Sonic The Hedgehog
games shows that, despite some poor recent games in the franchise, the public hasn't soured the old games one bit. A game not mentioned on the list at all is
1 Vs. 100
, the free Xbox Live Gold online game show using your Avatars. For the week of November 23rd, it was the 7th most played game on Xbox Live – more than
Halo ODST, Madden NFL
and
Grand Theft Auto IV
. It's surprising that we've not heard more from the Xbox Live Showtime line of games -- you would have thought they'd be building a bunch of these by now.
A Look At December
December this year is going to be a little different from past years – it's filled with some quality content.
Call Of Duty Classic
and
Alien Breed Evolution
headline the month, with the chance of some more surprises, but already it's a more interesting lineup than
PowerUp Forever
and
Puzzle Arcade
from 2008. Whether players will even peel their eyes away from
Modern Warfare 2
, we don't know, but we wish the best for those XBLA games who dare to enter the relatively dead December period.