[Sister site GamerBytes' editor Ryan Langley examines March 2010's Xbox Live Arcade debuts and continuing successes, with charts and leaderboard data, for a look at how XBLA titles like Toy Soldiers, Perfect Dark and many others are performing..]
March 2010 marks the second Spring promotional period on Xbox Live Arcade. Last year's Days Of Arcade was a success for many titles, and once again, Microsoft has attempted a Spring promotion with some stunning results -- and some not-so-stunning ones. Specifically, March brought us
Toy Soldiers, Scrap Metal, Perfect Dark
and
Mega Man 10
, but also brought us Game Room -- an entirely new service for old games. We'll see how they've done in this analysis, and take a look at the Top 20 lists released by the
Major Nelson blog
.
The Block Party
The
Xbox Live Arcade Block Party
began with Signal Studios'
Toy Soldiers
, a brand new title which really didn't get a whole lot of buzz before its release. But it has performed well above my expectations, and likely the developer's, too.
Toy Soldiers
added 116,000 players to the Leaderboards in its first week – a huge achievement the likes of which we haven't seen in months. In fact, as long as nothing odd is going on with Leaderboards, the game did better than both
'Splosion Man
and
TMNT: Re-Shelled
from the Summer of Arcade promotion last year. It's added nearly 240,000 players in its first five weeks, and has beaten both
Castle Crashers
and
Trials HD
each week as well. Slick Entertainment's topdown vehicle shooter
Scrap Metal
, on the other hand, didn't do nearly as well. For its first week it added only 12,497 to its Leaderboards, with 22,638 players at the end of the month. By the final week, it had dropped off the Top 20 entirely. Of the three new titles in the Block Party promotion, it
fared worst in reviews
, so it's not surprising to see it fall quickly. (Although we're linking to Metacritic there, we suspect average star rating by Xbox Live users is a big arbiter of continuing success.) The final title in the Block Party was Rare's
Perfect Dark
-- less expensive than the rest, and a nostalgia trip as a classic N64 remake, so it was no surprise to see it do well. 135,825 players were added to the Leaderboards in its first week, with a total of 195,460 for the month. Its sales drop-off seems to be faster than that of
Toy Soldiers
, but neither will be falling off the Top 20 for a while.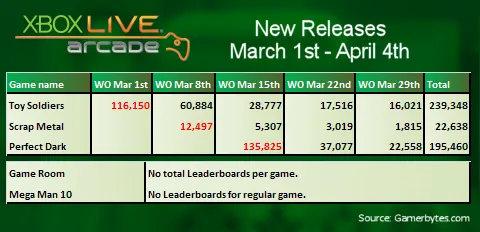 Mega Game Room
There were two other releases in March -- The
Game Room
and
Mega Man 10.
The Krome-developed
Game Room
was a separate program that perhaps shouldn't be ranked alongside other Arcade titles, since it's free to download, requiring microtransactions to buy individual games. Still, it was the Top "seller" for its first two weeks on the Arcade Top 20, and hit 3rd and 7th in the overall "time spent" list for those two weeks. It started off with a big bang, but we'll see whether they'll be able to keep that momentum once more old games come to the service. Capcom's
Mega Man 10
launched on XBLA in the final week of March, but also launched on WiiWare and PlayStation Network in the weeks prior. It was not able to hit the top of the list in its opening week, but did hit 4th -- just behind
Perfect Dark
. We were unable to get Leaderboard statistics for the title, due to lack of Leaderboards on the story mode.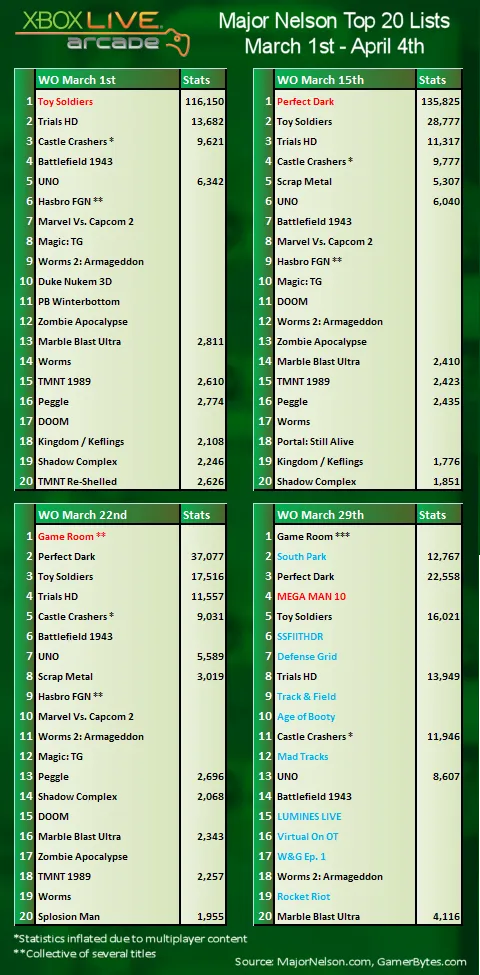 The Major Nelson Top 20
March was a five-week month, however the Major Nelson Top 20, ranking titles by sales without any specific numbers, was only available to us for four weeks – the week of March 8th was unfortunately skipped.
Trials, Castle Crashers
and
Battlefield
continue to do well -- although I believe this is actually the first time
Castle Crashers
has not been in the Top 10. It only took 10 XBLA games to go on sale at once during one particular week for it to happen!
TMNT, Worms, Keflings, Peggle
and
Zombie Apocalypse
continue to sell each week and stay in the Top 20 – though it seems we are quite close to losing both
'Splosion Man
and
Shadow Complex
off the list for good. Clearly the slow burn has worked wonders for games like
Zombie Apocalypse
, so it's no surprise to see Konami ramping up their digital output now.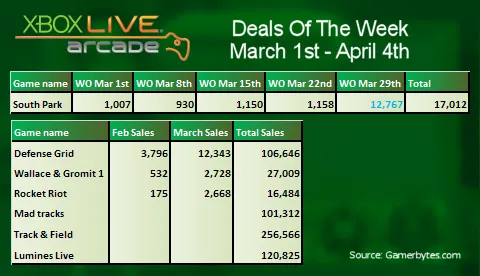 Deals Of The Week
Throughout the Block Party promotion there weren't any Deals Of The Week. But as soon as it ended, Microsoft went off with a bang. We had
Virtual On: OT
as the Deal Of The Week, as well as a sudden "Blowout sale" promotion – 10 games that went half price starting Thursday, 1st of April until April 7th. For those games we were only able to follow a one of them directly –
South Park
went from adding 1,000 players a week to well over 12,000. Based on the position of the game on the Top 20, we believe the sales were much higher, and aren't showing up due to people buying the game, but not getting around to play it yet. Three other reduced-price titles we were following for the month were
Defense Grid, Wallace & Gromit Episode 1
and
Rocket Riot
.
Defense Grid
hit 7th in the Top 20 while
Wallace & Gromit
hit 17th and
Rocket Riot
hit 19th. At the very least they sold far more than they've done in a while.
Mad Tracks, Track & Field
and
Lumines Live
were not games we were following previously, but since they were part of this sale promotion, we decided to take a look at their totals.
Mad Tracks
hit 12th place,
Track and Field
was 9th and
Lumines Live
was 15th – all 3 sitting comfortably with over 100,000 players on their Leaderboards. The final games, which we could only see through the Top 20 lists, were
Street Fighter II HD Remix
at 6th,
Age Of Booty
at 10th and
Virtual On
, the actual "Deal of The Week" at 16th place. The only game in the promotion to not get on the list was
Schizoid
.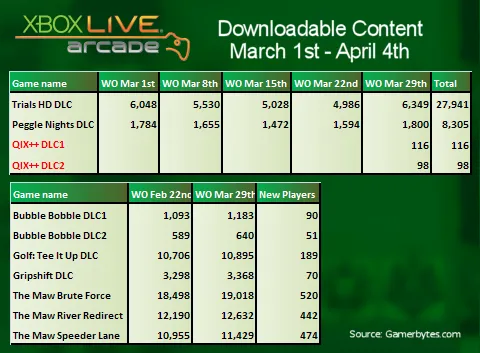 Downloadable Content
Peggle Nights
and
Trials HD DLC
continue to sell well each and every week.
Trials HD DLC
has now been bought and played by nearly 25 percent of the owners of the original game, while
Peggle Nights
has been played by 20 percent of the XBLA title's user base. New on the scene for March were two pieces of DLC for
QIX++
. With no fanfare and a somewhat hefty 240MSP price point, they've not sold so well.
QIX++
hasn't been the biggest seller either, which didn't help the situation.

The Big List
Once again we look at the big list – a collective of all the games we follow on a monthly basis to see how they've been trotting along. Not a whole lot has changed in the last month –
Sonic
games still sell decently, as do the
Banjo-Kazooie
games. Some of the first XBLA games like
Marble Blast Ultra
are still selling far better each month than new games. And with Microsoft experimenting with big sales of 10 or more games a week, we might start seeing some more of these old games doing well in the long run.
Looking Into April
There's nothing particularly special about April – that we know of, anyhow. There was no XBLA game for its first week, and next up, we're expecting the nostalgic return of both
Final Fight
and
Afterburner
in remade or updated forms. Elsewhere, unconventional first-person Ace Team action title
Zeno Clash
might finally get released and be the first big success for Atlus on digital platforms - we'll see what happens in due course!