[Sister siteGamerBytes editor Ryan Langley examines June 2010's Xbox Live Arcade debuts and continuing successes, with charts and leaderboard data, for a look at how XBLA titles -- from Earthworm Jim to Snoopy Flying Ace -- are performing.]
June has predominantly been the calm before the storm for Xbox Live Arcade -- a slow month of small releases, overshadowed by the announcement of Summer of Arcade titles. Overall, last year there were multiple releases a week and a lack of sales. But this year has been a little different for June -- big titles like
Earthworm Jim HD, Puzzle Quest 2
and
Snoopy: Flying Ace
have far exceeded expectations for the month, and gamers worldwide have taken advantage of an enormous sale season for the platform. We'll check out the Leaderboards for new titles, as well as look at the Top 20 lists released by the Major Nelson blog to determine how well the Xbox Live Arcade has done for the month.
Such A Groovy Guy
There were eight new releases for the five weeks of June – down from the fifteen that June 2009 had, but that's perhaps for the best. Too many game releases cause titles to be removed from the new release list, and doing so gives them less chance to see more purchases. What these new XBLA releases had to face was an onslaught of discounts for previous released titles, which we'll get to later. The first release was Smart Bomb's
Snoopy: Flying Ace
, a multiplayer flying game based on the popular Peanuts characters. It did very well, with over 25,000 Leaderboard players buying it in the first week -- getting a total of 66,134 for the month. That's fantastic for a game that's focused on online multiplayer – the demo was also very good, with 30 minutes of online play coming with it. It will help the online community continue throughout the next few months. The next two releases were
Earthworm Jim HD
and
Neo-Geo Battle Coliseum
, a two-fer of classic HD remakes.
Earthworm Jim
added over 26,000 Leaderboard players in its first week, totaling 47,406 for the month, also a great start -- certainly helped by the popularity of Jim himself. SNK's
Neo Geo Battle Coliseum
, on the other hand, didn't have the same luck. Only 9,225 people seem to be on the list at the moment; however this may be due to only being based on the story mode, and may require you to complete it. Either way, it has not appeared in the Top 20 lists since its first week, so it likely hasn't done as well as expected.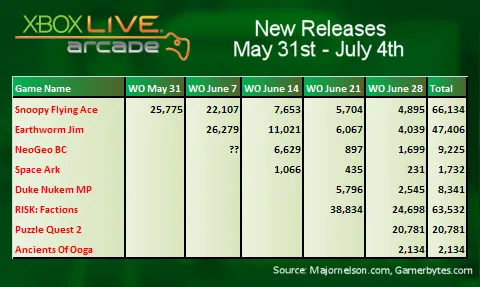 The Week Of E3
In prior years, the week of E3 has been a horrible time for releases – the press is not around to talk the game, and the Major Nelson blog didn't update with an announcement of its release. This is basically what happened for
Space Ark
. Only 1,066 people bought the game for Xbox Live Arcade in its first week, with only 1,732 people in the month -- quite unfortunate for the team at Strawdog Studios.
Risky Business
The third sets of releases were 3D Realms'
Duke Nukem: Manhattan Project
and EA's
RISK: Factions.
Duke Nukem 3D
was a huge success on Xbox Live Arcade, with over 230,000 players on its Leaderboards, but a quick port of
Manhattan Project,
the 2002 2D side-scroller, was not as lucky. It has only added 8,341 new players since its release.
RISK Factions
on the other hand, has done very well – 38,834 players popped up in the first week with 63,532 players for the two weeks of June, making it one of the best sellers we've seen in months.
Ancient Quest
The final releases for June were Infinite Interactive's
Puzzle Quest 2
and NinjaBee's
Ancients Of Ooga
.
Puzzle Quest 2
added 20,781 new players in its first week, a good amount for a sequel and far better than
Puzzle Chronicles
or
Galactrix
fared.
Ancients Of Ooga
was not so lucky – 2,134 players were added in the first week, and it didn't hit the Top 20.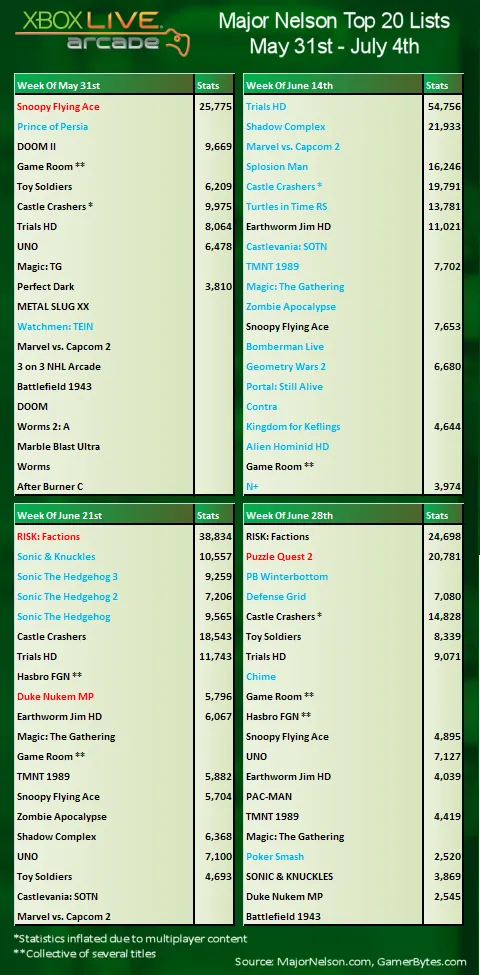 Weekly Top 20
There were 5 weeks in June. However, only four of those were privy to a Top 20 list by Major Nelson – the week of June 7th is unfortunately missing from the list, thanks to E3 the following week.
DOOM II
was the only release from May that continued into the Top 20 – but only for one week. It added 20,283 players in June for a total of 37,649 since its release.
Toy Soldiers
continues to be a big seller, with 30,000 new players in June – same with
Trials HD
, which received 91,000 new players thanks to the week of sales. Several games that we can't follow via leaderboards, such as
Magic: The Gathering
,
Marvel Vs. Capcom 2
and
Hasbro Family Game Night
, are still in the Top 20 since their release last year. Microsoft's
Game Room
appears to be getting around 10,000 sales of its internal Atari and Arcade titles according to this data, but this may not include games bought with Windows Live or those who buy a single play.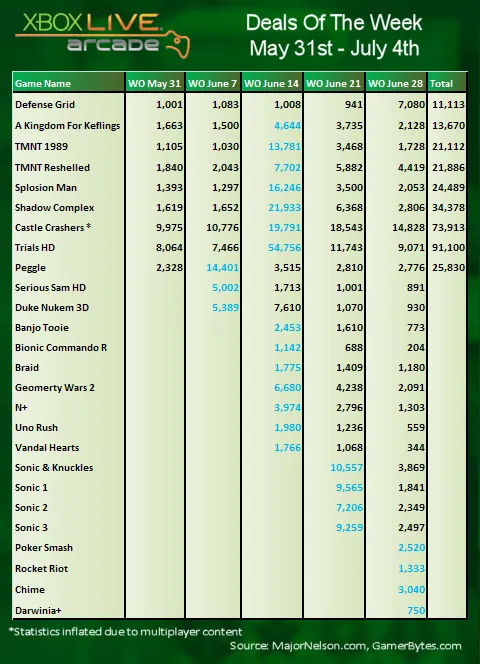 Deals Of The Week
June was subject to a cacophony of deals for the Xbox Live Marketplace. We've only got 26 of the deals here, but there were 45 throughout the month. The ones here are those that we could follow with Leaderboards.
Peggle
got a nice boost from its sale alongside
Duke Nukem 3D
and
Serious Sam HD
, but the largest boost was for last year's Summer of Arcade titles.
Trials HD
added another 54,000 players to its addicted fan base, alongside big boosts for
Shadow Complex
and
Splosion Man
.
Sonic
titles got a single day of price cuts during the week of the 21st, which causes a huge burst of sales for the games. Each one nearing 10,000 additions during that week. Smaller titles that did go on sale didn't have as much luck.
Poker Smash, Darwinia+
and
Rocket Riot
received more sales than they've seen in a while, but just enough to creep into the Top 20 for the week.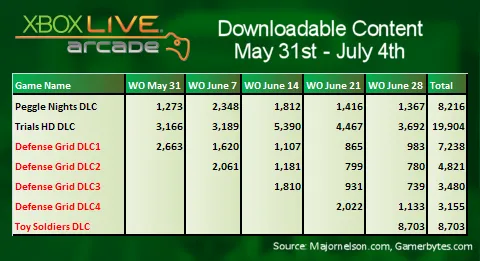 New DLC Arrives
July was a DLC bonanza for the Xbox Live Arcade –
Defense Grid
received four long-awaited packs of levels, and
Toy Soldiers
got its new Kaiser's Battle map pack. The
Defense Grid
DLC did okay – but for 80MSP each and a player base of over 138,000, I would have expected more. The first DLC added 7,238 players with a good amount of that player base also picking up the rest -- could have been better, but still a good start. The
Toy Soldiers
DLC wasn't all that spectacular either. With a player base of over 340,000, it seems odd that only 8,703 players may have played it. This data includes those who played through the first level on both easy and medium.
Trials HD
and
Peggle Nights
DLC continue to do well alongside their regular counterparts. Alongside the 91,100 players who bought
Trials HD
, 19,904 players also bought the DLC. With 25,830 new
Peggle
players, we had 8,216 others who bought
Peggle Nights
.
A Look Ahead
July is the biggest month for the Xbox Live Arcade – titles like
Blacklight: Tango Down,
Monkey Island 2, DeathSpank
and the whole catalog of Summer of Arcade titles will begin to bloom this month – it's the biggest money maker out there, and may end up doing better than some retail titles as well. We'll have to wait and see -- meanwhile, check our analysis of the past six months of Xbox Live Arcade coming up in the near future.