[Sister site GamerBytes' editor Ryan Langley examines February 2010's Xbox Live Arcade debuts and continuing successes, with charts and leaderboard data for a look at how XBLA titles are performing.]
February has always been a strange period for Xbox Live Arcade - in previous years, it was the birthing ground of popular titles like
3-on-3 NHL Arcade
and less likely titles like
Discs Of Tron
. There have been successes and failures, but much has changed since last year. For 2010, we've seen publishers try something a little different -- we had 6 new titles this February, 5 which have a Metacritic of over 79. This includes the release of Zoe Mode and OneBigGame's
Chime
, an inexpensive charity game, as well as the release of Introversion's
Darwinia+
and The Odd Gentlemen's
P.B Winterbottom.
We'll see how they've done in this analysis, as well as look at the new Top 20 lists released by
the Major Nelson blog
. Firstly, let's take a look at the new releases for the month and what we can work out from the number of people on their Leaderboards: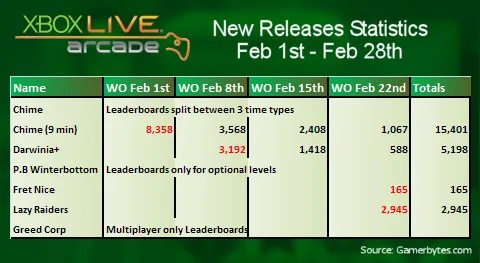 Chiming In
The initial release for February was Zoe Mode's
Chime
. Its five dollar price point and charity basis ended up making it one of the better sellers for the month, but it wasn't a hit. Bear in mind that the statistics we extracted from Leaderboards are lower than the actual sales -- they only count the 9 minute challenge and not the additional 6 and 3 minute options the game offers to the player. The game hit 6th place on the Major Nelson Top 20 in its second week, 10th on its third and then dropped out in the next week. As a puzzle game in a crowded market, we did not expect it to do all that well -- very few have as of late. We wonder if the game pushes the charity basis of the product as much as it should -- it's just small text at the bottom of the title screen, which could easily be mistaken for disclaimer text. The file size of the game was also especially large at 800MB, which may lock out owners of cramped hard drives.
Darwinia
Despite being in development for a long time, Introversion's
Darwinia+
came out with a whimper. The game hit 9th place in its first week with 3,192 players on the Leaderboards, and sat on 20th place in its second week -- only mustering 5,198 players in the first month. It's sad to see, and I can't really say what they could have done differently to help make the game succeed. It's a difficult game to get into, despite the numerous tutorials, and it certainly didn't help that there were 3 older Xbox Live Aracde games on sale the same week. But I would have expected more game sales for this well-known indie developer.
Butt-Wit
We unfortunately do not have the statistics for
P.B Winterbottom
, thanks to the Leaderboards only being used for optional levels. But the game did hit the third spot on the Top 20 in its opening week and stayed at fourth place the week after. So it's safe to say the game is doing quite well, assuming it can hold out against March's Block Party release schedule.
The Greedy And The Lazy
The final week of the month contained three releases –
Lazy Raiders, Greed Corp
, and
Fret Nice
. Unfortunately it seems that not one of them hit it off, thanks to factors that might include poor promotion and too much choice. Of the three,
Lazy Raiders
did the best with 2,945 players on the Leaderboards, hitting 11th place in its opening week. Despite
good reviews
there was not a lot of talk about the game outside of a few publications. Despite its charm, it is still a puzzle game, and a disorienting one at that.
Greed Corp
received high scores in
its reviews
, but was ultimately somewhat lost with the releases that week. The game was unable to hit the Top 20 in its opening week and we're unable to check the Leaderboards, as they're multiplayer only. Much like
Darwinia
,
Greed Corp
has a deep difficulty curve and is very unconventional, which may have put some players off. The worst performer was
Fret Nice
. At the end of its first week only 165 people had played the full game enough to reach the Leaderboards -- a very low statistic, considering its unique art style and being a platformer. It appears that the guitar controller gimmick was not enticing enough.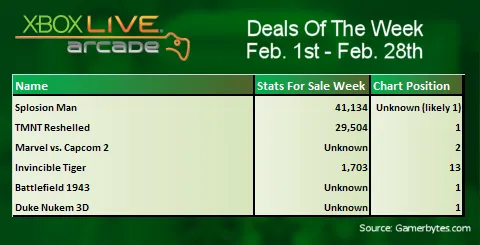 Deals Of The Week
Xbox Live Arcade titles took up all the deal-space for February, with one week sporting three titles with a "fighting game" promotion. We were able to grab the statistics for those games in the weeks they were available. All the titles did very well during their week on sale -- all except
Invincible Tiger
. The Blitz-developed kung-fu title did get a boost from its regular statistics -- adding 1,703 players in the week instead of just 30 players the previous week. But it wasn't enough to get higher than 13th on the chart. All other games in the sale hit first or second place for their respective weeks.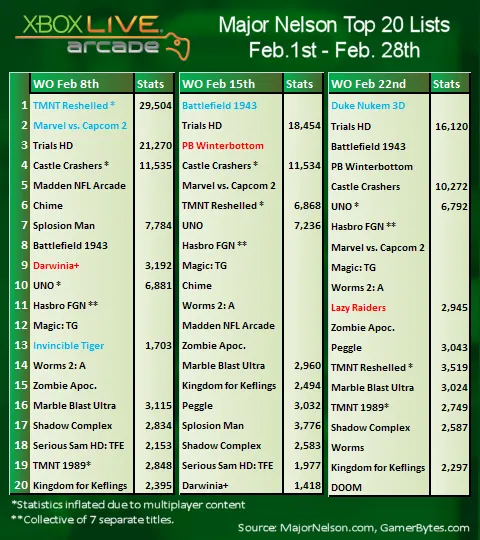 The Major Nelson Top 20
For three of the four weeks of February, we were able to get the Top 20 Xbox Live Arcade titles from the Major Nelson blog. Through the list and our collection of weekly data, we were able to create the chart above. While the Leaderboard data is not entirely accurate, as seen by some games with higher Leaderboard statistics than ones above it on the actual sales chart, it does give us a good understanding on what games are now selling per week. These inconsistencies can be due to players not playing their name until weeks after they bought it -- as well as multiple accounts playing on the same Xbox 360 system. Blue names are Deals Of The Week, while Red are new releases.
Trials HD
is still selling incredibly well – in fact, if it weren't for the Deals Of The Week it would have still been at the top for a number of weeks. 76,450 new players played
Trials HD
in the last month, and there were 43,943 new
Castle Crashers
players, though that number is inflated versus actual sales due to the local multiplayer aspect of the game. Elsewhere,
Peggle
is still doing very well, and we can see that
Marble Blast Ultra, Keflings
and the first
Worms
are still doing incredibly well, years after release.
UNO
and
Magic: The Gathering
also staying in the Top 10 well after they came out.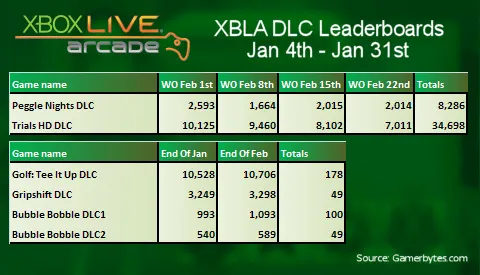 Downloadable Content For Downloadable Content
Throughout February, we followed several pieces of downloadable content for XBLA games -- specifically the
Peggle Nights
and
Trials HD DLC
, which have continued to do surpass expectations. In a
recent talk
by NinjaBee's art director Brent Fox regarding downloadable content, he told us that NinjaBee's DLC had not done so well in the past, and in fact didn't make their money back on it. This is true for a lot of Xbox Live Arcade titles - but timing is key, and of course, the initial base to support it. Games like
Gripshift
and the
Bubble Bobble
DLC probably didn't make their money back, considering how few they sold, which is a shame. I would suggest working on DLC after you know your game has done well enough to support it -- don't make it a requirement on the outset, no matter how much Microsoft may encourage it.

The Big List
The Big List culminates the last 100 or so releases on Xbox Live Arcade that have Leaderboards we can follow. We check the Leaderboards at the beginning and end of the month which allows us to see how games not at the top of the charts might do on a monthly basis. The
Banjo-Kazooie
series,
Defense Grid
and
Diner Dash
continue to do well despite not appearing in the Top 20, but there are a lot of quality titles that have just fallen off to the wayside --
Space Giraffe, Wallace & Gromit
,
Penny Arcade, Madballs
and
Axel & Pixel
are just some of the examples. The Xbox Live Arcade is getting incredibly full, and there an awful lot of games on the way which won't do well just because the selection is so large to choose from. This is somewhat of a change from standard retail marketplace practices, but will have to be something to be aware of in the future.
A Look Ahead
March will be interesting month for the Xbox Live Arcade with their Block Party promotion. Last year's Days Of Arcade promotion was not as successful as the Summer of Arcade, but we'll see if it'll pay off this year. Already we've seen that
Toy Soldiers
has done incredibly well with over 116,150 players in its first week - beating
'Splosion Man
and
TMNT Re-Shelled
from the Summer of Arcade promotion in terms of first week Leaderboard statistics. We think
Perfect Dark
is set to blow things out of the water, and the Game Room will be something to keep an eye on moving forward as well. Overall, there's a lot of games to look forward to next month - and we'll see how they sell.