[Sister site GamerBytes editor Ryan Langley examines December's Xbox Live Arcade debuts and ongoing successes, looking at charts and leaderboard data to determine how titles like Alien Breed Evolution and Trials HD's expansion did last month.]
December was a great month for Xbox 360 at retail, but how has the digital side fared? While December hasn't generally been a major month for Xbox Live Arcade, this time we've seen
Call Of Duty Classic, Alien Breed Evolution
and
Trials HD
expansion packs pop up on Xbox Live Arcade, alongside several other titles. This month, we look not only at how new releases have fared, but also at 2009 as a whole. We examine the top 20 most downloaded games of 2009 and see how many people have played them this year -- plus a look at the effect Christmas Day had on Xbox Live Arcade. Unfortunately, a number of the weekly XBLA charts passed on by Larry "Major Nelson" Hryb were missing for December. But nonetheless, here's the information released for the weeks of December that were disclosed: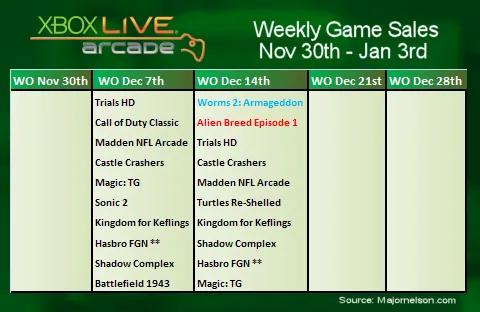 Duty Calls
The first release for the month of December was Activision's
Call Of Duty Classic
, a port of the PC original to coincide with the release of
Call of Duty: Modern Warfare 2
. The game was given away in vast quantities with the Hardened Edition of
Modern Warfare 2
, so it's a little difficult to calculate overall sales from leaderboards. We do know it hit the second spot of the top 10 list in its second week, but completely dropped off by the third.
QIX For Kicks
Taito's simplistic remake of
QIX
for Xbox Live Arcade was the second new release. Despite no official word on the game until its release week, it performed solidly initially -- but sales have since dropped off quite significantly, and as of December it only had 5,413 players on the leaderboards.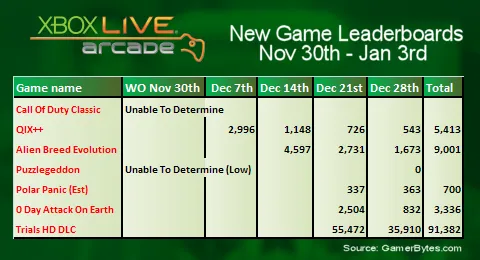 Alien Armageddon
Team 17's expensive revival of its cult classic
Alien Breed
franchise was a big risk for the Yorkshire developer –- an episodic action game that
supposedly
will cost around $2.5 million in the long run. Unfortunately, it does not appear to have paid off. For its first week, the game had only 4,597 players on its leaderboards, and 9,001 by the end of the month. In fact, the developer's own
Worms 2: Armageddon
, which was reduced in price for a single day during the same week, ended up selling more in total over the same period. The problem for Team 17 is how the studio intends to continue on with the series, or if it will at all. The second and third episodes can probably only sell as well as the original episode -- with a high chance of selling less. Telltale has learned this the hard way with their
Wallace & Gromit
series. Tecmo's
Puzzlegeddon
was also released the same week, but like a lot of other puzzle games, it seemed to have been dismissed entirely. The game does not have leaderboards that we can follow, but it also did not hit the top 10 for its opening week.
Attack On Polar Bears
The final two releases of 2009 were Square Enix's
0 Day Attack on Earth
for $15 and Eiconic Games'
Polar Panic
for $10. As there were no new releases the week after, these games both got two weeks in the top spot. Despite this, neither did very well.
0 Day Attack On Earth
was the better selling of the two with 2,504 players in its first week, but it dropped to 832 in the second for a total of 3,336 players in December.
Polar Panic
only mustered around 700 players total between the easy and normal modes for the first chapter.
Polar Panic
got
pretty decent reviews
, but it seems the premise itself wasn't enticing to players. Eiconic's promotion of the game wasn't particularly good either. While it has a good
official website
and several trailers, major websites like Joystiq and Kotaku didn't actually mention the game prior to release. It can be difficult to know whether you can get coverage on the big sites, but sometimes you need to throw a game under people's noses before they can react to it.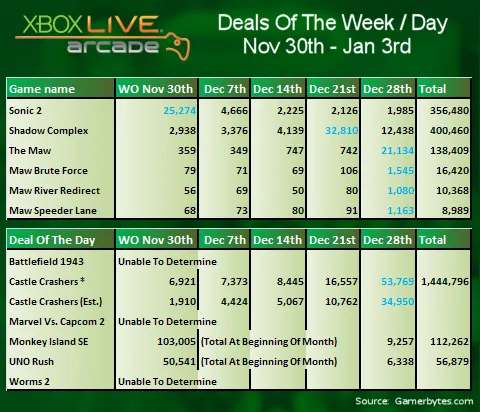 Deals Of The Week – A Platformer Trifecta
There were plenty of deals in December. Three regular titles were discounted for a week each, and Microsoft held a "12 Days Of Christmas" calendar special, during which one piece of online content would be on sale for a single day. The first deal was
Sonic 2
, which was brought down from $5 to $3. This is the first time a $5 game has been put on sale since the promotion first began, and it added over 25,000 new players that week alone.
Shadow Complex
went down from $15 to $10 and saw a large boost in sales from its regular 3,000 a week to 32,000 in that week. With both games, sales remained elevated even after the promotion ended -- a trend Valve has frequently pointed out following its Steam sales.
Sonic 2
even made it into the top 10 the week after it was on sale. Twisted Pixel's
The Maw
had a week-long promotion, adding over 21,000 players to its leaderboards -- far more than the 300 to 400 a week it had been getting. Many players also picked up the extra stages alongside it, with those levels increasing their sales rate tenfold.
Deals Of The Day
Due to difficulties in tracking specific stats from a lot of the Deals Of The Day, we were unable to get exact statistics in all cases. Neither
Battlefield 1943
nor
Marvel Vs. Capcom 2
had leaderboards we can follow, and there was no top 10 for the corresponding weeks. Let's just assume both did very well.
Worms 2: Armageddon
was the first sale from the list, and while we don't have leaderboard statistics, we do know it was the best selling game of that week thanks to the sale. Based on last month's charts,
UNO Rush
was adding roughly 1,500 players a month, while
The Secret of Monkey Island: Special Edition
was adding over 4,000.
UNO Rush
claimed an extra 6,338 players in December while
Monkey Island
scored 9,257 players, so the sales certainly helped both of them.
Castle Crashers
, being the phenomenon it already was, soared to over 53,000 new players during this week, thanks to its half-price day.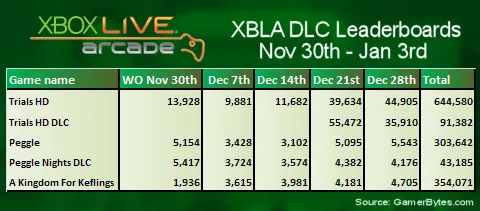 Expansion Packs Boast Big Numbers
December was surprisingly a big month for downloadable content.
Trials HD
released its first DLC expansion pack, while the hit
Kingdom For Keflings
finally got some new maps for its users to play with. The
Peggle Nights
DLC for PopCap's original game continues to be very strong alongside its main game. Some weeks, it has sold more than
Peggle
itself. It managed to double its November sales, with an extra 21,912 players in December, meaning the
Peggle
DLC has now sold to 14 percent of the
Peggle
userbase. While we don't have specific leaderboards for the
Keflings
downloadable content, we can see that following the DLC release on November 9th the game saw the sales of the main game double throughout December. With the new exposure, coupled with Christmas, it has done well for developer NinjaBee. The
Trials HD
DLC, much like the base game itself, has far exceeded expectations. 91,382 people have played the first extra course from the
Trials HD
"Big Pack," an astonishing number. Just like with
Peggle
, that represents 14 percent of the userbase of
Trials HD
owners.
Weekly Leaderboards: The Christmas Boost
Outside of new releases, we also look at a select few titles and their leaderboards each week. We usually do this to decipher data from the top 10 lists, but due to a lack of availability, we're unable to use the data effectively. Instead, we're examining something a little different: the Christmas boost. For the majority of the games we follow, the weeks of December 21 and 28 showed a dramatic increase in new players.
Peggle
gained 2,000 new players each week, and
Castle Crashers
doubled its weekly player base, as did
'Splosion Man
and
UNO
. Games that didn't do quite so well were mostly new releases -–
Gyromancer
and
Diner Dash
specifically. Those games are going through the traditional post-launch sales decline. The expanded player base likely made them drop less than they would have otherwise.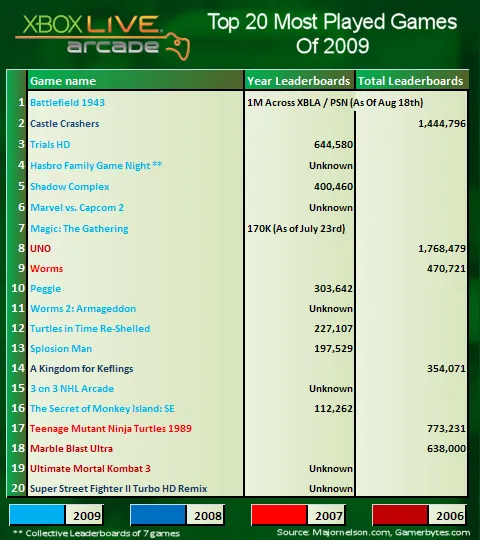 The 20 Most-Played Games For 2009
As he did last year, Major Nelson has released a top 20 list of the most played games in the last 12 months. It is based on the unique number of users who have purchased Xbox Live Arcade titles this year.
Battlefield 1943
was the big hit this year, with over a million uniques across both the Xbox Live Arcade and PlayStation Network versions, while
Castle Crashers
still posts big numbers after more than a year on the market. In the 70 weeks that it has been available, it has never once dropped from the weekly top 10 list.
Trials HD
has had over 640,000 players, and truly is a phenomenon that surpassed everyone's expectations.
Shadow Complex
comes just behind it, followed by
Hasbro Family Game Night
with just over 400,000 unique users. This list also reveals some evergreen titles that continue to sell years after their release.
UNO
continues to be one of the best-selling Xbox Live Arcade titles four years since its release. Two other releases from 2006 also appear:
Marble Blast Ultra
and
Ultimate Mortal Kombat 3
, both which are part of the "hits" lineup and are priced at only $5. Much like
Mortal Kombat II
on the PlayStation Network, you just can't get rid of
Mortal Kombat
. For 2007 titles,
Worms
and
Teenage Mutant Ninja Turtles 1989
held up very well.
Worms
had a permanent price drop to $5 alongside
Ultimate Mortal Kombat 3
in late 2008 and reigned on the top 10 for 33 weeks, only dropping off thanks to the sequel being released. Let's compare 2008 and 2009's lists: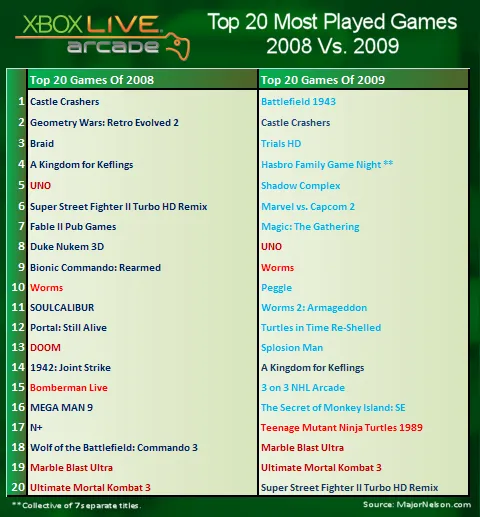 Fourteen releases from 2008 appeared in that year's list, while only 12 releases from 2009 appeared in its list. Both
Marble Blast
and
Mortal Kombat
had spots last year, but in a strange twist,
TMNT 1989
appeared in 2009 but not 2008. Perhaps the announcement of
Turtles In Time
boosted interest in the original again.

The Big List
This list consists of 88 titles whose leaderboard data we have access to, but does not include the new releases. Past the weekly top 10, you can see some games still doing well, such as both
Banjo Kazooie
titles,
Defense Grid, Diner Dash
,
Geometry Wars 2
, and
N+
. However, some of the more recent titles like
0D Beat Drop
and the
Wallace & Gromit
episodes are not doing as well. Thanks to
Sonic the Hedgehog 2
being a deal of the week, it has beat the original
Sonic the Hedgehog
in unique users. All
Sonic
games now seem to sell an average of 5,000 copies a month, meaning about $100,000 is spent on
Sonic
per month on the Xbox Live Arcade. It'll be interesting to see how
Sonic Adventure
holds up in comparison. It's no wonder Microsoft is creating its retro-themed Game Room.
2010 – The Future
The new year has started off with some big contenders.
Serious Sam HD
is already off to a big start, but we'll also be seeing
Vandal Hearts: Flame Of Judgement
and
Death By Cube
, titles that are a little different from the usual set of games on the system.
Vandal Hearts
is especially unique -– a tactical RPG for $15 is an interesting proposal, but will it be any good? Let's find out next month.