[Sister site GamerBytes' editor Ryan Langley examines April 2010's Xbox Live Arcade debuts and continuing successes, with charts and leaderboard data, for a look at how XBLA titles -- from After Burner Climax to Puzzle Chronicles -- are performing.]
With March's Block Party promotion out of the way, April is a time for games to market themselves and push their own agendas without the help of Microsoft. In previous years, the month has had some games succeed (
The Dishwasher
) and games fall off almost instantly (
Flock
). Will this year be any different? In this analysis we check out
Puzzle Chronicles, After Burner Climax, Final Fight: Double Impact
and
Tecmo Bowl Throwback
, as well as look at the Top 20 lists released by the Major Nelson blog. Here's how new releases seem to have fared in the month, according to information we can glean from Leaderboards.
Fighting for Two
There were four new releases on Xbox Live Arcade for April 2010 across three weeks -- the first week of the month had no release at all. It's very strange to see this happen, and there's been no official word as to why it occurred.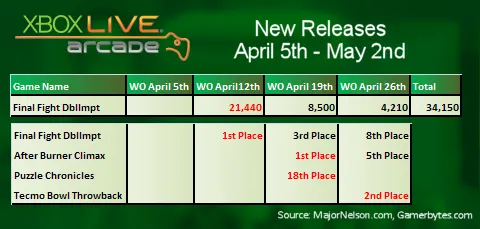 The first release for the month was Capcom's
Final Fight: Double Impact
, a mixture of both
Final Fight
and
Magic Sword
in one package. It was also the only game that we were able to track through Leaderboards, where it had over 21,000 players in its first week, and a total of 34,150 players in the month. Surprisingly, it didn't do as well as the PlayStation Network version, which was able to get 41,630 players in the same time frame.
Fire! Fire! Fire!
Sega/AM2's
After Burner Climax
and Konami/Infinite Interactive's
Puzzle Chronicles
both came out during the week of April 12th.
After Burner
was able to hit the top of the Major Nelson list in its first week (seen below), while
Puzzle Chronicles
debuted at 18th place, leaving the list the week after. It was a poor performance for Infinite Interactive's third title on the Xbox Live Arcade, though admittedly it did not fare well in
reviews.
Hopefully
Puzzle Quest 2
can redeem the Australian developer.
Thrown Back
The final release for the month was
Tecmo Bowl Throwback
, which debuted in second place, despite only being available in the United States and Canada. It was only beaten by
The Dishwasher: Dead Samurai
, which was on sale that week. Unfortunately, Tecmo has had a rough time on the digital front –
Fret Nice, NBA Unrivaled
and
Puzzlegeddon
have all done pretty poorly on the Xbox Live Arcade. But it looks like they finally hit a gold vein with this one.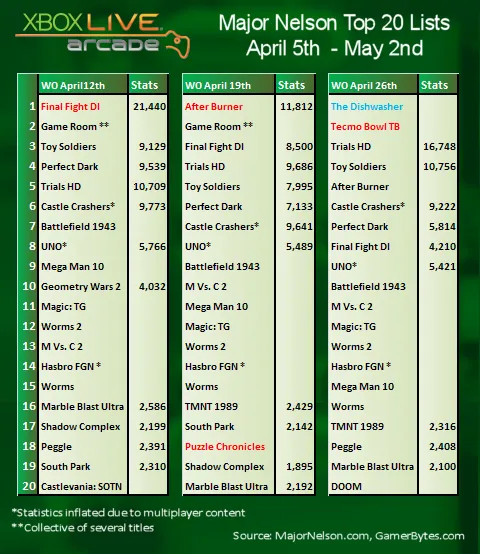 Topping The Twenty
There were four weeks in the month of April. However, the Major Nelson Top 20 was only available for the last three. We've compiled the lists and put them against the Leaderboard data for each of those weeks. These statistics are to give us a good indication on how well everything is going for each of the games. Some games we just cannot follow, due to their strange Leaderboard context, be it multiplayer only or time trial only. But compiling these statistics give us an idea on how well every game is doing.
Toy Soldiers
is still doing very well, and has beaten Block Party rival
Perfect Dark
for the whole month. It added 39,480 players in April -- not enough to beat
Trials HD
's 50,521 for the month, but it's staying around far longer than I think anyone ever imagined.
Perfect Dark
has also added 35,240 players for April.
Game Room
has continued to do well, despite the lack of major new releases; however it has since been removed from the list of Xbox Live Arcade titles. Hopefully, we will begin to see a Top 20 for
Game Room
titles as well. Favorites from 2009 like
Magic: The Gathering, Battlefield 1943
and
Worms 2
have continued to stay on the Top 20 list with no problems, while
TMNT 1989
has beaten its newer
Re-Shelled
brother – though it's half the price, which helps.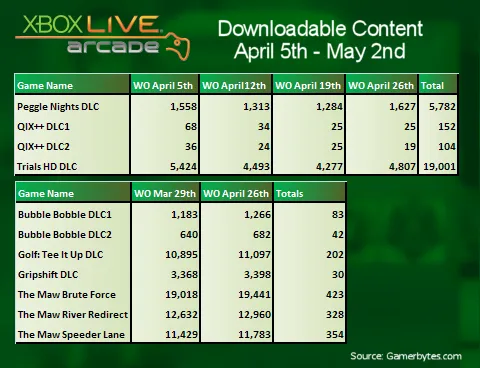 DLC Connection
No additional downloadable content that we could follow was released in April, but let's have a look at the games from prior months. Again,
Trials HD
and
Peggle
downloadable content continues to do well each week -- a little bit lower than the previous month, but still great overall. All other DLC has been selling quite slowly, as it has been for some time.
Deals Coming Out Of Their Ears
Back at the end of March, Microsoft started off an "Inventory Blowout Sale" promotion – 10 games would go half price for a week, starting half a week in. The games listed, outside of
Geometry Wars 2
and
Trials HD
, were all part of this promotion – the second half of the promotion being in the first week of April. Each game boosted itself notably in sales compared to its usual weekly amounts, with
South Park
and
Defense Grid
being the big winners.
Geometry Wars 2
was the actual Deal Of The Week for the week of April 5th, and added over 23,000 new players to the Leaderboards.
The Dishwasher
was the second deal of the week, and while we cannot follow its Leaderboards, we do know that it hit first place on the Top 20 for that week. The final deal was another test subject – Major Nelson promoted over his Twitter feed that for one day
Trials HD
would be 33% off. This extra incentive boosted the game's total for that week to be around 6,000 players higher than expected. I would expect to see more of this sort of thing in the future.

The Big List
We finish off with the giant list of titles that we've been following, showing off 100 titles that we haven't seen in the Top 20 for ages. We won't be doing this next month however -- it's a big task that I really don't have the time to do. We will however be doing it in June to check up on the sales of titles across the first 6 months of the year, to see how things have really done. For this month however we can see that
Kingdom Of Keflings
has quietly been doing well over the month, despite being over a year old, as has
N+, Serious Sam
and
Pinball FX
.
May Day
We've already seen some interesting releases for May, with Konami's
Rocket Knight
and Ace Team's
Zeno Clash
. But May has always been a difficult month for the Xbox Live Arcade in terms of sales -- will these high profile releases buck the trend?