[Examining U.S. sales of Nintendo's Wii as part of his October 2010 sales analysis, Gamasutra's Matt Matthews showcases the significant slowdown in Wii's momentum and asks -- what should the company do to stimulate sales?]
In relation to U.S. retail console sales for the past few months, let's look at Nintendo's Wii. With the hardware's $194 average price at retail clearly below the $200 MSRP, retailers are already promoting it with special deals. If the retailer offers become more aggressive through December, that average price should drop further, and sales should increase – but to what levels? This is the key question for Nintendo through the end of 2010, and one we will explore further below. Unfortunately for Nintendo, the Wii's days of consistently dominating the console segment appear to be over. It has not been the best-selling console since May of this year, just prior to the launch of the Xbox 360 S model. In fact, Nintendo's console has seen its year-to-date sales decline by 24%, a change which has allowed the Xbox 360 to take the crown of best-selling console so far this year. The current malaise in Wii hardware sales is a troubling sign, and it makes estimating sales through the end of the year difficult. As the figure below shows, Wii hardware sales have been on the decline since peaking in 2008, but the contraction has accelerated in the past couple of months: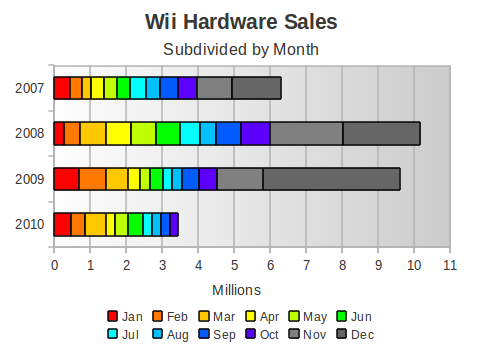 What is particularly interesting about Wii hardware sales for November and December of this year is that we still don't know which way the trend will break. Last year's numbers looked particularly weak until November and December more than doubled the year-to-date Wii system sales. In 2008, those two months had only accounted for 41% of Nintendo's annual console sales and in the year before that, the two holiday months were only 37% of annual Wii sales. So which will it be this year? A more modest contribution as was experienced in 2007 and 2008? Or a near doubling of annual sales like 2009? To at least beat the annual total for 2007, Nintendo will have to sell 2.85 million systems in the last two months of 2010 – in which case November and December would account for 45% of the system's 2010 sales. Given the stronger competition from Sony and particularly Microsoft this year, that seems unlikely to us. Which leaves us wondering why Nintendo has maintained its $200 MSRP for the Wii. Perhaps they are waiting until 2011 and allowing the desperate retailers to cut their own margins over the holiday, reducing the effective price as happened in 2009. Perhaps they are still uncomfortable with trimming their own margins because of the unfavorable yen-to-dollar conversion rate. Regardless, there is the issue of software sales, which in the case of the Wii appear to closely correlate with hardware sales. It is our theory that the Wii's strong software sales in past years were driven primarily by new Wii owners (those within the first six months of ownership). As the hardware sales have fallen this year, so have the software sales rates. According to tie ratios provided to us by the NPD Group, and comparing with data released by Nintendo during its recent investor briefing, Wii software sales rates have dropped by over 50%. In particular, during the January – May period of this year, we estimate that approximately 1 million Wii software units were being sold each week, on average. During the June – October period, that rate fell to below 500,000 Wii software units per week. Not only was that a drop compared to the rate in the first part of the year, but it does not look healthy compared to the 890,000 software units per week that the Wii averaged in the same June – October period in 2009. We are left wondering whether Nintendo should consider a reduced-price line of software akin to the Player's Choice line used during the GameCube's lifetime. If the Wii installed base is price-sensitive enough, then those users may choose to buy very few software titles or to buy used software as often as possible. Used software revenue is not reflected in the NPD Group's monthly figures. If the introduction of re-issued Wii software at $20 – $30 could pull in more Wii consumers and simultaneously stem the flow of some consumer dollars into the used software market, then that could at least boost the fortunes of Nintendo's platform generally and third parties specifically. This isn't to say that third parties couldn't lower prices on their own – in fact Wii software prices are significantly below prices on the other current-generation consoles – but rather that it would mean more if Nintendo put its weight behind such a program. When the company has had to defend its success with third parties several times during the lifetime of the Wii, it would seem a rather natural step to put some of its own marketing muscle behind a repackaging effort that could visibly aid those third parties.