As part of Gamasutra's
comprehensive new U.S. sales analysis
, we've extrapolated the top 5 selling video games of 2008 so far in the region. Last week at the BMO Capital Markets Conference, Take 2 claimed that its
Grand Theft Auto 4
had sold to 32 percent of PlayStation 3 owners and 28 percent of Xbox 360 owners through the beginning of October 2008. Using this as a starting point, and bringing in approximate sales figures for other games, we can put together an estimated top 5 software ranking based on year-to-date unit sales.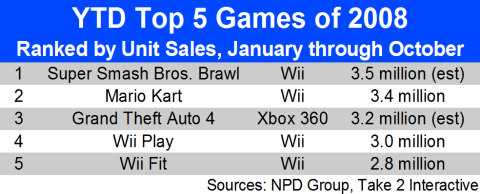 While the figures for Super Smash Bros. Brawl and Grand Theft Auto 4 are estimates (neither of the publishers nor the NPD Group have released official data), the maximum possible error in each figure should not affect the rankings. (For those interested, the PS3 version of Grand Theft Auto 4 had likely sold in the neighborhood of 1.8 million by the end of October.) For comparison, here is the final top 5 for the entire year of 2007, as published by the NPD Group in January of this year.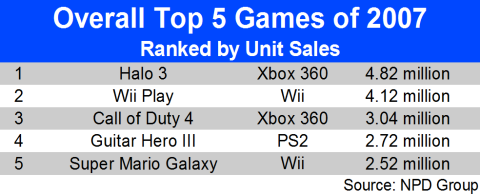 Notice that Wii Play appears in both lists. Should Wii Play sell in November and December of this year as it did in 2007, it will have appeared in the top 5 for two years in a row, with higher sales in the second year. In a mere two months, we will have the full 2008 results, and it will be interesting to compare at that time with the results today. Keep in mind that the titles in the top 5 year-to-date in 2008 still have the benefit of sales in the two biggest months of the year, November and December. One contender for the top spot this year is Wii Fit. It has realized a higher weekly sales rate month after month, reaching a peak of 121,000 per week in October. Should it continue at that rate through the end of 2008, it could get very close to 4 million units for the year, an astounding figure for a completely new property. Finally, if we perform a rudimentary estimation of the top 5 games by revenue so far this year, we arrive at the following ranking: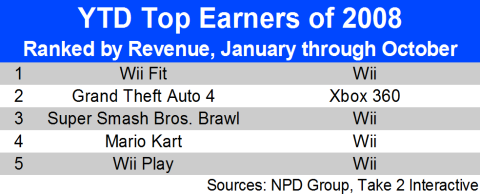 As expected, the higher price of Wii Fit puts it far ahead of the competition, with as estimated $250 million in revenue. Grand Theft Auto 4 for the Xbox 360 ranks higher than most Wii games with higher unit sales by virtue of its higher retail price. You can now read the full Gamasutra-exclusive analysis, examining October's NPD U.S. game hardware/software sales in more detail, revealing fascinating additional insights, guitar wars, and much more.