Gamasutra analyst Matt Matthews has been
analyzing August's NPD in-depth
to examine the three main factors why the U.S. retail console industry is dipping in 2009. The total revenue for the videogame industry in 2008 was $21.3 billion, according to the NPD Group. It appears now that the total for 2009 will likely fall short, perhaps by over a billion dollars. According to Matthews, here are the chief factors involved in 2009's massive retail shortfall:
Software Unit Sales Down:
In terms of software unit sales, the industry at the end of August 2009 had sold 12.5 million fewer units than at the end of August 2008. For a sense of scale, that's more than the combined 2008 totals for
Mario Kart Wii, Super Smash Bros. Brawl
, and the Xbox 360 version of
Grand Theft Auto IV
. While there are still some guaranteed million-sellers this holiday season, it seems unlikely that retailers will be able to move enough software to make up for the 12.5 million unit gap. For future reference, over 268 million units of software were sold in all of 2008.
Software Prices Down:
The average sale price (ASP) of software has been down dramatically during 2009. After peaking right around the release of Activision's
Guitar Hero World Tour
, prices have generally been heading down with occasional spikes from big releases. The combination of fewer unit sales with generally lower prices has greatly depressed software revenue in 2009. Compared to the same point in 2008, the industry's software total is behind by $765 million.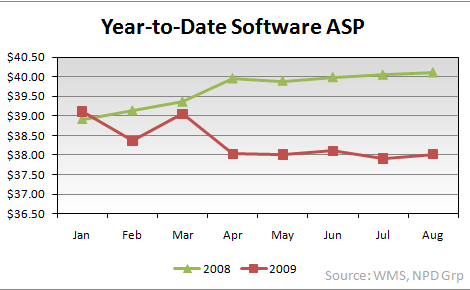 Some of this is erosion of sales of higher-priced items. For example, the music industry – specifically
Guitar Hero
and
Rock Band
– lagging over $400 million so far this year, measured against the August 2008 year-to-date total.
Hardware Prices Down:
All the price cuts may be good for the industry in the longer term, but until those new system owners start buying a lot of software the effect on total revenue comparisons will be negative. For example, the average price of the PlayStation 3 will have dropped from over $400 to around $300 by the time September is over, a reduction of 25% in hardware revenue. If Nintendo were to drop its system price to $200, its hardware revenue would drop by 20%. If each system were to sell as well during October – November 2009 as it did in 2008, but at these reduced prices, the industry would take a $375 million hit to overall revenue. Under our assumption of over 2 million PS3 systems during that last quarter of this year, Sony would make up for the lost revenue in increased volume. If the current trend in PlayStation 3 software growth continues, Sony's total PS3 revenues for the year should look stronger. However, we are not confident that Nintendo could move 5 million more Wii systems during the last quarter of 2009 as it did last year. That means its contribution to hardware revenues will likely drop, especially if its continued weakness in software continues.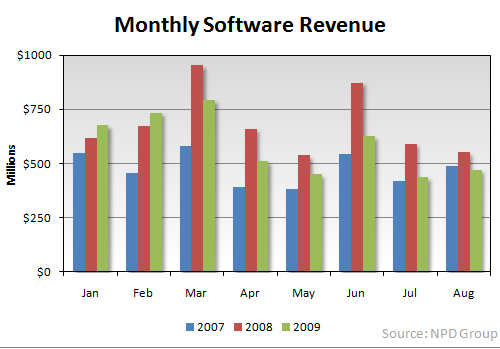 Here's the bottom line. Compared to 2007, the revenue and sales posted in 2008 were spectacular. Also compared to 2007, the revenue and sales posted in 2009 looked like normal growth. So even if the rest of 2009 were to be exactly like the end of 2008 – that is, really great growth compared to 2007 – then we could probably consider that healthy. Even under those rosy assumptions, the industry still wouldn't break $20 billion by the end of 2009. That's where we're putting our marker for now: total annual revenue for 2009 at just under $20 billion.
Gamasutra's in-depth feature
has the full analysis of August's NPD results, special circumstances, projections for the year and much more.