[
Analyzing July's NPD U.S. retail console numbers -- and following yesterday's spotlight on Xbox 360 S success -- Gamasutra analyst Matt Matthews looks at the Wii declines, the DS's rising price, what PS3 needs to continue growing, and a "disaster" situation for the PSP.
] While the Xbox 360 is the current star of the hardware scene, we would do well to keep a focus on how the other systems are performing. Year-to-date, only the Xbox 360 and PlayStation 3 have demonstrated both hardware and software sales increases. Below we break down the figures for each system and then make a rather unique comparison to hardware sales from February of this year.
Nintendo Wii
– System sales for Nintendo's flagship console are down 17 percent year-to-date, although sales for just July were practically flat year-over-year. The average price of the system has declined from just under $220 in September 2009 to just over $200 in February 2010 and has finally settled in just under $200 as of July. Even more alarming for Nintendo, however, is that software sales for the system have declined more than 20 percent so far this year compared to the same seven month period in 2009. As we saw last month, almost all of the decline has come from third-party Wii software. To address this point more directly, we note that Michael Pachter of Wedbush Securities highlighted comments made by Electronic Arts during its latest earnings call with investors. The publisher lauded its gains in the overall market, attributing this strength to its larger relation position in the "high definition console" market. Pachter added that he expects "to hear similar statements from virtually all third party publishers in the coming months, as the weakness in Wii software is likely to spook all but the most fearless." Certainly Nintendo's own release schedule in the back half of 2010 will help bolster its console's software position overall, but that won't necessarily address the woes of third-party publishers. In fact, big first-party titles will likely drain dollars that Wii owners would otherwise spend on third-party software. The figure below shows the decline in the Wii's YTD hardware sales in 2010.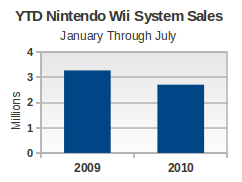 Nintendo DS
– This platform now consists of three systems: the Nintendo DS Lite, the Nintendo DSi, and the Nintendo DSi XL. According to pricing data provided exclusively to Gamasutra, the system's price has risen yet again. Six months ago the system had an average price of just over $150, indicating that the Lite and original DSi model were selling
approximately the same units each month
. The average price now stands at over $165, more than $15 more than the launch price of the original Nintendo DS back in November 2004. We believe that this dramatic rise in the average price can be attributed directly to the introduction of the $190 DSi XL and a sharp decline in the popularity of the Lite model. (The figure below shows the decline in the system's YTD hardware sales.)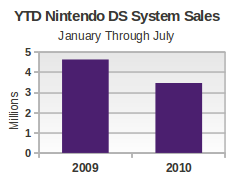 While the system's unit sales are off by more than 25 percent year-to-date, its software dollar sales have shown a rather modest 6 percent decline so far in 2010, which compares favorably with the 8 percent drop across the entire industry.
PlayStation 3
– Sony's lead console is just finishing up a full 12 months of year-over-year increases, and its year-to-date sales are up 45 percent, the best showing of any system. In September 2009, the average price of the system was right at $300, the price of the PS3 Slim 120GB system then available. (The figure below shows the growth of the system's YTD sales.)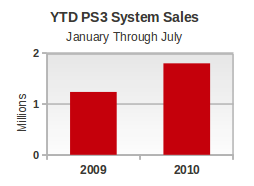 As the $350 model (with a 250GB hard drive) came along, the average price rose to just over $315 in February of this year. In July, however, that average price had fallen to right around $308. These figures suggest to us that Sony may have reached its full growth potential with its current hardware and pricing. If it falls into year-over-year declines as it runs headfirst into comparisons with last year's PS3 Slim launch, it will need to renew its pitch to consumers to accelerate hardware sales. If this last year is the best that Sony's console can do, then it will never even reach the rate the Wii achieved in its first year. As for software, Sony's year-to-date software dollar sales are up around 40 percent compared to sales for the first seven months of 2009. This is roughly in line with the increase in hardware sales, but significantly behind the 61 percent increase in the installed base since July 2009.
PlayStation Portable
– Sony continues to put a good face on the PSP's situation, relying mostly on exclusive software/hardware bundles to drive sales. Even so, it cannot hide the 35 percent decline in system sales so far this year, nor the corresponding 33 percent drop in software revenue. (The figure below shows the decline in YTD hardware sales.)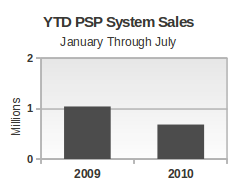 What to say of this disaster? Nothing, truly, except that until Sony itself presents a coherent plan for its system we think it will continue to lose not only consumer interest at an alarming rate, but more fatally, developer and publisher confidence – if it hasn't already lost that confidence already. Unless fortunes change dramatically in a very short time, key titles like Square-Enix's
Kingdom Hearts: Birth by Sleep
(due the first week in September) and Sony's own
God of War: Ghost of Sparta
(November) will create headlines like those seen last month when IGN revealed that Konami's
Metal Gear Solid: Peace Walker
had sold only 52,000 units during its launch month.