As part of an
exclusive NPD analysis
, Gamasutra takes apart the ten top selling video games for November 2008, from the latest hardcore titles at the top of the software chart, to Nintendo's trio of Wii games that refuse to leave the sales list. Analyst firm The NPD Group released the following data on November's ten top selling video games, with multiplatform shooters making up more than half of the chart: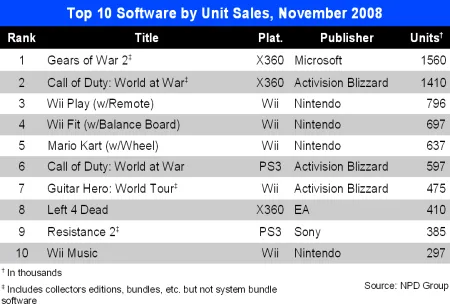 "Selling 1.56 million units in 22 days,
Gears of War 2
for the Xbox 360 (developed by Epic Games, published by Microsoft Game Studios) was the top seller for the month. It performed significantly better in its first month than its predecessor, the original Gears of War, which sold 1 million units during November 2006. (Microsoft has since announced that
Gears of War 2
has sold 3 million units worldwide.) The biggest cross-platform release was
Call of Duty: World at War
(from Activision), which sold almost 2.2 million units across the Xbox 360 and PlayStation 3, ranked second and sixth, respectively. The previous iteration of the game,
Call of Duty 4: Modern Warfare
, launched in November 2007 and posted 2.0 million units in its first month on those same two platforms.
Resistance 2
, Sony's follow-up to the popular launch title
Resistance: Fall of Man
, sold 385,000 units during November." Though recently released shooters dominate the chart, Nintendo has kept a firm hold with its "evergreen" titles, games that consistently sell well throughout the year.
Wii Fit,
in particular, is breaking previous sales trends. "Taking spots 3 through 5 in the top 10, respectively, are the now-familiar trio of
Wii Play, Wii Fit
, and
Mario Kart
.
Wii Play
has now reached sales of over 3.8 million in 2008 and well over 7.9 million since its launch 21 months ago in February 2006.
Mario Kart
now stands at over 4 million units since it was released in April of this year. The sales trend of
Wii Fit
really is unusual. Most games are "frontloaded", and sell best during their first weeks, tapering off over the course of the following months. Nintendo has had exceptional titles like
Wii Play
and
Mario Kart
which have had consistently good sales over the course of several months. Yet,
Wii Fit
follows neither of these trends: its sales have increased each month for half a year!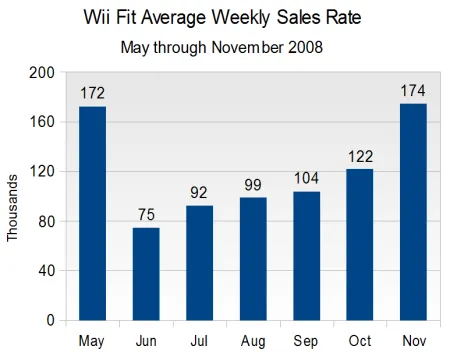 Sales of
Wii Fit
dropped to 75,000 units per week in June after a very strong 172,000 units during its launch in May. However, average weekly sales have then increased every month since, culminating with its strongest month ever during November when it sold 174,000 units per week. If supplies hold out,
Wii Fit
could surpass even that new high in December." You can read the
full Gamasutra NPD analysis for November
, including lots more specifics on trends, hardware and game sales, and prospects for the future.