[
GamerBytes editor Ryan Langley examines June 2010's PlayStation Network debuts and continuing successes, including charts and leaderboard data, to find out which digital PSN titles for PlayStation 3 and PSP are faring well as 2010 progresses.
] The past few months have seen quite a few new releases on the PlayStation Network -- but due to unforeseen circumstances, we've been unable to give an update on top downloads for each month. We set out to change that with June 2010's analysis, as we look back at the past 6 months of PlayStation Network activity. We look at recent releases like
Joe Danger, Planet Minigolf
and
Rocket Knight
along with the top downloaded PlayStation Minis-- that service recently announced it's seen
over 1 million downloads
.
The Top 10 for June 2010
The month of June brought nine new titles to the PlayStation Network. However, we could only follow two of them -- the others don't have Leaderboards. The above Top 10 is for the North American PlayStation 3 Store only, and does not count European purchases. It wasn't a native PSN title that took the top spot this month -- it was the newly released
Final Fantasy IX
for PSOne Classics. Now
IX, VII
and
VIII
have each taken a spot on top of the downloadable games list. As for new PlayStation Network titles,
Tecmo Bowl Throwback
was the winner for PSN titles in June, similar to the performance of the Xbox Live Arcade version released back in May.
Joe Danger
came third, with four weeks of release under its belt. Based on the Leaderboard statistics we've collected for the game, over 68,455 players bought the game in its first month – a huge success for the small British studio. Sean Murray of Hello Games has suggested the numbers may be a little lower than actual sales, thanks to the Leaderboards not counting people who got zero points – which include those that crashed over the finish line. Whatever the case, for a $14.99 title made by a small dev team, it's a considerable success.
Planet Minigolf
was also a big success for Zen Studios, coming in 4th place for the month and adding 40,358 players. Other titles include the ever-elusive
Mortal Kombat II
,
The Price Is Right
and
Catan
.
The Price is Right
is a most peculiar one, since it's
received very poor reviews
. But
Wheel Of Fortune
did well too, so it seems recognizable game shows appeal to a reliable section of the PSN audience.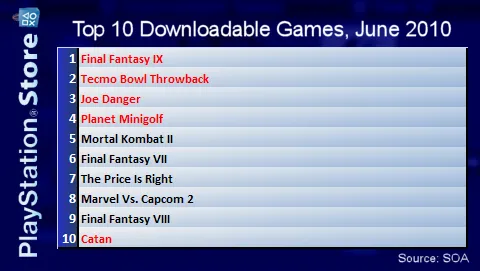 Six Months Of Leaderboard Statistics
Much like the recent Xbox Live Arcade statistics list, we have also compiled a list of PSN statistics from the end of December 2009 to the end of June. This list also includes several titles we have yet to talk about in these charts. Creat Studios released both
Wakeboarding HD
and
Hamsterball
during this time period, with
Wakeboarding HD
adding around 17,000 players and
Hamsterball
adding over 10,000 since March.
Hamsterball
can no longer be tracked, as it stops counting players after the Leaderboards hit 10,000. Konami's
Rocket Knight
didn't do spectacularly on the PlayStation Network – only 12,696 players. But it did to better than the Xbox Live Arcade version, which hit 8,976 players over the same time period. It was a similar relative story for Capcom's
Final Fight: Double Impact
, which has added 60,880 players on the PSN, while the XBLA version added 45,260. With fewer overall releases on the PSN, these titles were able to get a bit more time in the spotlight as new titles.
Hustle Kings
has been the big winner for the first half of 2010, being the only game we followed to add over 100,000 players during the year. It's a remarkable amount for what is a straight-up snooker title. But overall, most games aren't seeing massive sales -- though some have done better than they would have done on Xbox Live Arcade thanks to less competition.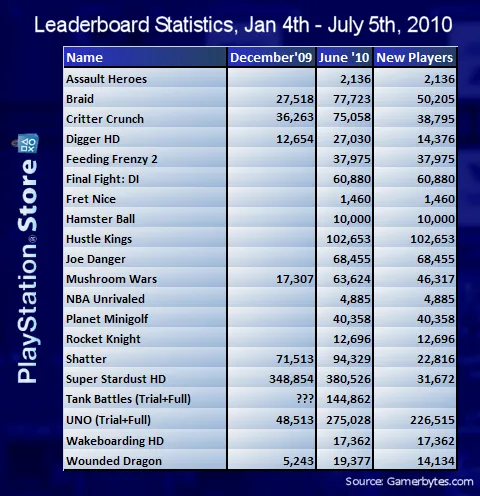 Top 10 Minis
The PlayStation Europe blog also revealed some statistics regarding PlayStation Minis titles, and how well they've sold -- 1 million Minis have sold across the 112 available titles to date. One must realize that the
official announcement
states that over 1 million Minis have been downloaded – that doesn't necessarily mean
bought
. Top-downloaded titles like
Age Of Zombies
[FULL DISCLOSURE: the author of this article worked on the title at Halfbrick] and
Fieldrunners
were both available for free with the PlayStation Plus program, so that statistic isn't a decisive indicator of sales.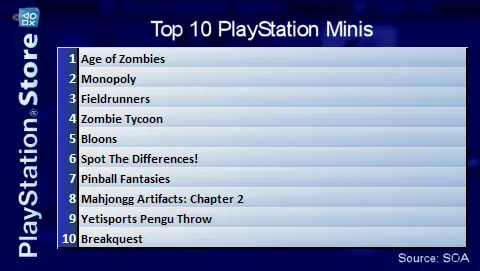 The Future
While the PlayStation Network may not have the Summer of Arcade like the XBLA does, it does have some stellar titles. For example,
Monkey Island 2, DeathSpank
and more are just coming available, and hopefully should do well on the system - more info soon.