[GamerBytes editor Ryan Langley examines PlayStation Network's debuts and successes during August and September of this year, using Leaderboard and chart data to analyze how they're doing.]
Over the past two months we've seen a plethora of new titles appear on the PlayStation 3's PlayStation Network -- with some well known licenses finding their way onto the digital platform, hopefully broadening the types of players that might find the PlayStation Store. For this joint August-September analysis, we look at recent releases like
Castle Crashers, Sonic Adventure
and
Earthworm Jim
to see how they've fared on the PlayStation Network, and how well they've stacked up against their Xbox Live Arcade brethren. Over the past two months, fifteen titles have been released on the PlayStation Store – quite a feat. Unfortunately, we were able to follow eight of these through Leaderboards, which track the amount of online players posting scores.
Earthworm Jim
was the first release of the month – and it did remarkably well, with over 34,000 players added to the Leaderboards for a total of 43,027 across both August and September. The Xbox Live Arcade version added 47,406 players in a similar timeframe, and is currently up to 67,995 total, so this new version of the classic game has likely garnered over 100,000 sales across both platforms.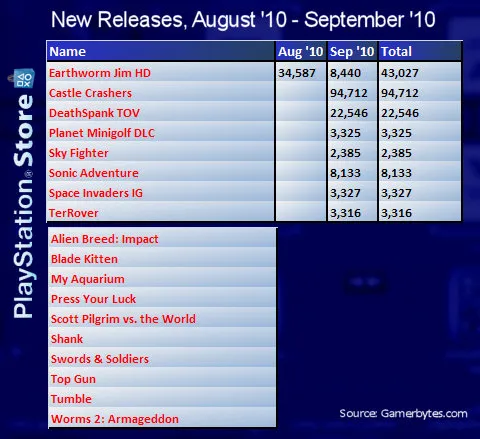 Crashing My Castle
Castle Crashers
was released back in August 2008 for the XBLA. Now, two years later, what sort of pulling power does the game have on a second platform, despite nearly 1.9 million players already on the other platform? 94,712 players on Leaderboards to date, as it turns out. Unlike the XBLA version,
Castle Crashers
PSN doesn't require multiple accounts to play with while playing locally, so the overlap of multiple users on the same machine appearing on Leaderboards is much lower -- these numbers are likely much closer to those of actual paying customers.
Games To Creat
The second new release was Creat's
TerRover
, released by its lonesome on September 7. The game appears to have only added 3,316 players to its Leaderboards across the month. However, keep in mind that the European release wasn't until the 29nd of the month -- but the current Metacritic is also
sitting at 54%
. Creat's other release for the month was
Sky Fighter
, currently only available in Europe from the 22nd of September. In its first week it picked up 2,385 players on its Leaderboards, nothing particularly stellar, but its existence was also not publicized much prior to release.
The Infinity Gene
Space Invaders: Infinity Gene
was released alongside
My Aquarium
and
Tumble
, but was the only game of the three with Leaderboards. 3,327 players were added from September 14. However, it appears that you may have to upload the statistics yourself by getting to the Leaderboard screen, so actual sales could be far higher.
Come On, Step It Up!
As bizarre as it may seem,
Sonic Adventure
is the first downloadable
Sonic
title to appear on the PlayStation Network – all others have been exclusive to the Xbox Live Arcade. Leaderboards show that 8,133 players were added from September 20, while the XBLA version was able to reach 25,000 players in a similar timeframe. It will be interesting to see how
Sonic 4
handles in comparison. The final release we can speak about is
DeathSpank: Thongs Of Virtue
, released on the same day, which gained 22,546 players in two weeks. The PSN release actually fared better than its XBLA cousin, which only gained 18,122 players. It doesn't appear to have sold nearly as well as its original version, which added 52,000 players in three weeks, but putting together both the first and second title across both platforms there are well over 200,000 players -- plus there is a PC release hitting soon.
PSN DLC
Downloadable content is difficult to measure on PSN for the most part, but
Planet Minigolf
's
Stronghold Island
DLC was easy to track. Currently there are 3,325 players on the Leaderboards for the extra content, which is a bit of a slow start when there are 68,829 total players on the games' overall Leaderboards. But it should pick up eventually.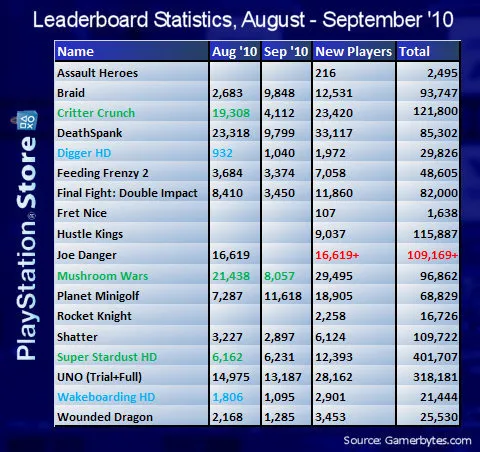 Sales and the PlayStation Plus Program
For reference to the above image, those titles that are set in green represent those that were part of a PlayStation Plus program during that month. Those that are blue were part of a normal sale during the month, and the red means that the game has now hit its Leaderboard ceiling, and we cannot track any newly added players.
Critter Crunch
was temporarily free as part of the PS+ program throughout most of August, and added 19,308 players in that month, adding to the 23,322 it gained in July. In addition,
Mushroom Wars
became part of the 'free to subscribers while they continue to subscribe' PS+ program at the end of August and throughout September, in which it added 29.495 new players. The game was adding 3,700 per week prior, so hopefully this promotion will see it push some extra sales in the months ahead.
Super Stardust HD
was only part of the promotion at the very beginning of August, but back in July it added 17,000 players, so it looks like the game continued to sell well after its promotion had finished. While not actual sales, this does give us a good idea of how many people are actually a part of the PlayStation Plus program – 20-30,000 or so seem to be actively playing their main 'free' games.
Digger HD
and
Wakeboarding HD
were both part of regular promotions, but it didn't seem to help either of them. Both have been part of promotions before, so it may be that these sales already attracted many of those waiting for the games to be cheaper.
Looking To The Past
You'll notice a few blank spots up there on the lists – we were unable to record data for those games during our regular interval, so we left it to complete it across two months. Overall, we can see that both
Planet Minigolf
and
Shatter
are continuing to do really well, and the original
DeathSpank
continues to do well for EA and Hothead Studios.
Hustle Kings
isn't doing too badly either.
The Month Of October
A good amount of quality games will be coming out in October on PSN.
Sonic 4, Costume Quest, Blacklight: Tango Down
and more will all be available to PlayStation 3 users across the globe. How many of them we can follow easily is dependent on the above limitations -- but we will continue in our attempts to get the best information regarding PlayStation Store sales.