[Ryan Langley from Gamasutra sister site GamerBytes examines the performance of October 2009's PlayStation Network debuts, including the new selection of PSP titles, the PSP Minis lineup, and new PSN games like Critter Crunch. He also looks into why map packs and downloadable content are here to stay.]
This month, we're doing things a little differently - we unfortunately have not received the official Top 10 PSN sales for North America, since Sony has not released it to the public yet. What we have done, however, is look at the American Store itself, which has its own top downloads section that is updated every week with the Top 20 PSN, PSP, PSOne and overall downloads lists. So, much like the Xbox Live Major Nelson Top 10, we're able to see what is doing well throughout the week. These lists include a Top 18 of games, including PSN, PSP and PSOne Classics, a Top 20 of overall content on the store, including Add-On Content, and Top 20s of Top PSOne Classics, PSP specific games and PSN games. Alongside this data we've been fortunate enough to retrieve Leaderboard data for some of the releases this month, so we can give a better look at some of the new games that came out this month, as follows: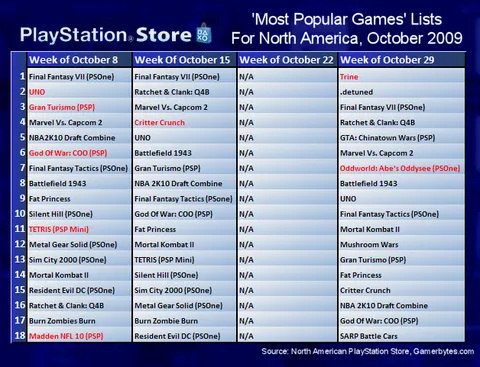 The Top 18
There's one week missing, due the PlayStation Store not updating the top sellers lists. Each lists' data is based on the PlayStation Store update on which it appeared on (we presume the lists are based from Thursday to Wednesday, but it's somewhat difficult to tell). Despite the release of the PSP Go,
Final Fantasy VII
beat every other available game in the opening week, including the newly released
Gran Turismo PSP
. It should be noted that
FFVII
can be played on both PS3 and PSP platforms, though. The other PSP specific titles to hit the Top 18 in the first week were
God Of War: Chains Of Olympus
at 6th place,
Tetris
-- the only PSP Mini to chart in the whole month -- at 11th, and
Madden NFL 10
at 18th.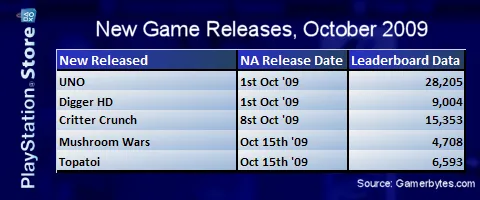 Leaderboard Data And New Releases
Of the eight new PlayStation 3-based PSN releases during these four weeks, five had trackable leaderboards. These can give us a good indication on how well they sold. This leaderboard data was taken on the 31st of October.
UNO
's leaderboards are based purely on ranked online matches, so it is safe to say the actual sales are likely higher, as most players would go online in unranked matches. Like the Xbox Live Arcade version,
UNO
has done very well and continued to stick around the Top 10 throughout the month. With over 28,000 players on those limited leaderboards, and likely far more overall (though it is a multiplayer-heavy game, so multiple PSN accounts per purchase are possible), it bested all other games this month, even and at $5 more than its Xbox cousin. Creat Studios'
Digger HD
performed decently as a re-imagining of a old PC puzzler, with over 9,000 players. As it went up against the PSP Go's release, it was
largely ignored
by the gaming press. But after seeing a lot of Xbox Live Arcade games in October fall short of these Leaderboard statistics, it will probably continue to sell reasonably well. Capybara Studios decided to sell their new PSN version of
Critter Crunch
for only $6.99 in the hopes of gaining more sales. But in its first week, it only garnered 7,000 players on the leaderboards, and a total of 15,300 for the month. The developers were
saddened by the low sales
, but
Critter Crunch
appears to have done better than other releases. It should be noted that the game has yet to see a release outside North America, which may account for the stunted sales. Creat Studios'
Mushroom Wars
also didn't fare too well, with less than 5,000 players on the leaderboard, Much like
Digger HD
, it was largely ignored by press and reviewers despite the
three reviewers on Metacritic
all scoring it well. Boolat Games'
Topatoi
currently has 6,500 players on the leaderboard for its first level. However, this also includes players in Europe who received the game nearly 4 months prior. It's safe to say its American release did not do much for the game overall. Unfortunately
Trine
and
Detuned
do not have Leaderboards, so we're unable to give a realistic number on their player base. But judging by the 'Most Popular' list, both have had a strong start. The final release,
Buzz Jr. Monster Rumble
, did not hit the list at all. One of the strangest omissions from any of these lists is Konami's
Zombie Apocalypse
, which has been doing very well throughout October on the Xbox Live Arcade, and yet never appeared on the PlayStation Network list.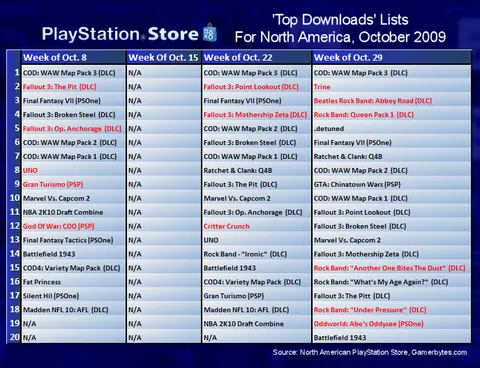 The Reason We See Call Of Duty Map Packs
The above lists are the top downloads (by unit, not revenue) overall -- including any paid content on the store, Add-On Content and Dynamic Themes. Puts things into perspective, doesn't it? Released on August 6th, the 3rd
Call Of Duty: World At War
Map Pack dominates the charts, beating any PSP or PSN game currently available, while the first and second map packs (now 7 and 5 months old) continue to be in the Top 10. The
CoD4
Variety Map Pack, now 19 months old, continues to sit in the bottom half of the Top 20 and outsell new games regularly. The
Fallout 3
downloadable add-ons, which were all released on the PlayStation Network in October, have also dominated the charts -- impressive considering the game is now nearly a year old. It's intriguing to note that fans had been holding onto their copies of the game all this time, and are now willing to re-engage, while the Xbox 360 received all that DLC months earlier.
Rock Band
's downloadable music also seems to be doing well on the PlayStation Store. Alanis Morissette's "Ironic" hit 14th spot in its second week of availability, while
Rock Band
's Queen Pack hit 4th spot in its release week -- with "Another One Bites The Dust" and "Under Pressure" single-song downloads making it in at 15th and 18th place. Blink 182's "What's My Age Again?" also found its way into the final week at 16th place.
The Beatles: Rock Band
Abbey Road DLC also hit in the last week of October, and jumped to third most-downloaded piece of content for the week, but was beaten by
Trine
and the third
World At War
Map Pack. It's remarkable to see that, even its opening week of availability, a game like
Gran Turismo PSP
(albeit at a higher revenue number) could not beat any of the three
World At War
map packs in sales, let alone PSN
UNO
and
Final Fantasy VII
in its first week of sale. Opinionated gamers may bemoan the 'nickel and diming' of incremental DLC, but their complaints lose steam when such items outsell everything else on the store.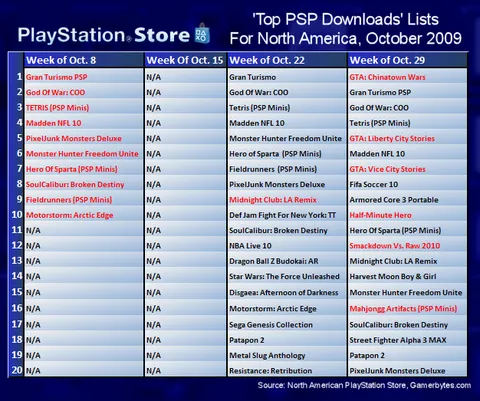 PSP Games
So the PSP Go was released at the very beginning of October, and alongside it came 100 new games -- either digital only, or UMD conversions that were originally only PSP retail releases. So how did they all fare? Compared to everything else, as seen by the PSN list above, they haven't done too well. There was talk of games like
Motorstorm: Arctic Edge
not doing so well in U.S. retail on the September NPDs, but that title at least seems to have fared a little better on the PSN Store. As discussed earlier
Gran Turismo
and
God Of War: Chains Of Olympus
have continued to sell strongly each week.
PixelJunk Monsters Deluxe
started out strong, but slowly slipped down the list, and has since fallen out of the Top 20.
Monster Hunter Freedom Unite
, considered a difficult sell compared to its popularity in Japan, also did surprisingly well with new PSP Go owners. In the final week, the whole
Grand Theft Auto
PSP catalog was made available, and jumped into the Top 10 taking 1st, 5th and 7th place. Despite poor retail sales of
Chinatown Wars
(unconfirmed NPD-citing reports claim around 10,000 copies sold in October in the U.S.), it seems to have done well here, and will likely populate the list for weeks to come.
The Minis
In terms of PSP Minis,
Tetris
,
Hero Of Sparta
and
Fieldrunners
were hits out of the gate and made their way into the Top 10 list, even up against the 100 new retail releases -- and continued to hold on throughout the month.
Mahjongg Chapter 2
slid into 16th place on its release week.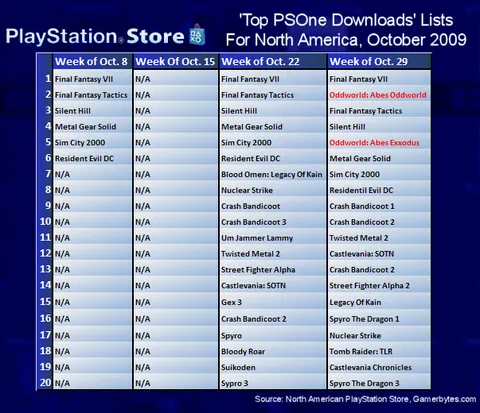 PlayStation Classics
Lastly, we take a look at the Top PSOne Classics currently on the store. As we stated earlier,
Final Fantasy VII
,
Silent Hill, Metal Gear Solid
and
Final Fantasy Tactics
have continued to take the Top 5 positions on the list throughout the month. The most surprising game is
Sim City 2000
, which has kept itself high on the list all this time despite its strong PC heritage. Perhaps it's a sign that
Sim City
, like 2K's
Civilization Revolution
, has the power to make a comeback on a HD console down the road. The same could be said for the popularity of
Nuclear Strike
, which has continued to be in the Top 10 since its release on October 1st. Other releases such as
Um Jammer Lammy, Gex 3
and
Tomb Raider: The Last Revelation
didn't seem to fare as well, and did not hit the lists in their opening weeks. Finally the two PSOne
Oddworld
games were released in the final week of October and shaped up nicely, hitting the top downloaded list -- and have since continued to sit in the Top 5 ever since.
Looking Forward
The PlayStation Network has a few games to look forward to in November -
Braid
has already been released, and it will be interesting to see if it can grab a foothold like the original did on the Xbox Live Arcade. There's always a chance we could see
PixelJunk Shooter
drop in along with
Gravity Crash
. Now with
Modern Warfare 2
out and about, will we see the
World At War
Map Packs drop off in popularity? Tune in next month to find out.