[GamerBytes editor Ryan Langley examines March 2010's PlayStation Network debuts and continuing successes, using leaderboard data to find out what digital PSN titles are faring well as 2010 progresses.]
While Microsoft had the Xbox Live Block Party in March, as
also analyzed by us
, the PlayStation Network was having a quiet get together -- nothing particularly flashy, but including a few neat PSN digital exclusives like
Wakeboarding HD, Hamster Ball, Section 8
and
Anarchy: Rush Hour.
We unfortunately did not get a Top 10 of PlayStation Network downloads this month, but we do still have Leaderboard statistics for a selection of popular titles for a look at well games are selling on the service.
New Releases
There were 8 new releases for March on the PlayStation Network. But unfortunately, we're only able to follow 3 of them --
Feeding Frenzy 2, Wakeboarding HD
and
Hamster Ball
. The releases of
Groovin' Blocks, Mega Man 10, Anarchy: Rush Hour, Section 8
and the
Blue Toad Murder Files
episodes either have Leaderboards we cannot follow, or don't have them at all. A real disappointment -- many of these titles would greatly benefit from a real Leaderboard structure.
Feeding Frenzy 2
was the first title we could follow on the calendar, and was released on the 11th of March in the United States (it has yet to be released in Europe). During its three weeks of release, it was able to pick up 14,894 players to its paid-only Leaderboards.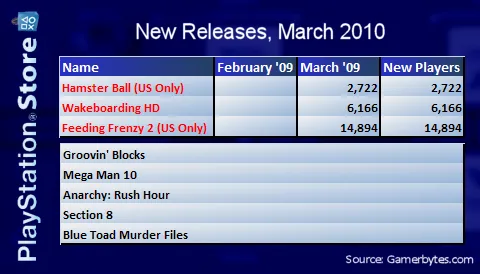 Hamster Ball
was only released in the United States and only for a week, but during that time the game was able to add just 2,722 names to the Leaderboards. Finally,
Wakeboarding HD
was released on the 18th in Europe and 25th in America, and it added 6,166 players to its Leaderboards, and at $15. Overall, there wasn't a big user turnout for new games on the PlayStation Network, and certainly not as big as those in the Block Party promotion over on Xbox Live Arcade -- but to a certain extent, that's expected with the relative lack of promotion.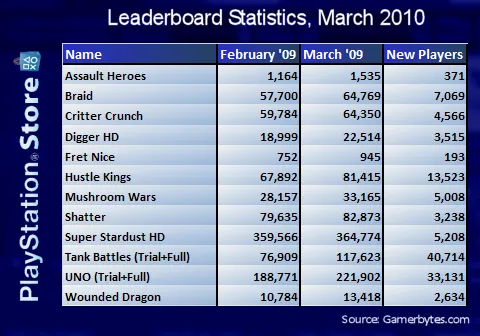 Leaderboard Statistics
First of all an apology – over these past few months we had been discussing the Leaderboard statistics for both
UNO
and
Tank Battles
from Gameloft. We now realize that these statistics actually include anyone who has played the game - both via the trial and through the full game. We have now corrected this.
Critter Crunch, Braid, Digger HD
and
Mushroom Wars
have continued to do well each month since their release --
Hustle Kings
too. Despite their age they're doing well – likely better for the 'long tail' than they would have done on the Xbox Live Arcade, perhaps due to relatively less PSN releases being available.
The Future
April 2010 will be a month of games that will be debut both on XBLA and PSN, like
After Burner Climax
and
Final Fight: Double Impact,
but also PSN-specific games like online shooter
Lead & Gold
, which could become a big success on the platform. We already know we cannot follow
Sam & Max
, which debuted on PSN during April, in terms of Leaderboards, but hopefully we'll get a Top 10 from Sony this time around to help us work things out.