[GamerBytes editor Ryan Langley examines February 2010's PlayStation Network debuts and continuing successes, with charts and leaderboard data, to find out which games are doing well at the start of the year.]
Back in 2008, February was the launching pad for several big titles -
Flower, Noby Noby Boy
and
NHL 3-On-3 Arcade
. But this year it's very quiet, with
Greed Corp
and
Fret Nice
the only notable launches. Can either of them stand up against last year's titles, and how are older titles doing right now? We take a look at the PlayStation Network Top 10 for North America as well as Leaderboard statistics for a selection of popular titles to see how well games are selling on the service.
The Top 10
No new titles cracked the Top 10 in February. The newest was
Hustle Kings
from January, which has continued to do well from its first month.
Marvel Vs. Capcom 2, Flower
and
TMNT Re-Shelled
were all on sale at some point in the month, which is why all three have re-appaeared on the list.
Madden NFL Arcade
's resurgence is likely due to the real-life Super Bowl in the second week of the month.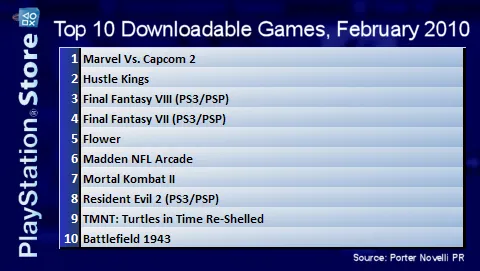 In terms of PSOne classics
Magic Carpet, Mass Destruction, Sorcerer's Maze, Dirt Jockey: Heavy Equipment Operator, Populous: The Beginning, Theme Park World
and
Grandia
were all released in North America in February, but none of them made it to the Top 10. Popular vintage RPG
Grandia
's release was at the end of the month, so it may appear on next month's charts. The only PSOne classics are the standard fare - the
Final Fantasy
games and
Resident Evil 2
.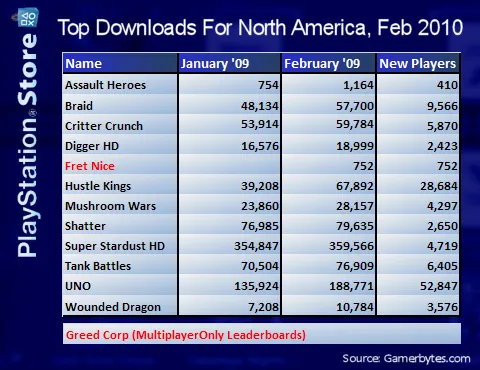 Leaderboard Statistics
We've had to drop a few games this month –
Peggle, Peggle Nights
and
Topatoi
are no longer viewable thanks to the PlayStation Network's low ceiling for their Leaderboard statistics. Leaderboards can only show 1 million players across all Leaderboards of one game, so these games no longer add new players who have poor scores. What we can see is a lot of titles still doing very well despite their age –
Braid, Critter Crunch
,
Mushroom Wars
and
Tank Battles
still add a lot of players each month, moreso than many Xbox Live Arcade titles have in the same time frame. However,
Fret Nice
didn't do well at all, unable to hit even 1,000 players in the 4 weeks it was available, and
Assault Heroes
has continued to do poorly, not surprising since it's such an old title ported over to the system.
Looking Forward
March will be an exciting month. The anticipated launch of
Mega Man 10
will arrive, along with
Feeding Frenzy 2
and
Wakeboard HD
-- quite a variety, sure to offer an interesting picture.