[
In an article originally published on sister digital download site GamerBytes, Ryan Langley examines the performance of July 2009's PlayStation Network debuts, including Battlefield 1943, Fat Princess, and Shatter.
] Following our
recent look
at Xbox Live Arcade sales for July 2009, we now look at the top 10 PlayStation Network titles, using ranked charts supplied to us through Sony's PlayStation press representatives, plus Leaderboard data. The PlayStation Network received seven new downloadable PlayStation 3 titles during July –
The Punisher: No Mercy, Battlefield 1943, Buzz Jr: Robojam
,
Namco Museum Essentials, Shatter, Fat Princess
and the second episode of
Watchmen: The End Is Nigh
. It also received six new PSOne classics, including
Wild Arms 2
and four
Spec Ops
games. In this analysis, we'll see how each of these games performed based on the Top 10 and any Leaderboard data that was made available. Please note that, while Sony's downloadable show PlayStation Pulse did
publish a list
of the Top 10 PlayStation Network games of July, it was incomplete, since the episode came out before the end of July -- this is the updated list. Here's the North American Top 10 for PlayStation Network games published on the PS3 for July 2009: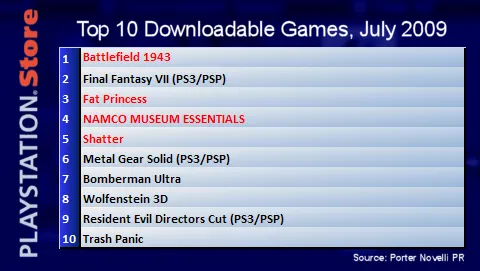 PlayStation Network History
Like the Xbox Live Arcade version,
Battlefield 1943
was the best selling title in July. Electronic Arts has come out and said that in the first two weeks of the game, the company had sold
over 600,000 copies
across the two platforms. The leaderboards on both the XBLA and PSN versions bottom out at 250,000 players. The extraordinary success of this game may change the way publishers deal with PlayStation Network games, as well as software for the PSP Go. It's been a worry for some time about whether more complex digital titles are completely viable, but this is a clear example of something that works.
Shattering Sales
Sidhe Interactive released their second digital title
Shatter
to the PlayStation Network this month - and by the end of the month, where the game had been out for a little over a week, the game had roughly 23,000 players on its Leaderboards. As of the beginning of August, when Gamasutra
conducted an interview with Sidhe
, the game was about 30,000 players strong. Sidhe Interactive's Mario Wynands also spoke of the sales being at a 60/40 split between the Americas and Europe / Australasia. Sidhe's previous game was
Gripshift
, released on PlayStation Network and Xbox Live Arcade. Currently
GripShift
on PSN has just over 52,000 players on its Leaderboards, while the Xbox Live Arcade version sits at 30,000 players, implying this new title may swiftly overhaul Sidhe's previous efforts. It should be noted, however, that the XBLA version of
Gripshift
was released in the middle of December 2007, a time where the digital platform may be somewhat slower, as everyone is busy with larger retail titles.
The Essential Collection
Namco's
Essential Collection
of classic Arcade titles was able to beat out
Shatter
in North America – but its Leaderboards show a very interesting picture. Unlike the Xbox Live Arcade, where most of the games in the collection were released as separate $5 downloads, this includes five classics and one remake bundled together for $9.99. Each of the games has a High Score mode and an accompanying Leaderboard for it. Of the six games,
Pac-Man
had the most with over 20,700 players. Following it are
Galaga
with 18,800 players,
Dig Dug
with 17,800 players,
Dragon Spirit
with 14,600 players,
Xevious Resurrection
with 12,600 players and the original
Xevious
with 12,500 players. Despite
Xevious
being the only game with a complete makeover, it was one of the least played. These numbers appear to be based on both the North American release of
Namco Museum Essentials
and
Namco Museum.Comm
-- released in Japan back in January.
Shatter
's numbers are higher as it was also released in Europe.
Glutton for Punishment
Fat Princess
only had a few days on sale, but it was still able to beat out
Shatter
in the overall monthly sales ranking -- and at almost double the price. The game had an lot of interest behind it, and many gamers have been waiting for its release for over a year now. Despite all the problems Sony
was having
with servers, it continues to do very well.
Price Cuts Fail To Get Sales
For the week of July 17th,
seven titles
had their prices slashed in a summer sale. However, none of them made it onto the Top 10. Considering
Wipeout HD
had both a price cut and its first expansion pack become available, it's sad to see that it did not make it onto the list for North America. Other titles not in the Top 10 include
The Punisher: No Mercy
and
Buzz Jr. RoboJam
.
Early on
, it appears that
Punisher
was doing okay, but chances are it slipped off the chart once
Battlefield 1943
came out just a week later.
Can't Get Enough Of Spec Ops
A month later we still see
Final Fantasy VII
, Metal Gear Solid and Resident Evil at second, sixth, and ninth place, respectively. None of the six new titles that became available during July – including four
Spec Op
games,
XS Soccer
or
Wild Arms 2
, made the list. Next month we'll be seeing how
Battlefield 1943
continues to fare, as well as the release of
Marvel Vs. Capcom 2
and possibly some popular
PSOne titles
too.
[Thanks to Sony and Porter Novelli for releasing these ranking statistics. We'd like to also acknowledge my colleagues at Gamasutra and on NeoGAF for spurring discussion and bringing more analysis to the table.]