[Following yesterday's look at Xbox Live Arcade sales for August 2009, we now look to PlayStation Network, examining the month's top 10 debuts, from Marvel Vs. Capcom 2 and Crystal Defenders to Smash Cars and more, using ranked charts supplied to us through Sony's press representatives, plus extra Leaderboard data for context.]
For August, the PlayStation Network got five new downloadable titles, including
Marvel Vs. Capcom 2, Crystal Defenders
and
Smash Cars
, and also received seven new PSOne Classics, including the first two
Tomb Raider
games. (In
July's PSN analysis
, DICE's
Battlefield 1943
topped charts in its first month, and
Fat Princess
also made a debut high on the North American PSN Top 10.) In this analysis, we'll see how each of the August-debuting games performed based on the Top 10 and any Leaderboard data available. We'll also see how the PlayStation Network fared against Microsoft's Summer of Arcade promotion, which included titles like
Shadow Complex
and
Trials HD
and only recently ended. Here's the North American Top 10 for PlayStation Network games published on the PS3 for July 2009: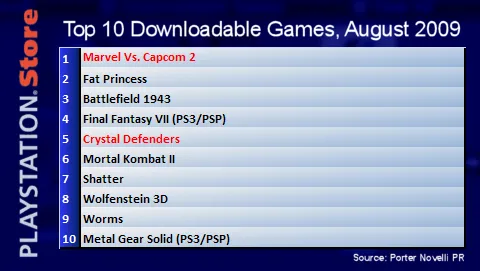 New Releases
Two new releases made it into the Top 10 for PSN in North America in August – Capcom's
Marvel Vs. Capcom 2
and Square Enix's
Crystal Defenders
.
Marvel Vs. Capcom 2
was released two weeks after the Xbox Live Arcade version, and looking at its position on Major Nelson's Top 10, it did just as well on the PlayStation Network. The game also had the extra perk of not having to challenge the rest of the Summer of Arcade after its release.
Crystal Defenders
was released some six months after the Xbox Live Arcade version, but has done well on the PlayStation Network – even though the system has a decent collection of Tower Defense titles available, including
PixelJunk Monsters
and
Savage Moon
. In terms of Top 10 placing, it did
just as well
as
Savage Moon
did back in February.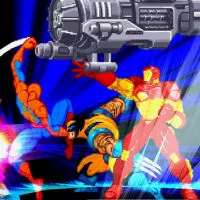 However, every other new title did not make it to the Top 10.
Watchmen Part 2
and
Han Tao
were released on both XBLA and PSN, and did not reach the list on either system. Gameloft's
TV Show King
was also unable to make the list – perhaps a little surprising, considering how well other game show games like
Wheel Of Fortune
seemed to do on the service. The last new release,
Smash Cars
, also did not make the list, and as its Leaderboards only show the top 100 players, we're unable to see how well the game did.
A Look At July's Releases
Fat Princess
continues to hold strong after a late last month release, beating Battlefield 1943 in America – quite the feat.
Battlefield 1943
has recently
hit over a million sales
across both XBLA and PSN, so
Fat Princess
managing to best it in this chart shows its continued success. Last month's
Shatter
has also managed to stay in the Top 10, and now has roughly 47,000 people on the Leaderboards from across the world – 17,000 more than last month. This is a very good return for a game in its second month of release – most would have fallen off by now. By next month it should pass
Gripshift
's PSN version in terms of Leaderboard data. Finally, previous PSN-topping titles that dropped out of the charts this month include
Namco Museum Essentials
,
Bomberman Ultra
and
Trash Panic
.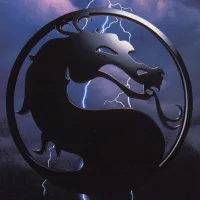 Koming Back
After being a no-show last month, the amazingly steady selling
Mortal Kombat II
shows its mug again, beating
Shatter
to get 6th place on the Top 10. It's spectacular how well this game continues to do on the Network, two years since its release.
Worms
has also returned to the Top 10 from being missing last month, but
Wolfenstein 3D
continues to reach the chart, 3 months since its release. It should be noted that
Wolfenstein 3D
is only $4.99 in America, which would help its sales, while
Worms
is $12.99 – so the latter is selling, despite its higher cost.
PSOne Classics
Unfortunately, no new PSOne Classics made it to the Top 10 this month. Only
Final Fantasy VII
and
Metal Gear Solid
kept in there, at 4th and 10th place respectively -- with
Resident Evil
dropping out of the charts. It's notable that even the more popular PSOne Classic titles like
Tomb Raider 1 & 2
weren't able to make it.
Looking Forward
September is actually looking like quite a quiet month for the PlayStation Network -- as there haven't been any major announcements for release dates thus far. There is the possibility of the release of
Trine
in the month, but it's far from certain. Nonetheless, there's likely to be some titles popping up, and we'll cover their reception in next month's sales analysis.