It's now apparent that Electronic Arts' major releases for 2008 didn't meet the company's expectations; CEO John Riccitiello
said as much
, recently announcing that the company wouldn't make its numbers for the year and that a new strategy is in the works. Gamasutra's
exclusive NPD analysis
now reveals the specifics of discouraging sales for EA's two new creative ventures
Mirror's Edge
and
Dead Space
, and disappointing life to date numbers for
Burnout Paradise
as well. To be exact, numbers cross-platform are:
Madden NFL 09
sold 3.9 million,
Burnout Paradise
sold 592,000,
Dead Space
sold 421,000, and
Mirror's Edge
sold 145,000. From the exclusive analysis: Electronic Arts had previously professed its faith in the creative process and the potential profit to be found in new properties. Titles like
Mirror's Edge
and
Dead Space
, both completely new material, were key to the company's end-of-year strategy. To get an idea of EA's position, it is instructive to consider the following data, provided to Gamasutra by the NPD Group. The figure below shows the life-to-date (LTD) sales figures for four key EA properties:
Madden NFL 09, Burnout Paradise, Dead Space,
and
Mirror's Edge
.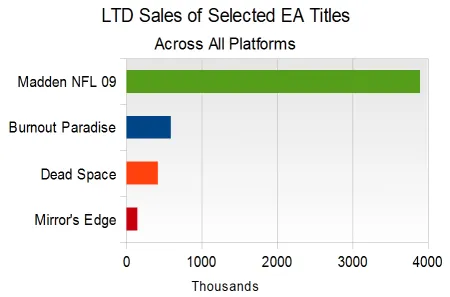 (Only
Dead Space
is currently available for Windows PC as well as consoles, so the data above includes all of those platforms. Data for the other three games includes only console and handheld versions.) Not pictured, but worth mentioning, is
Spore
-- available for Windows PC, MacOS, and the Nintendo DS -- which has sold in excess of 2 million units since its launch. What should EA make of these results? Its biggest annual software release,
Madden NFL,
is still doing quite well, although it is not growing its installed base as it has in the past. EA's high-profile designer, Will Wright, delivered a multi-million seller with
Spore
, but we have yet to see whether EA can successfully exploit it with add-ons as it had previously done with Wright's earlier game,
The Sims
. To these successes we add
Burnout Paradise
, the latest iteration of the well-regarded
Burnout
series and the first on current generation consoles. It moved around 230,000 units (for the Xbox 360 and PS3 combined) when it launched in January of this year, yet the game is just now reaching 600,000 units LTD, even with heavily promoted gratis downloadable content. It goes without saying that
Burnout Paradise
probably has not lived up to the company's expectations. (It should be noted here that the complete PlayStation 3 game is available for download from Sony's PlayStation Store, and sales figures for that version have not been released by either Sony or Electronic Arts.) The two new creative ventures,
Mirror's Edge
and
Dead Space
, have both failed miserably. This is in spite of lengthy and extensive marketing for each game, including a series of graphic novel-style backstory trailers for
Dead Space
released over several months. The brightest spot in EA's line-up turns out to be
Left 4 Dead
, a cooperative shooter developed by Valve and published by EA. The Xbox 360 console exclusive was 8th for the month of November with sales of 410,000 units. (It is also available for Windows PC, both as a boxed product and through Valve's own distribution platform, Steam.) The challenge for EA is generating those kinds of hit titles with the studios it owns. You can
read the full Gamasutra NPD analysis
for November, including lots more specifics on trends, hardware and game sales, and prospects for the future.