[As part of a new analyst newsletter, IGN GamerMetrics' Nick Williams has been discussing Nintendo's Wii dilemma, specifically the 'fine line' between keeping core gamers happy and attracting mainstream gamers, with particular reference to the console's 2008 releases. We reprint his editorial in full here with his kind permission.]
As Nintendo moves forward with its strategy to expand the videogame market beyond the traditional 18-34 year old male buyers, it's important not to lose sight of the core audience that helped to establish Nintendo as one of the indispensable players in the marketplace. To date, Nintendo has performed a remarkable balancing act of retaining its loyal fanbase, while also expanding its products to brand new audiences with accessible and simple new IPs. But will there be a tipping point where these loyalists lose faith in Nintendo's ability to provide a deep and complex gaming experience? Luckily for Nintendo, this audience is unflinchingly loyal. The millions of gamers who grew up with the NES, Super NES, Nintendo 64, GameBoy, and GameCube are desperate to see Nintendo take the top prize in the next-gen console wars, in a movement that has appropriately been named "fanboyism." Unfortunately, as developers try to appeal to a broader audience, they run the risk of alienating the avid Nintendo loyalists with games that are too simple. With IGN GamerMetrics, we have the ability to look ahead to see what upcoming software is currently on gamers' radars. The following 2x2 chart serves as a sneak peek into early next year's notable Wii offerings, identifying whether the current Q1/Q2 lineup of titles will be targeted towards the core Nintendo audience, the mainstream Nintendo audience, or both.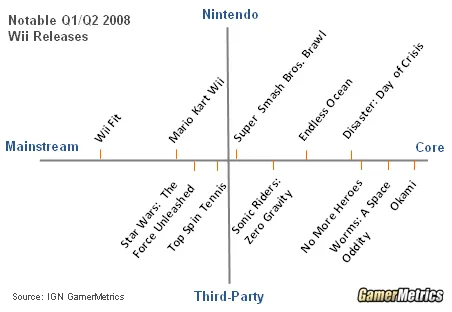 While this is by no means a comprehensive list of early 2008 releases, the general trend shows a lack of software on the mainstream end of the spectrum. Nintendo is hoping that its new mass market audience will run out to buy Wii Fit, but third-party publishers will also be looking to cash in on the Wii's success. With the exception of Star Wars: The Force Unleashed and Top Spin Tennis, there are surprisingly few upcoming third party Wii titles that will appeal to the mainstream crowd. This issue was directly addressed in a recent BusinessWeek article titled, "Seeking Wisdom from the Wii-Maker." The article mentions that Nintendo has met with key third-party partners such as Electronic Arts and Ubisoft to advise them on how to best capitalize on the new mainstream audience. Some publishers such as Midway, Take-Two, and Disney have already published mass market targeted Wii titles in time for the holidays (i.e., Game Party, Carnival Games, and Hannah Montana), and if more publishers continue to heed Nintendo's advice and "keep it simple," then expect to see a brand new crop of mainstream Wii games by the second half of next year. On the other end of the spectrum, Ubisoft's No More Heroes and Capcom's Okami have been tracking particularly well with the enthusiast Nintendo crowd, and should offer immersive gameplay as well as in-depth storylines. Nintendo's Super Smash Bros. Brawl and Mario Kart Wii, on the other hand, are rare examples of blockbuster caliber titles that will effectively appeal to both loyalists and newbies. For now, it seems Nintendo is cognizant of the need to offer a diverse mix of titles that range from complex and edgy, to simple and fun. In the long run, the key to the Wii's success will be if it can continue to walk this fine line between core and mainstream gaming.