Funcom has revealed further details on the status of its free-to-play MMO plans, noting upcoming significant development milestones and project scope. While a bulk of the word count in its
latest financial report
was dedicated to reassurances about the state of the big-budget fantasy MMO
Age of Conan
, the Norwegian developer and publisher was sure to outline its short- and long-term goals with the two current free-to-play projects it has in development, as well as mention that more are on the way. As mentioned on Funcom's previous fiscal quarter report, one of the company's free-to-play games is browser-based, the other Java-based. A projected final release date was given for neither game, but it was noted that the Java team is currently conducting focus testing and will be delivering a vertical slice this summer, while the browser-based team has a combat milestone due this summer. The browser-based MMO is apparently targeted at the "gamer demographic," and has a 14-member team in place. The Java-based MMO, on the other hand, is aimed at a younger-skewing demographic and is in development with a 17-member team. Screenshots from the Java-based game have been embedded in this article. Funcom sees growth in free-to-play database-driven games like
Travian
and the Gameforge library, as well as in youth-oriented MMOs such as
Club Penguin, Wizard101,
and
FreeRealms
. A previous statement
issued by middleware provider Unity
revealed that Funcom has licensed the Unity game engine for unspecified MMO projects.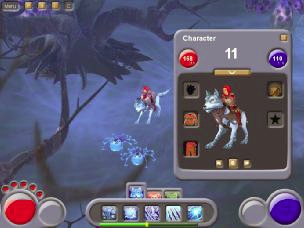 Funcom lists "smaller budgets and faster development" as a key reason to enter the free-to-play space, planning to monetize the titles with a combination of microtransactions, available subscriptions, and advertising revenue. The in-development titles are part of Funcom's second tier of its three-stage long-term plan "to innovate core business and build new ones." The first tier consists of the existing MMOs
Age of Conan
and
Anarchy Online
; in addition to the free-to-play MMOs, the second tier also includes the upcoming MMO
The Secret World
; and the third tier promises new MMOs of both the free-to-play and "large scale" variety, as well as "virtual world social networking."
Based on an segmented asset timeline at the end of the report, the free-to-play games have probably been in development since mid- to late 2008.