[
UPDATE
: Sister site GamerBytes has
added some more stats
as revealed by developers, including impressive numbers (9,153 sales and $31,000 in revenue) for perenially popular XNA casual game
Word Soup
and less impressive sales for some other titles, plus daily and first-day numbers for a variety of games.] After changes to Microsoft's policy and tools, creators of XNA Community Games on Xbox Live Marketplace now have access to download metrics, including sales data, number of trial downloads, and regional breakdowns -- and Gamasutra has exclusively obtained game-specific sales data for a number of titles. Many developers have openly discussed their sales, including Insomniac Games veteran Nathan Fouts of Mommy's Best Games, whose debut title
Weapon of Choice
failed to clear the 10,000-sale threshold
that Fouts said he would need to finance Mommy's Best full-time. Several other developers have been in contact with Gamasutra sister site GamerBytes, and have graciously allowed us to publish their own totals. Below is data for 24 different games, including conversion rates and total developer revenue. Some of the data is incomplete, but all attempts at accuracy have been made. Earnings are based on a 70 percent royalty rate; Microsoft recent stated it has rescinded a previous sliding scale component of the contract that reduced royalties when games are promoted directly by Microsoft. (NOTE: An asterisk in the below chart denotes developer-provided estimates, rather than precise numbers.)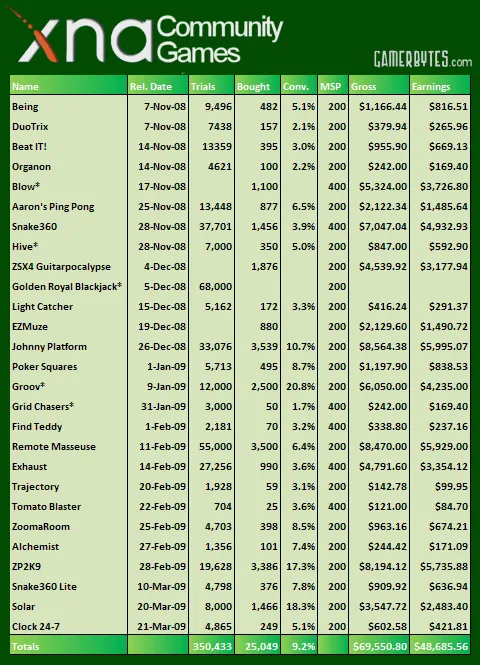 From the statistics, it is clear that XNA Community Games have not gotten off to the best of starts. After nearly six months of being available, most games have seen marginal sales, and the number of trials downloaded per game is still very small compared to that of Xbox Live Arcade games. In 2007, Microsoft said the demo-to-purchase conversion rate for Xbox Live Arcade titles was 17 percent. While this conversion rate has likely dropped since, the expanded userbase of the Xbox 360 has made up for the change. The average for Community Games is clearly much lower, with few games breaking out of the single digits. In particular, our data's seven Community Games selling for 400 Microsoft points ($5) saw very low rates. Games like
Blow, Exhaust
, and
Snake360
all had a large amount of content. But as with the iPhone app store, it seems few consumers are willing to spend $5 on a quality product, even when Xbox Live Arcade trends towards relatively higher price points. While many of the 200-point ($2.50) titles have had similar conversion rates, there have been some breakout hits.
Johnny Platform's Biscuit Romp
,
Groov
, and
ZP2K9
have each totaled up at least $4,000 in developer revenue alongside double-digit conversion rates, with Johnny Platform being our data's top seller. A common factor among those games is marketing through other mediums.
Johnny Platform's Biscuit Romp
and
Groov
were discussed on the popular Rebel FM and Listen UP podcasts, which spread the word of mouth for the game.
Groov
developer Julian Kantor told Gamasutra that after the podcast plugs the game rose from 93 sales in a week to 157 sales in a week. In March,
Groov
achieved an conversion rate of 37.8 percent after being discussed on both podcasts again and promoted in magazine OXM UK.
Solar
, which has totaled nearly 1,500 sales, has advertised in a way that no other Community Game has: using Flash. The developer created an
altered version of the game
and released it through Flash portal Newgrounds. There have been over 11,000 views of the version, which encourages users to buy the game on Xbox Live Marketplace.
ZP2K9
, created by Ska Studios, sold over 3,000 despite being an online multiplayer shooter -- a tough genre for XNA titles, which do not support leaderboards or notification of friends who own the game. Still, success is highly relative. Specific figures for
Weapon Of Choice
are not available, but while its sub-10,000 sales still likely exceeded most of the titles collected in our data (and likely exceeded the overwhelming majority of Community Games), it fell considerably short of developer Fouts' goal of being able to both recoup his expenses and fund an upcoming game, rather than simply being able to make some spare income alongside a separate job. According to a Microsoft statement made during GDC, "Several Community Games top sellers will be taking home more income from four months of sales than the average U.S. citizen earns in a full year" (about $32,000). Fouts notes that he is one of those "several," and infers that the average income must be much lower. Furthermore, he implies that that figure refers to total game revenue, including the cut Microsoft takes as distributor, and not the developer's own take. It also reflects per-game revenue, and not per-developer revenue; obviously, teams with more than one person would split the take, and external contractors such as those Fouts employed during production also must be factored in. In an
interview with Gamasutra
, XNA general manager Boyd Multerer said Microsoft is "happy with the attention that Community Games have been getting." Of the service, he added, "There are clearly some games that are doing pretty well, and as expected there are a lot of games that are not as strong as the others, and that's how we expected it to go. People are still learning their way around the Dashboard, so the Arcade games and the big professional games -- those will always continue to get the most support." The developer of some other high-interest titles have decided to not openly discuss their sales, including those of
Colosseum, Biology Battle, RC-AirSim, CarneyVale Showtime
,
Easy Golf
,
Fireplace
, and
Miner Dig Deep
, which were most likely in the upper threshold of sales. We have learned that
Biology Battle
's developers will be issuing a press release by the end of the week. Over the coming days, Gamasutra and GamerBytes will discuss other sale statistics for XNA Community Games, including average sales per day and peak sales times. We will also be analyzing what the developers of XNA Community Games need to do in order to increase their sales, and what Microsoft must do to raise the service's profile.