As part of today's
in-depth analysis
of new Nintendo-published graphs on the state of the market, Gamasutra has calculated the attach rate (also known as 'tie ratios' -- the number of games sold per console) for both first and third-party titles on Wii, PS3, and Xbox 360. Made possible by Nintendo's release of its regular market analysis alongside a Japanese financial briefing, and adding detail on the Wii's ratios per month this year, Gamasutra's Matt Matthews explains his conclusions on the matter as follows: "A console's software tie ratio is the ratio of the total number of software unit sales to the total number of hardware unit sales. This gives an average number of software titles per platform owner. Recently Anita Frazier, analyst for the NPD Group, has commented that tie ratios "can be an indication of the health of a system", but can also be used in misleading ways. Moreover, "as a system gets further along in its lifecycle and perhaps hardware sales start to diminish, the tie ratio tends to go up because software sales are the bigger draw. If a hardware system is doing gangbuster sales, then the tie ratio can go down even if there are lots of overall sales." Ms. Frazier's comment that a tie ratio could go down is interesting because, while we didn't have direct evidence of it at the time, some industry-watchers suspected that the Wii's software tie ratio had been constant, or even going down, during the third quarter of 2008. Using the graphs [in
today's feature
] and the known installed hardware bases for each system during the first 23 months on the market, we can estimate tie ratios relatively easily: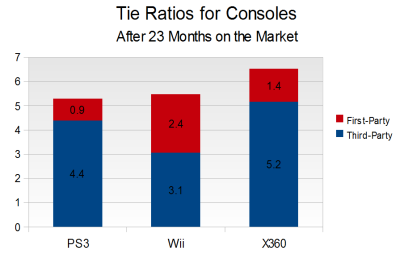 Keep in mind that the above figure is for the Xbox 360 after September 2007 and for the PlayStation 3 and Nintendo Wii after September 2008. (Note that the figures shown above were estimated from Nintendo's October 2008 presentation to investors, but the total tie ratio for each platform corresponds to known values of each platform's total tie ratio provided to the media by NPD.) Nintendo's first-party software dominance is made manifest in the above figure, showing that Wii owners have between two and three Nintendo-published games in their libraries, on average. By comparison, by September 2007, Xbox 360 owners had between one and two games published by Microsoft. A PlayStation 3 owner in September 2008 would have owned on average just one Sony-published game. It is worth noting that Microsoft's current tie ratio after 35 months on the market is 8.1. In addition to the figures above, we can examine the Wii's tie ratio during 2008 and see how it has changed. Here are the Wii's first- and third-party tie ratios graphed independently in 2008.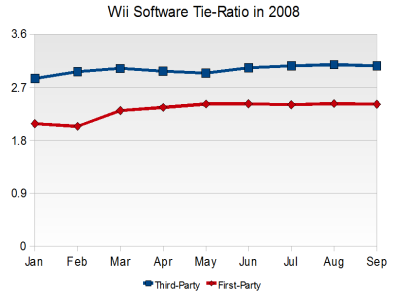 First, the effect of
Super Smash Bros. Brawl
, which sold 2.7 million units at release, is clearly visible in the increase of the first-party tie ratio in March 2008. Second, the tie ratio for the Nintendo Wii has been relatively constant since June. Since Wii hardware has been selling exceptionally well from June through September, software sales must have been increasing in tandem with the hardware sales to keep the ratio constant. Moreover, the ratio dropped just slightly from August to September, which is probably the decrease to which Anita Frazier alluded in her recent remarks on tie ratios." You can read more about Nintendo's graphs on the relatively strengths of the Wii versus the PlayStation 3 and Xbox 360 -- and the DS versus the PSP -- in
the new Gamasutra feature on the subject
, available now.