A new study by analysis firm
DFC Intelligence
in conjunction with social media company GamerDNA has extensively compared
Left 4 Dead
user activity habits across PC and Xbox 360 -- and finds Valve's strategy of combining promotions and free updates may extend a game's shelf life dramatically. Results of the study were released in the latest edition of the DFC Dossier publication and made available to Gamasutra, and are based on the activity of over 180,000 PC and Xbox 360 gamers via Steam, Xbox Live, and Xfire from the time of the game's release until May. Based on data crunched by DFC,
Left 4 Dead
appears to have had more activity on the Steam-managed PC version than on the Xbox 360 version in the early days, but within a few weeks the two platforms roughly matched and saw a slight ongoing decline in activity until February. For that period of time, on average, PC saw only about 2 percent more daily usage than Xbox 360. From that point, however, the two platforms diverged increasingly significantly. In mid-February, Valve held a 50 percent-off sale on the game --
as explained by Gabe Newell
earlier this year in revenue, rather than user activity, terms -- at which point PC activity spiked and then leveled out, while Xbox 360 activity continued to decline. PC activity from then until late May then averaged out at an impressive 63 percent higher than Xbox 360 activity.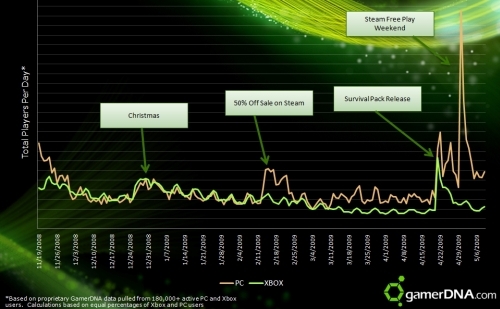 The release of the Survival Pack content spiked both platforms, but while Xbox 360 levels returned to normal again after about two weeks, PC levels skyrocketed to unprecedented levels when Valve held a free-to-play weekend through Steam, "[resulting] in a significant long-term increase in usage that meant the PC version ended up with significantly more overall usage than the Xbox 360 version." DFC's main takeaway from the study is that the flexible, quickly-adaptable nature of online distribution services like Steam allow for developers to use a broad variety of promotions and incentives to keep their game communities fresh; individual promotions like the Survival Pack had a positive effect on both platforms, but it was the one-two punch of that DLC plus the followup free weekend through Steam that had the most meaningful impact on the game at any point on either platform. "Steam is rapidly becoming a marketing vehicle where promotions run on Steam can significantly increase product sales and usage," the report reads. "The numbers for
Left 4 Dead
clearly bear this out." DFC says it plans to continue tracking
Left 4 Dead
activity going forward. Depending on how far into the future the firm takes its study, it may be particularly interesting to see how the game fares as the much-debated
Left 4 Dead 2
is released.