At the opening keynote of the 2007 D.I.C.E. Summit in Las Vegas, Sony Pictures Entertainment Vice Chairman and Sony Pictures Digital president Yair Landau delivered a speech that focused on the convergence between Hollywood and Games; not specifically in the traditional technology sense, but also thematically, previewing a new Sony Online Entertainment MMO in the process. "We are at a point where technology has caught up with imagination," said Landau. "If you can conceive of it, we can create it and make it feel real." "In the movies we're a hit-driven business, and the effects are a big part of that," he said. "And that is clearly happening in the games business." Games like
Medal of Honor
,
Call of Duty
and
Company of Heroes
, he said, were an extension of the technology used in Steven Speilberg's
Saving Private Ryan
. "When you look at what Saving Private Ryan did theatrically, it did a fraction of what those games have done, and I think that's an indication of where a lot of the world is going," Landau said. Landau said that Sony Online Entertainment is now looking beyond the fantasy genre, and into other realms; for example, espionage. "It's obviously been rich for single player gaming, and as we see from this clip that Sony put out in December, we know why." Landau then showed the theatrical trailer for the latest James Bond movie,
Casino Royale
, which practically defines espionage. "I think that the great thing about this film is that it reinvigorated the franchise by making it more visceral and physical. I think that the key to where this genre goes from a gaming standpoint is how we make it more real for you, how you not just play as Bond, but put yourself in this environment." Landau previewed Sony's Seattle studio's upcoming MMO, an unnamed spy-themed game, by showing a very early preview video. The setting is Prague. A femme fatale poses next to a man in a tuxedo, who draws a .45 and has a souped-up hotrod with an SOE licence plates and kitschy spy gadgets. Characters are shown shooting others in realtime, with a bass-heavy electronica soundtrack. "We think this is going to take espionage entertainment to a new level," he said, saying that the game will combine the cinematic aspects of Hollywood with the community aspects of MMOs. "I'm a big believer in character-driven intellectual property," said Landau.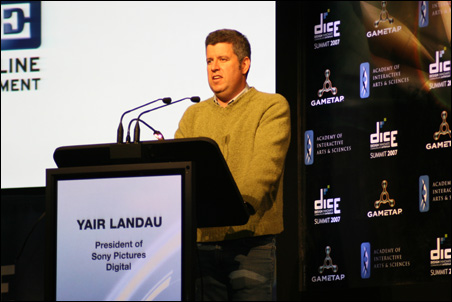 Where convergence is not happening, he said, is with talent, which is something that Sony is working to amend. "We launched Sony Pictures Animation six years ago because we believed the people animating Spider-Man could do just as good a job creating the whole external world, and not just the character," he said. He extended this experience to
Monster House
. "Basically, what you're seeing in
Monster House
was built on the same systems that have been driving sports games for well over a decade, and I clearly think this is going to resonate back into the gaming experience," he said. "Already we use the same rendering software, we use the same animation software, we model the same polygon count. Where it's going now is that people creative in one medium will extend to others. We're going to see people who got their start as really basic animators or scenery designers in the game community someday standing at the Academy Awards and thanking their mom and their agent." "Ultimately, it's all about getting [talented developers] to create something that an audience finds entertaining, regardless of the medium in which they consume the product." He ended: "The product is ultimately about how they feel, and that's what it's been about since the beginning."