[
Gamasutra analyst Matt Matthews looks at Nintendo's first-party game fortunes in the U.S., finding that despite contraction in the Wii market, games like Mario Kart continue to assail year-to-date charts.]
While Nintendo's platform may have lost some of its overall force from 2008 to 2009, the fact remains that several Wii and Nintendo DS titles continue to sell well month after month in NPD's U.S. game retail charts. This evergreen software may not rank in the top 10 every month, but it does continue to sell at modest levels over an extended period thereby racking up impressive long-term totals. We previously saw this effect when we examined the year-to-date (YTD) top five titles on each platform at mid-year. At that time
LEGO Star Wars: The Complete Saga
was the #5 title on the Nintendo Wii in 2009, even though it only appeared near the bottom of the top 20 all-format software chart for the first quarter and then fell from visibility. Nintendo has claimed the best-selling software title in four months of 2009. Three of those were for its Wii Fit software-and-balance-board package. In addition, the fourth was for
Wii Sports Resort
, the update to its seminal pack-in software package. Unsurprisingly, these two titles placed highly in the year-to-date top 10 software list. We note here that the NPD Group has not released an official YTD top 10 software list. However, Nintendo publicized which of its titles are on the list and we used public data to fill in what we believe are the remaining titles. (The original version of the following chart was based on comments made to the press by Nintendo. In those comments, Nintendo identified
Pokemon Platinum
as the #6 best-selling game of the year. In fact it is #7, and we have updated our chart to reflect that.)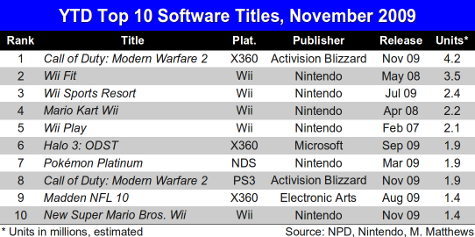 Notice that of Nintendo's six places on the chart, three are for titles released prior to 2009. Along with the aforementioned
Wii Fit
(released in May 2008), Nintendo's
Mario Kart Wii
and and
Wii Play
have repeatedly appeared in the monthly top 20 since their respective April 2008 and February 2007 releases. All three of those titles appeared in the top 10 software list for last year, and appear to be good candidates for the list in 2009 as well. We also note that the
Pokemon
title for the Nintendo DS is a re-release of a pair of titles originally released in 2007. Of course the list is topped by Activision Blizzard's
Call of Duty: Modern Warfare 2
for the Xbox 360. Not only will it top the software list for 2009, but it will likely hold its record of 4.2 million units on a single platform for the foreseeable future. The release is made more impressive when one also considers the 1.87 million units on the PlayStation 3, thousands of copies bundled with Xbox 360 hardware, nearly 170,000 units at retail for Windows PC, and an untold number sold through Valve's Steam distribution service. The other title which leapt onto the list in a single month was Nintendo's
New Super Mario Bros. Wii
, with 1.4 million units. Rounding out the list are two additional Xbox 360 titles:
Halo 3: ODST
from Microsoft and
Madden NFL 10
from Electronic Arts. One can sense the trends that occupy much of the industry by observing this list. There are many recognizable brands here:
Call of Duty, Mario, Pokemon, Halo
, and
Madden
. There are also at least three games which have been on the market for well over a year, and a couple which fall well outside what has been traditionally considered the hardcore gamer demographic. We believe these offer a sign of what publishers will face in the coming year. Every publisher wishes it could generate the kind of evergreen titles that Nintendo has created for its Wii. Every publisher would also like to claim at least one big hit game – if not like
Modern Warfare 2
at least some approximation of it – that grabs the headlines and drives a huge boost to revenues. And as companies like Electronic Arts pull back on original games and invest in more reliable genres and brands, the industry will face the eternal question of how and when it will create original experiences for consumers. The first quarter of 2010 will offer the first indication of how those different strategies will pay off. Will
New Super Mario Bros
. Wii turn out to be another evergreen title whose effect will be felt again on next year's top 10 list? Will any of the blockbusters pushed out to 1Q 2010 generate enough sales to make the cut at the end of the year? Finally keep in mind that the top 10 is not the entire industry. These 10 games account for a mere 12.5% of all software units sold at retail in the U.S. this year. There are many million sellers just below the given ranking, and several games that will be profitable for publishers.